August 11, 2003
Postcard: In life, and in death, Herbie defied logic
By Jess Myers
It's a hot summer afternoon in the State of Hockey, and nothing coming out of the TV's tinny speaker makes sense.
The news flashes tell us that Herb Brooks is gone. A one-car accident on the freeway just south of Forest Lake has claimed his life at the age of 66. On a
clear, warm, sunny day. In mid-afternoon, on dry pavement. Somehow, his Toyota mini-van left the road, rolled several times, and ejected his corpse onto the grassy median. And just like that he was gone. It doesn't make sense.
But if you knew Herbie even a little bit, as so much of the Minnesota hockey community did, not a lot of who he was and what he was made sense. And that's what made his life so wonderful.
At a time when American kids from the inner city weren't in vogue in the hockey world, he excelled at the college game. It just didn't make sense.
Herbie famously was the last player cut from the 1960 U.S. Olympic team. A few weeks later, he followed from the family's living room in St. Paul as his former teammates shocked the world and won the gold medal. And when he turned to his father for comforting words, the elder Brooks shot back, "Well, it looks like they cut the right guy."
Herbie played on two Olympic teams, but, as a player, didn't find the gold that had been mined in Squaw Valley.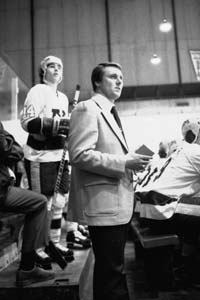 Herb Brooks behind the Minnesota bench at old Mariucci Arena (photo courtesy University of Minnesota).
As a rookie coach, he took over the last-place University of Minnesota program. (Even that sentence doesn't seem to make sense.) By the end of the 1970s, he'd led his alma mater to three NCAA titles, and nearly a fourth. The Gophers were close to a three-peat, but were tripped up in the 1975 title game by Michigan Tech. (Tell me THAT sentence makes any sense!)
Appointed to lead Team USA into the 1980 Olympics, Brooks threw logic out the window all together. He motivated his team to win for him by getting them to hate him. He inspired them to play their best by telling them they were worthless on the ice. Long before his famous, "You were born to be a player" speech, he greeted his team with inspirational nuggets like, "You don't have enough talent to win on talent alone." And just a few weeks before they took the ice in Lake Placid, Brooks told his charges, "You guys are playing worse every week. And right now you're playing like the middle of next month."
In the days leading up to the Olympics, he offered another inspirational tactic, publicly discussing the very real possibility that he would cut captain Mike
Eruzione from the team.
His downbeat assessment of his own squad rang true when, just days before heading to Upstate New York, Team USA was humiliated by the powerful Soviets on the ice of Madison Square Garden. In few weeks, the scrappy Americans had beaten the Red Tide in the most memorable moment in the history of American hockey. Herbie celebrated the miracle win by quietly leaving the bench and heading for the team's locker room alone. When later asked why he didn't join in the on-ice pandemonium, he quipped, "I had to use the bathroom." It didn't make any sense.
But despite the heroics versus the USSR, Team USA still needed one victory – over Finland – to win any medal. With 60 minutes remaining in their time
together as a team, Herbie served up one more heartfelt inspirational nugget to his team of ex-collegians from Massachusetts, Wisconsin, Michigan and Minnesota. Eruzione reports that before they headed out to face Finland, Herbie poked his head in the locker room door and said, "If you blow this game, you'll take it to your f---ing graves!"
They didn't – coming from behind for a 4-2 win and the next day Team USA left Lake Placid on Air Force One with gold medals around their necks. It didn't make any sense.
So with the entire world at his feet and NHL coaching offers pouring in, Herbie – as usual – did something that made no sense, and went to Switzerland to coach. He eventually made his way to the NHL ranks for stints behind the bench with the New York Rangers, Minnesota North Stars, New Jersey Devils and Pittsburgh Penguins.
But in the midst of those big-time jobs was the time he turned down big NHL money to instead coach St. Cloud State (then a Division III team) for a season
and lay the groundwork for the Huskies' jump to D-I.
With his coaching talents again in high demand in 1998, he turned down lucrative and prestigious pro and college offers to lead Team France in the Nagano Olympics, despite admitting that he spoke very little French. It didn't make any sense.
And in 2002, despite being on the outs with some at USA Hockey for years, and despite being an outspoken critic of the Olympic decision to allow NHLers in the games, he agreed to lead Team USA once again. Despite
having just days to come together as a team and despite being overmatched by other nations in the talent department, Herbie led Team USA within one
icebound Loonie of another gold medal. It didn't make any sense.
But again, that was the beauty of Herbie.
It never made sense that you could watch a SportsCenter story about American hockey's miracle worker, and 45 minutes later bump into the man himself at a high school rink in suburban Minneapolis. It never made sense that the home arenas of archrivals Minnesota and St. Cloud State both feature tributes to the same coach for his contributions to their respective programs. It never made sense that this man who could be so gruff and so callous with his players was their most beloved coach. It never made sense that a man renowned for his temper and sour humor could be such a soft-spoken, thoughtful and humble man away from the ice.
A few months ago, while walking in the monstrous Mall of America with my sister and my two sons one evening, I crossed paths with Herbie outside of a clothier. We talked hockey for a few minutes, and he shook hands with my boys. I ended the conversation by saying that I'd see him at a rink somewhere soon.
But now the TV is on and the talking heads tell us that although he'll be remembered in hockey rinks from coast to coast, we'll never see Herbie at a rink again. It just doesn't make any sense.
And if you knew Herbie or admired his work, that's just the way you'd expect it to be.