October 18, 2002
Postcard: It's a Great Night For Hockey
Unbelievable. Thanks to DirecTV, quite possibly the greatest invention of my lifetime (either that or PlayStation 2), I was able to watch three college hockey games from the comfort of the green recliner in my basement rec room. A few years ago, you'd be lucky to watch three games in a season. So I settled in for an interesting night featuring five ranked teams as Minnesota played New Hampshire on Fox Sports Net North, Northern Michigan hosted Michigan State on Fox Sports Net Detroit, and Vermont faced Boston University on Fox Sports Net New England.
7:00 – I'm greeted by the smiling face of Doug Woog on Fox Sports Net North as my hockey night begins.
7:04 – I see the first of roughly 9,342 promos for "The Best Damn Sports Show Period".
7:06 – Northern Michigan goaltender Craig Kowalski goes behind the net to play the puck and, predictably, muffs it and gets run over by a Michigan State defender. If Bill Buckner were a goalie, he'd be Craig Kowalski.
7:09 – We get the first mention of NMU forward Bryce Cockburn, whose last name is pronounced "Coe-burn." Bryce, for the love of Pete, do you realize how much fun you're depriving us?
7:12 – Fox Sports Net Detroit analyst Fred Pletsch says MSU coach Rick Comley considers Kowalski the best goaltender in the nation. I don't know about that, but at the moment he's better than the Spartans' Justin Tobe, who gives up a goal to Alan Swanson. 1-0 NMU.
7:14 – Flip back to the Minnesota-New Hampshire game. Minnesota goalie Justin Johnson's helmet is Mountain Dew-yellow with the gopher from "Caddyshack" on the side.
7:15 – My wife, lying on the couch, laments the fact that our television doesn't have two-tuner picture-in-picture. Sounds like someone is going to Best Buy tomorrow.
7:19 – I get my first look at BU-Vermont. The best thing about Walter Brown Arena – besides the goodies Terrier SID Ed Carpenter has in the press box – is its suspended ceiling, which is the same as the one in my grandmother's basement.
7:23 – Woog refers to Minnesota defenseman Paul Martin as "Paulie." Apparently, he started hanging out at the Bada Bing during the summer.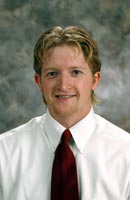 Minnesota's Paulie Martin
7:27 – Woog comments on Minnesota's sluggish play early in the game, saying the Gophers "have some kind of a Prozac deal." Huh?
7:28 – UNH's Josh Prudden gets taken out by a Gopher in his end and crumples to the ice in alleged pain. The play turns back the other way into the neutral zone and toward the Minnesota net. Who's that racing up the ice on the far wing? Prudden.
7:31 – BU and Vermont are playing in a cave.
7:32 – Back to the MSU-NMU game. Tobe's mask features a giant Sparty (the MSU mascot) with his mouth open for the cage. At first glance, it looks like the donkey from "Hee Haw."
7:35 – UNH leads Minnesota 3-1. I've missed every goal. I need picture-in-picture. Or TiVo. Or both.
7:36 – Bada Bing! Paulie Martin scores for the Gophers to cut the lead to 3-2.
7:37 – I flip to the BU-Vermont game. Going from the other games, which are being played on Olympic-size ice sheets, to this game...it's like watching 12 guys skate on a napkin.
7:40 – Back to UNH-Minnesota. I learn that Doug Woog once coached soccer. Meantime, the Gophers' Gino Guyer absolutely embarrasses Wildcat defenseman Tyler Teplitsky with a filthy deke in the neutral zone and then goes top cheese on UNH goalie Michael Ayers. I'd like to thank "Hockey Lingo for Dummies" for helping me write that last sentence.
7:41 – In a between-periods interview on Fox Sports Net Detroit, I learn NMU's Cockburn lost his false teeth over the summer after leaving them on a dock to go water-skiing with some teammates. That stuff is never in the media guide.
7:44 – After 20 minutes in Durham, Minnesota trails New Hampshire 4-3. In promoting between-periods guest Colin Hemingway, I swear Fox Sports Net North play-by-play man Frank Mazzacco almost calls him Kelly Hollingshead.
7:50 – I catch the public service announcement for Northern Michigan University, which boasts the school provides IBM ThinkPads to all of its students. I conclude NMU leads the nation in Morpheus downloads and online gambling.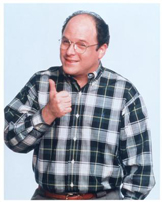 Jason Alexander
7:53 – I determine Jason Alexander would play the lead in the "Doug Woog Story."
7:56 – NMU's Alan Swanson scores off a fat rebound to even the score at 2, answering a goal scored by MSU's John-Michael Liles on the power play a few moments earlier. My wife gives Tobe two tips. "Quit giving up rebounds, and get up from off the ice."
7:59 – Northern takes a 3-2 lead when one of their forwards walks into a gap in the MSU defense bigger than the one between Michael Strahan's front teeth and fires a shot that eludes Tobe.
8:01 – In Boston, the plucky Vermont Catamounts make it a 1-1 game, capitalizing on a sloppy play by BU goaltender Sean Fields, who looks like he's a curler trying to sweep a rock toward its home.
8:02 – Back to NMU-MSU. Chris Gobert scores. It's 4-2 Wildcats. A fan in the stands holds up a sign reading "Where's Your Miller Now?" The answer – in Rochester. With a lot of money.
8:08 – Five minutes into the second period of the UNH-Minnesota game, and neither team has scored. I demand an investigation. Meanwhile, NMU scores to take a 5-2 lead. The deer is officially in the headlights for the Spartans.
8:10 – Michigan State appears to be skating in some sort of viscous liquid, like a lava lamp. The Spartans look like Sid Bream on skates.
8:14 – On the Fox Sports Net North ticker, I notice Saturday's Powerball drawing has reached $60 million. If Carl Pohlad wins, he can keep the Twins in Minnesota for another year or two.
8:16 – Paulie Martin scores a power-play goal. It's square at 4. Guess we should've put him on our preseason All-American team.
8:18 – While watching the NMU-MSU game, I'm thinking it would be cool if someone scored a goal, fished the puck out of the net, whipped a Sharpie marker out of their skate, signed the puck, and flipped it into the crowd.
8:20 – Back to BU-Vermont, which I'm having a hard time getting into. The game's still tied. I get the sense that the story of the night is Vermont goalie Shawn Conshafter, who robs the Terriers' Greg Johnson with four minutes left in the second period.
8:22 – Flip to NMU-MSU to see State score its fourth power-play goal of the night. The score is 5-4. The Spartans have tallied more goals tonight than the did in the entire month of February last season.
8:23 – Tobe gets beat again, this time by NMU's Dirk Southern. 6-4 'Cats.
8:24 – Just 27 seconds after Southern's marker, Jesse Baraniuk scores goal number 7 for NMU. Now I know what Minnesota fans felt like as they watched Adam Hauser during the last four seasons.
8:26 – Pletsch recounts Comley's remarks from the afternoon's Blue Line Club luncheon in Marquette, during which the MSU coach told those in attendance the Spartans were not a good team yet. You think?
8:28 – It's 8-4 Northern Michigan on a deflection goal. Thanks to his facial expressions, Wildcat coach Walt Kyle is the Jon Gruden of college hockey.
8:29 – The second period of the NMU-MSU game mercifully comes to a close. The Spartans are outshot 21-7 in the period. "I'm glad you're not working for (State) anymore," my wife says. "I could not watch this."
8:30 – Fox Sports Net Detroit gets a bench shot of Comley, who looks as if someone just ran over his dog. When they make the "Rick Comley Story", Dabney Coleman will get the lead role.
8:32 – Back to BU-Vermont for the tail end of an interview with Mike Eruzione, who now works in the BU athletic department. He looks like Jerry Mathers in "The New Leave it to Beaver." Viewers get to see computer renderings of the Terriers' new hockey arena. It looks palatial. Every blue-chipper on the East Coast verbals to BU before the third period starts.
8:44 – It's been a while since anything interesting has happened. I know things are getting bad for me when my wife makes a comment, then tells me it's off the record.
8:47 – Comley mercifully replaces Tobe with Matt Migliaccio. Tobe's goals against average in two starts is 7.80, or roughly the same as Mike Hampton's ERA as a Colorado Rockie.
8:48 – The Minnesota-UNH game is 5-4. The BU-Vermont game is still 1-1. But I can't turn away from the shellacking Michigan State is taking. It's like the O.J. Simpson-Al Cowlings white Bronco chase -- you know there's better stuff on TV, but you just gotta watch.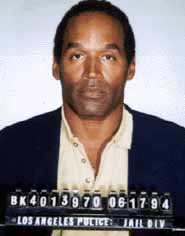 O.J. Simpson
8:50 – In the few minutes of the third period of the NMU-MSU game I've seen, Migliaccio's last name has been pronounced 12 different ways.
8:53 – Northern hits double digits on a goal by Southern, who walks past MSU defenseman as if he was standing still. "An embarrassing goal," says Pletsch. At least Spartan fans have their football team to fall back on. What? Oh...never mind.
8:57 – "This is an ass whooping," says my wife about the Michigan State debacle. She should work a game with the Wooger.
8:58 – I finally pry myself away from the MSU-NMU game and catch New Hampshire scoring to tie the game at 5.
9:06 – BU is still tied with Vermont. How did the Catamounts lose to UNH last weekend 10-0?
9:08 – I get back to the UNH-Minnesota tilt just in time to see back-to-back, tape-to-tape passes from the defensive zone to the opposite blue line, one by both teams. Amazing.
9:10 -- Mazzacco calls the name of Gopher forward Jon Waibel, which gets me thinking about the web site created in his honor called The Waibel Factor (www.thewaibelfactor.com), which also has a link to something called Beer Darts. This needs to be explored further.
9:11 – I hear UNH head coach Dick Umile whistle and instinctively change my seat.
9:13 – It's starting to get interesting. Minnesota and New Hampshire are still tied with less than four minutes left. Meanwhile, it's 1-1 at Walter Brown between Boston University and Vermont. I smell free hockey.
9:15 – Umile whistles for a line change again. Is he whistling signals in some sort of sequence, like Morse Code? Do his players have to be code talkers, like the Navajo soldiers in that Nicholas Cage movie?
9:16 – For some reason, I think the Minnesota-UNH game would be over if Grant Potulny were in the lineup.
9:17 – Two golden opportunities for New Hampshire. Lanny Gare breaks toward the net on the far wing, only to have the puck hop his stick. Sean Collins then springs for a breakaway with 30 seconds left in regulation but is stoned by Johnson.
9:23 – Thankfully, the MSU-NMU game is over...officially. Now I just have to jump back and forth between two overtime games. But I can't keep up. At Walter Brown, there's a BU breakway. Click. Back at the Whitt, UNH can't convert on a 2-1. Click. Now there's an intense Terrier flurry in front of the Vermont net. Click. The Wildcats are pressuring the Gophers.
9:26 – The stoppages in the games have somehow become perfectly timed so when there's a break in one, I can switch to the other.
9:27 – A BU player is taken out by a Vermont defenseman, falls, and butts heads with Conschafter. The Catamount goalie, who has stopped 41 shots on the night, is sprawled out on the ice, but recovers and returns to action.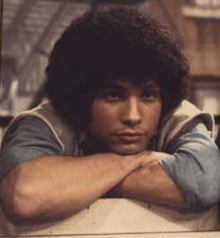 Epstein from "Welcome Back Kotter"
9:28 – Back to the Minnesota-UNH game. Minnesota are buzzing in front of Ayers. "Get the puck out of the zone," yells my wife at the Wildcats. She hates Gophers more than Carl Spackler.
9:30 – Late in the BU-Vermont game, I learn two facts about the Catamounts – they have a forward named Ryan Miller, and freshman defenseman Joey Gasparini is the son of former North Dakota coach Gino Gasparini.
9:31 – Vermont earns a well-deserved tie with BU. Conschafter preserves the sister-kissing with a nice glove save with one second left in overtime, his 42nd save.
9:32 – No winner in the Minnesota-New Hampshire tilt either. The Fox Sports Net North crew bids adieu by showing a placard at the Whitt saluting Gopher coach Don Lucia's hair. On the sign – which reads "Don Lucia Pet" – the coach has a 'do like Epstein from "Welcome Back Kotter." A great end to a great night.
– Mike Eidelbes