April 7, 2004
NCAA Frozen Four
Postcard: Long-Distance Relationship
Jimmy Howard's biggest fan is also his student, confidant – and cousin
By Joe Gladziszewski
Protective issues aside, it's a good thing these goalies wear masks – because they've got lousy poker faces.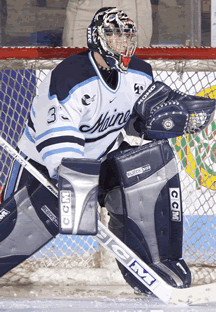 Jimmy Howard is the nation's leader in goals-against average and save percentage. Photo by Michael York, University of Maine
There was 11-year-old Matt Howard in the Pepsi Arena, appropriately dressed in a Maine jersey bearing the number 33 and last name he shares with the Black Bears goaltender, Jimmy. The look on Matt's face showed dismay, disappointment, and desparation after the Harvard Crimson slipped the first two goals of the game past his cousin, Maine goaltender Jimmy Howard.
And there was Jimmy Howard, 30 hours later, after Maine rallied for a win against Harvard and defeated Wisconsin in overtime in the East Regional Championship game. Ask him about Matt and watch his eyes light up and a smile stretch from ear to ear.
These cousins, separated in age by nine years and geographically by hundreds of miles, maintain a close relationship in a variety of capacities – teacher, student, goalie, friend, and family.
The tandem maintains regular communication through e-mails, instant messages, and an occasional phone call. During the Christmas holiday season, Jimmy and Matt had a chance for a one-on-one practice session at Romney Field House in Oswego, hometown of Matt and the city where Jimmy's parents were raised before moving to Ogdensburg as adults.
The practice session was a chance to hang out, but also to get some work done. "We worked on my side-to-side movement," Matt said.
Apparently, the lessons were put to good use. Matt is the goalie on his peewee hockey team, which capped its season in Buffalo by winning an invitational tournament. Matt posted a shutout in the first game of the tournament on Friday evening, and turned in two more shutout periods in the team's third round-robin game.
Meanwhile, in Boston, Jimmy was leading Maine to a Hockey East Championship with a semifinal shutout of Boston University and a triple-overtime win over Massachusetts that lasted past 1 a.m.
Back in Buffalo, Matt got the news about Maine's win via a late-night phone call from Grandpa Howard, on the eve of the peewee championship game.
Short on sleep, but boosted by confidence, Matt went out and duplicated Jimmy's MVP performance by leading his peewee team to a championship Ñ stopping six of eight breakaways in the sudden-death shootout.
Jimmy had a feeling at an early age that his cousin might have more than just a passing interest in hockey.
"It was just amazing how he could watch the whole game," Jimmy said. "Most little kids, their attention span only lasts for a few minutes and they would want to go running around. He'd sit there and watch the whole thing."
And with so many periods of hockey observation under his belt, what's Matt's scouting report on his older cousin?
"He's awesome, the greatest goalie I know," Matt said. And while Matt is a Philadelphia Flyers fan for now, he has no doubt that Jimmy will someday play in the NHL, at which point Matt's ready to dump his allegiance to the Flyers.
Of course, if you ever see Jimmy or Matt Howard, nevermind the typical question, "How are you doing?" You'll be able to tell simply by looking at their faces.