May 10, 2005
Postcard: At Home Under the Golden Dome
By Mike Eidelbes
"I've been everywhere, man
I've been everywhere"— Johnny Cash
Unlike the subject of the Man in Black's ode to the road, Jeff Jackson may or may not have passed through Opelika, Baraboo or Waterloo between the spring of 1996 and last Friday.
Since stepping down as Lake Superior State's head coach nearly a decade ago, however, Jackson has visited Bavaria, Sarnia, Nagano and Buffalo during stints with USA Hockey, the Ontario Hockey League's Guelph Storm and the NHL's New York Islanders. Those experiences were certainly memorable, but not in comparison to the college game – which is one of the main reasons the 49-year-old zeroed in on the coaching vacancy at Notre Dame, a job he secured last week.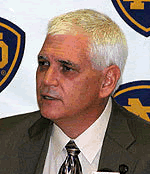 "The relationship you establish with college players is not similar at any level," Jackson said. "You're able to have an impact in their lives on and off the ice."
Two events within the last year steeled Jackson's resolve to get back into the NCAA coaching ranks. The first was last summer's 10-year reunion of the Lake Superior State team that won the 1994 national championship. The second was the passing of Tim Breslin, a senior on Jackson's first team at LSSU. About two dozen former Lakers showed up in suburban Chicago for their former teammate's Valentine's Day funeral.
"Those two things made me recognize how much I missed [college hockey]." Jackson explained.
Though his desire to get back to the college game was strong, Jackson wasn't going to jump headfirst into just any situation. It had to be a job in which he could succeed. When two coaching legends – Jeff Sauer at Wisconsin and Michigan State's Ron Mason – stepped down, Jackson poked around to gauge the school's interest in him.
Then came Notre Dame. On the surface, the job seems light years away from those at MSU and Wisconsin, but Jackson saw things differently.
"It's all about the potential," Jackson said. "This is one of the top academic institutions in the country, and that's important. The most important thing we have to sell is the university and the quality of the education."
Sure, a Notre Dame education is invaluable, but recruits get starry-eyed from bells and whistles like 25-person Jacuzzis, tricked-out locker rooms that could double as P. Diddy's den and training facilities the size of the average Wal-Mart. The Joyce Center? Well…it has a roof. Indoor plumbing, too.
"The university has committed $14-to-15 million toward the facility," Jackson said. "But we need to start building a program first. I don't want the facility to be an obstacle to having success early on. The old Norris Center at Lake Superior State was not much different than the Joyce Center.
"When [renovation] is done in three or four years, we can get in there with a solid program. We want to take it to the elite level."
Jackson believes the Fighting Irish aren't far from taking that next step, despite the team's 5-27-6 mark and season-ending 19-game winless streak in 2004-05. With all but three players returning from last year's squad, the cupboards certainly aren't bare. The continued maturation of defenseman Wes O'Neill, who blossomed as a sophomore, is important, and similar growth from highly touted forward Victor Oreskovich is necessary. So, too, are strong efforts from forward Mike Walsh and goaltender David Brown, both of whom slumped miserably last season. And among the incoming recruits are two of the USHL's top point-getters (Lincoln's Erik Condra and Tri-City's Christian Hanson) and one of the circuit's goal-scoring leaders (Waterloo's Garret Regan).
"I've been watching for an elite-level college program where I thought something special can happen," Jackson said. "I think Notre Dame can be that place."
If so, the Fighting Irish will follow their coach to destinations with which he is thoroughly familiar – places like Albany, Worcester and St. Paul.