January 4, 2005
Postcard: The New King of Germany
By Nate Ewell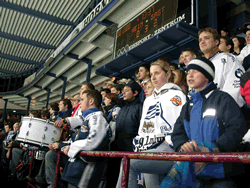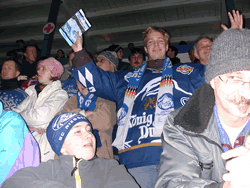 SC Riessersee fans are vocal in their support of their team, including goaltender Chris King.
GARMISCH-PARTENKIRCHEN, Germany – Several times a game at the 1936 Olympic rink in the small Alps resort town of Garmisch-Partenkirchen, Germany, SC Riessersee fans roar a cheer to salute a great save by their goaltender, Chris King. It could be "Hail, King," "Three Kings" or perhaps a salute to both the goalie and the team's lead sponsor, King Ludwig Dunkel beer.
"I hear my name, but that's it," says the Alaska Anchorage alum, who doesn't speak a lick of German.
The language barrier isn't slowing down King, who earned the attention of college hockey fans – and German scouts – with a stirring performance in the WCHA playoffs last season, including a 44-save upset of Colorado College. In that game, the Xcel Energy Center crowd rallied the Seawolves, but even those cheers might be overshadowed by those of Riessersee fans.
The Olympic rink boasts an environment that has undertones of European soccer crowds, and is more energetic than even the best student sections in college hockey. The members of the "Blue Angel" fan club stand throughout the game in the rink's east bleachers; one fan bangs a drum and the others sing along with cheers.
"German fans, there aren't as many, but they're just as loud," says King. "They bring an element to the game that American hockey is missing. It's really enjoyable to play."
All the King's Men
Chris King isn't the only ex-collegian on the SC Riessersee team. He's joined by Nebraska-Omaha alum Dave Noel-Bernier, who leads the league in goals, as well as T.J. Guidarelli (Minnesota State, Mankato), Neil McCann (Princeton) and Pete Runkel (Minnesota State, Mankato). Each plays a significant role on a team made up mostly of Germans.

The American and Canadian contingent takes a team-first approach and tries not to form a clique. King acknowledges, however, that their common bonds can help, especially while adjusting to a foreign country.

Another SC Riessersee player has a name that's familiar to WCHA fans: Waibel. But King doesn't think Harold Waibel, a top forward on the team, is any relation to former Minnesota fan favorite Jon Waibel. Plus, since the German language pronounces W's as we would V's, it doesn't even sound the same.

King, clearly, is making the most of his situation. By all rights he should be playing in an NHL team's system, but the lockout helped send him overseas. He had a stint with the New York Rangers' AHL team at the end of last season, and an invitation to attend Philadelphia Flyers training camp this year that was retracted just a week before camp was set to begin. King switched agents and ended up joining SC Riessersee, who had seen him play last March.
When he first flew over, King stayed in a hotel room that "was literally the size of two twin beds," he says. Since then he's been joined by his family – girlfriend Stephanie and children Elena and Christian – which he says has been the best part of his experience. He's making enough to support the four of them, and they have rented a house in town.
The worst part? No NFL football on TV, although he's been keeping up with the Seattle Seahawks' run to the playoffs. The language barrier doesn't seem to bother King, even in the locker room, where the coaching staff speaks exclusively in German.
"If I sit there and try to figure out what they're saying, I can get a couple of words but I just get more confused," he says. "But if they're not happy with someone, the coach learns enough English to let them know."
That hasn't been necessary much, if at all, in King's case. The coach can leave it to his fans to talk to King, even if their goaltender doesn't know what they are saying.