December 17, 2003
Postcard: Keith's Magnitude
Having worked with the Denver hockey team in various capacities for four years, there are three images of the program that are burned into my mind. One is the bushy eyebrows of coach Murray Armstrong. The second is the angular jaw and close-cropped haircut of standout forward Bill Masterton. The third is a cover from a 1970 issue of Sports Illustrated featuring the fresh face and gap-toothed grin of Chicago Blackhawks rookie defenseman and former Pioneer star Keith Magnuson.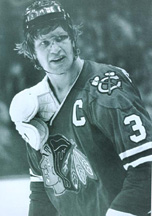 Former Denver star Keith Magnuson (photo courtesy Chicago Blackhawks)
Magnuson, who was killed in a car accident earlier this week outside of Toronto, earned just about every honor possible. He was a member of two national championship teams. He twice earned All-American status and was an all-WCHA selection on three occasions. He was conference's most valuable player in 1968, the year after he garnered league rookie of the year accolades. His name appears on a variety of college all-time teams – the NCAA 50th anniversary team, the American Hockey Coaches Association All-Time West team, the Hockey News All-Time WCHA team – and was chosen as one of the WCHA's Top 50 Players in 50 Years.
He had a great college career, no question. Still, that SI photo, the one that looks like it was taken moments after Magnuson skated off the Chicago Stadium ice following practice, the one that featured the Saskatoon native sans Chiclet, remains my lasting impression.
Remembering Keith Magnuson...
"Keith didn't have the greatest hockey skills but he more than made up for it with hard work, his attitude, desire and dedication for the game. He had the biggest heart of any man I know, on and off the ice." – former Denver and Chicago teammate Cliff Koroll.
"He's one of the most popular athletes in Chicago – not just in hockey but in the history of sports. That's quite something, when you think about all the sports there." – Calgary Flames GM/head coach and ex-Blackhawk Darryl Sutter.
"He was the heart and soul of our team, and one of the most outstanding young men I ever had the privilege to be around. I'm just devastated to hear what happened...my wife and I are crushed." – legendary DU coach Murray Armstrong.
"The world, never mind the hockey world, has just lost a tremendous human being. Most people remember 'Maggie' for his hockey but I'll always remember 'Maggie' for his big heart." – former Pioneer goaltender Gerry Powers.
"I'll never forget when we arranged to have Keith address us in the media interview room at the 2002 WCHA Final Five. He spoke passionately for about 15 minutes on what attending and playing college hockey meant to both him and his development as a person. It literally gave me goosebumps." – WCHA commissioner Bruce McLeod.
A wonderful man by all accounts (see right), his presence can be found all around Magness Arena. A framed photo of Magnuson hung on the wall of the Pioneers' players lounge. George Gwozdecky had one of Magnuson's Blackhawks sweaters – a crisp, clean, white home jersey with a black No. 3 outlined in red trim – signed, framed and hung on his office wall. Run your finger down the list of donors to the Denver hockey program and you'll find his name...close to the top, I might add. It's also engraved on a plaque in one of the lockers in the team's dressing room, just one of the many alums to give to the cause.
"He definitely was Mr. Pioneer," Gwozdecky said. And he was right. With the program's greatest player – Masterton, the victim of an fatal injury he sustained while playing with the Minnesota North Stars in 1968 – gone, Magnuson was the face of Denver hockey. He not only played in the NHL at a time when it wasn't easy for a college guy to get a shot in the bigs, he spent 11 seasons with the Blackhawks and served as a team captain from 1976-80. In '77, he became the 'Hawks' lone captain, taking over for Stan Mikita. No pressure there.
News of Magnuson's passing sent me to my basement where I had stashed a stick signed by a number of former Pioneers at the program's 50th anniversary reunion a few years ago. Looking up and down the stick, I saw signatures of guys like Gerry Powers, Eddie Miller, Marshall Johnston and Jim Wiste, names that meant something to me – a lot to me – but little to just about anyone else. I flipped the stick over and gazed at the blade, the only spot I had yet to check.
Perched on the blade's toe, sandwiched between Jerry Walker and Cliff Koroll, he had scribbled "Keith Magnuson #3." Pretty lucky, I thought, to have my own memory of that guy with the gap-toothed grin.
– Mike Eidelbes