January 12, 2005
Postcard: Average Al
By Mike Eidelbes
Psst…over here. Care to hear a little secret?
Al Montoya has been average this season…at best.
There. I said it. I wasn't hit by lightning. No one has burned me in effigy. And I haven't found a horse head in my bed.
It's the truth. So why are others downplaying – or making excuses for – Montoya's disappointing showing as if they were Karl Rove defending George W. Bush's National Guard service record?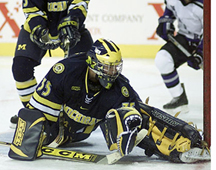 Can you imagine what fans in Boston would be saying if Matti Kaltiainen were struggling this mightily? Or in Minneapolis if Kellen Briggs was fighting the puck? Or in North Dakota, where crucifying goalies has become a mid-winter tradition?

"There are 58 teams in college hockey that would like to have [Montoya] on their team," said Fox Sports Net Detroit analyst Fred Pletsch during Saturday's broadcast of the Wolverines' game at Western Michigan.

In Monday's Ann Arbor News, U-M beat writer Antoine Pitts admitted Montoya "is giving up a lot of goals but remains the one goalie in the [CCHA] you want in net when games are on the line."
This is mere speculation on my part, but it'd be a surprise if every Division I school would replace its current starter with a guy who stands 45th in the country in goals against average. And Montoya has been a pretty good big-game goaltender during his first two seasons at Michigan, but my mortgage money would go behind someone other than the owner of the 65th-best save percentage among the 76 netminders eligible to be ranked in that category.
From this writer's viewpoint, Montoya is still riding a wave of momentum generated at the 2004 World Junior Championship and the United States' gold medal win. It made him the hottest goaltending prospect in last summer's NHL Entry Draft. Keep in mind that Montoya might not have seen the ice for the U.S. team if not for a freak injury to Maine's Jimmy Howard.

It's not hard to understand why writers and analysts would defend his mediocre performances. Maybe it's because of his Horatio Alger-like life story, the youngest son of a single mother who emigrated from Cuba to escape the Castro regime. Maybe it's because he's a smart, confident, dynamic young man with movie-star looks, an ideal fit for a large-market NHL team such as the one that drafted him last summer, the New York Rangers.

Regardless of the reasons why barbed criticism hasn't rained upon Montoya, the fact remains that he's not the same goaltender he was one year ago. On the ice, he looks tired, both mentally and physically. His reactions are slow. The aggressive goaltender who liked to challenge shooters and play the puck out of his end with what some would consider reckless abandon seems downright passive. And given some of the soft goals he's allowed – especially early in games – one wonders about his focus.

Though a select few are publicly questioning Montoya's effectiveness, it's safe to assume a fair number of Michigan fans privately harbor doubts about his play. He has more wins than any goalie other than Briggs, yet opponents feel he's beatable. More than a few NHL scouts question whether he was worth the sixth overall pick in last year's draft.

While junior Noah Ruden proved during last month's Great Lakes Invitational that he's a capable backup, Michigan coach Red Berenson will stick with his starting goaltender for the long haul. Perhaps that's the problem. Since August 2003, Montoya has:

• Attended the U.S. National Junior Evaluation Camp in Lake Placid in August 2003,
• Started a half-dozen games for the U.S. at the 2004 WJC,
• Played in 40 of Michigan's 43 games during the 2003-04 season,
• Prepped for the 2004 NHL Draft, which included a visit to Tampa with a handful of other top prospects during the Stanley Cup Finals and a weekend in Toronto for physical testing and meetings with team officials,
• Spent a few days in late June in Raleigh, N.C., site of last year's draft,
• Took a week-long trip to New York City in July for the Rangers' rookie camp,
• Jetted to Grand Forks last August for the most recent U.S. National Junior Evaluation Camp,
• Took to the ice with his Wolverine teammates in early October, and has played in 20 games for the Maize and Blue, and
• Played all but 22 minutes for Team USA at the 2005 WJC en route to a 3-4-0 record, a 3.36 GAA and a .904 save percentage.

Any wonder why Montoya has wilted like an out-of-shape offensive lineman during the first week of two-a-days under Tom Coughlin? Terry Sawchuk had more leisure time.

Eight weeks remain in the regular season. The way Michigan – and the rest of the CCHA – is playing, the Wolverines will have the conference regular-season title sewn up by Valentine's Day. So, Red, as much as it may pain you, give Al a breather. Let him witness a handful of games from the bench. Or the press box. Hell, let him stay at home, turn the lights down, make a big bucket of popcorn and catch up on TiVo'd episodes of Desperate Housewives.

Come playoff time, you'll have a refreshed, relaxed, refocused goaltender. You know, the kind that can steal a game or two if necessary. Vintage Montoya.
And if that happens, I promise not to keep it a secret.