November 17, 2004
Postcard: Nature vs. Nurture
By Mike Eidelbes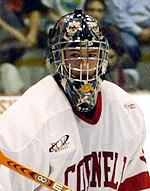 Watching Cornell's David McKee turn in a brilliant showing in goal against Michigan State last Friday, one couldn't help but reminisce about the movie 'Trading Places.' Yeah, that's right, the 1983 film starring Eddie Murphy as a homeless panhandler and Dan Ackroyd as a blue-blood commodities broker.
The movie's premise was centered on a wager between wealthy investors Mortimer and Randolph Duke, played by Don Ameche and Ralph Bellamy. The brothers had argued for years about the prime recipe for success – was it a result of one's upbringing, or was it a matter of merely getting the opportunity to succeed? The Dukes test their theories by orchestrating a series of events that land Murphy in high society and Ackroyd in the gutter.
Seeing McKee withstand a barrage of shots – 37 in all – in the 1-1 draw last weekend sparked an internal debate. In recent years, people in the college hockey community have attributed the success of Cornell goaltenders to the team's style of play. When you're only facing 15 shots a game, the detractors claim, anyone can be a star.
"That happened with David LeNeveu," said Cornell coach Mike Schafer, referring to the 2003 All-American, "and he produced the best numbers in the history of college hockey."
So if a guy who was a Hobey Baker Award finalist, owner of the best single-season goals against average in NCAA history and topped Ken Freakin' Dryden's school and league record for career shutouts gets the short shrift, what chance does a kid who calls Irving, Texas, home, have?
"There are always doubts being from Texas," McKee said. "People are like, 'You don't play hockey.' It's always good to come in and prove yourself."
McKee's numbers from his freshman campaign – a 16-10-6 record, a 1.84 goals against average and a .920 save percentage – speak for themselves. Consider his 4-1-1 record, 1.19 goals against average and .947 save percentage through six games this season as the exclamation point.
But McKee is still a product of the system, right? Just like LeNeveu and Matt Underhill. Just like Ryan Miller and Chad Alban owed their success to Ron Mason's system at Michigan State. If that's the case, shouldn't goaltenders who play for teams that aren't as gifted defensively – Bowling Green's Jordan Sigalet comes to mind – get more recognition?
In 'Trading Places', Ackroyd and Murphy's characters realize they're being manipulated by the Dukes and join forces to seek revenge, and they get the job done. Regardless of which side of the nature-nurture debate one aligns with, isn't that all that matters?
"People are going to write what they want to write…and think what they want to think," Schafer said about McKee. "I just know he's a great goaltender."