June 19, 2003
Back to the Future?
There's a bit of nostalgia in all of us, to be sure – and not all of us have the same tastes. One man's vintage jersey of choice is the Houston Astros; another, the Vancouver Canucks. Some viewers will race to the release of The Incredible Hulk, while others clamor for Charlie's Angels tickets.
Nevertheless, this week, on opposite ends of the Eastern seaboard, you can find two very different men doing their damndest to turn back the clock to the very same point in time.

Bob Corran, the new A.D. at Vermont, and Jay Feaster, the G.M. of the Tampa Bay Lightning, would like nothing more than to relive the bit of magic that UVM showcased to the rest of the college hockey world in the mid-1990s. It was then that two diminutive Quebecois – Martin St. Louis and Eric Perrin – proved to be, as Feaster said, "one of the most dynamic duos ever to play the game."
Corran's nostalgia manifests itself in a series of interviews to find the next Catamounts coach during this, his first week on the job. Corran is a thoughtful gentleman who loves a challenge, and has an uncanny sense for great coaching – not only did he hire three-time NCAA women's hockey national champion Shannon Miller at Minnesota-Duluth, but also a football coach who led his team to an undefeated regular season. Among those visiting Corran's office this week was Roger Grillo, the former UVM assistant who recruited St. Louis and Perrin – perhaps he's just the man to bring their unique brand of electricity back to Burlington.
Meanwhile, 1,500 miles away, Feaster announced that the Lightning had signed Perrin with an energetic two-page press release that made it easy to forget the former college star had never played an NHL game. Emotional and often brash, Feaster doesn't always project the image of a typical NHL general manager – many of his counterparts would sooner hire Mike Keenan as coach than issue a quote with an exclamation mark, as Feaster did in announcing the Perrin signing.
But those of us who saw St. Louis and Perrin in Catamounts' sweaters know that almost anything is possible. My eyes were opened when I saw St. Louis score three short-handed goals in a game (although one came at the same moment the penalty expired, so it technically wasn't an SHG). Perhaps this mismatched pair – meaning Corran and Feaster, of course, not St. Louis and Perrin – somehow share the key to time travel.
Vermont certainly has the support, from the community and the administration, to be a great college hockey school. And St. Louis has shown the NHL what he can do when given the chance, so maybe Perrin will, too.
Can both Corran and Feaster realize their goals? Perhaps, since I wouldn't be so bold as to suggest that Lightning (sorry) can't strike twice.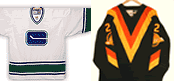 Which one would you wear? Yeah, same here.
But they'd be wise to remember this: one man might get a classic Canucks sweater with the simple hockey stick on the front. Another's stuck wearing something out of Star Trek.
– Nate Ewell