November 2, 2004
Postcard: More Whistles, More Problems?
By Mike Eidelbes
Notre Dame coach Dave Poulin wore a yellow "Live Strong" wristband on his right arm following his team's win against Boston College last month. He's just one of millions sporting the baubles, a wildly successful campaign spearheaded by cyclist Lance Armstrong to raise money for cancer research.
The mantra inscribed upon the wristband might serve a different purpose for Poulin and his peers across the nation. With the emphasis on rules enforcement this season – which the NCAA and conference commissioners hopes will lead to a more wide-open game – noticeably changing the face of the game, the resolve of coaches will be tested constantly.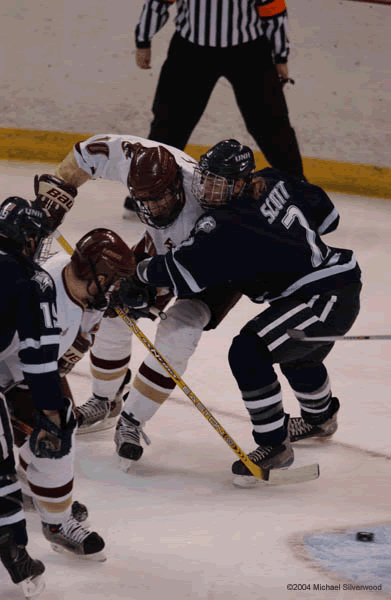 The NCAA wants to cut out actions like the one pictured above, but coaches and players feel the effort has created other dilemmas. (Photo by Michael Silverwood)
"I understand the intent and direction and I'm extremely hopeful we find some common ground," an exasperated Poulin said moments after the Irish upset the Eagles in a game that featured a combined 20 power plays. "There is a tremendous amount of pressure on the referees, there's a tremendous amount of pressure on the players and there's a tremendous among of pressure on the coaches."
The strains on players and coaches are obvious. In the vast majority of cases through the first three weeks of the season, special teams play comprises about half of an average game. For a coach like Poulin – whose penalty killers also see time on power play – it means a handful of skaters are logging a majority of the minutes.
Take the BC game as an example. During a 22-minute stretch of the first and second periods, the Fighting Irish and the Eagles played five-on-five for exactly 2:41. The only flow during this span was of players to and from the penalty box.
"There's no flow," Poulin said. "The real problem is that you don't get to play your kids. Is it taking away from other players' development?"
While players who aren't part of special teams units are finding scant ice time, some of those logging big minutes are just as frustrated.
"I think they're taking it too far," said Notre Dame sophomore defenseman Wes O'Neill, who easily played 35 minutes against Boston College. "I understand they're trying to make a point right off the bat, but I definitely think 20 penalties in a game are way too much. They're starting to call stuff [where] guys running into each other and falling down is a penalty."
Based on comments of coaches and players, it seems that both groups are behind the spirit of the effort. It's the vigilance of calling penalties – which borders on nit-picking on occasion – that has them frustrated.
"That doesn't surprise me to hear that kind of comment," said CCHA commissioner Tom Anastos, who's credited with starting the rules enforcement initiative. "I know I played in games where you thought the same thing and this was 20 years ago."
Recognizing the concerns of players and coaches is one thing. And coaches should be lauded for their support of the initiative – everyone should be interested in promoting a better brand of hockey, but coaches aren't paid to entertain or put on a good show. They're paid to win.
Finding common ground, as Poulin hopes, seems to be a pipe dream, based on comments made by Hockey East commissioner Joe Bertagna last week during an NCAA conference call with reporters to discuss rules enforcement.
"I have no sympathy for the players if basically they're whining that the illegal acts they've gotten away with in the recent past are now being penalized," Bertagna said. "It's not like the [officials] are making things up. Almost everything that I've seen called a penalty, is a penalty."
Just about everyone outside the commissioners' offices and the NCAA headquarters – coaches, players, fans – seems ready to throw up their arms in disgust regarding the disjointed games that are a result of a litany of penalty calls. But there are still way too many questions to answer before declaring the initiative a complete success or an abject failure.
Are games now as painful to watch as the low-scoring, clutch-and-grab affairs that have become commonplace in recent seasons? Absolutely. Has the emphasis on rules enforcement resulted in a swing of the pendulum to the furthest point from where it was at the end of last season? Probably. Will the current situation get worse before it gets better? Doubtful, but the improvement won't happen overnight.
"It's tough," Poulin said. "I'm in a tough situation to even discuss it."

Live strong, indeed.