April 15, 2004
NCAA Frozen Four
Postcard: Patriots Day
The Pioneers are reminiscent of a championship outfit from Foxborough
By Mike Eidelbes
The University of Denver hockey team, fresh off the program's first national championship in 35 years, was honored prior to Wednesday's Diamondbacks-Rockies baseball game at Coors Field. The Pioneers got the red carpet treatment, hanging out by the cage during batting practice, touring the clubhouse (where we're sure more than one guy had a word with Larry Walker, the pride of Maple River, B.C.) and watching the contest from a suite.
Five days earlier, another championship team – the NFL's New England Patriots – was saluted at the local ball yard for its achievements. Tom Brady, Tedy Bruschi and Co., with the Lombardi Trophy in tow, were cheered by a capacity crowd at Fenway Park as they threw out the ceremonial first pitch.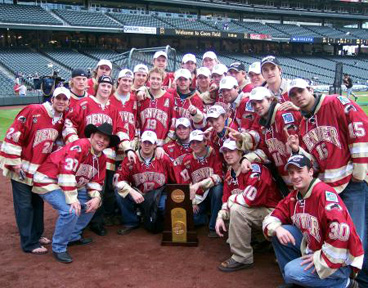 A toast at Coors: the Pioneers' victory tour continues. (photo courtesy University of Denver)
Denver and New England share more than free trips to baseball games. In watching DU make its improbable run to the NCAA title, the similarities between the Pats and the Pies became acutely evident.
Start with the coaches. Like Bill Belichick, George Gwozdecky is a what-you-see-is-what-you-get guy. No frills. No gimmicks. Both have game plans that emphasize minimizing mistakes and taking full advantage of opponents' errors. And both rely on their assistant coaches to help put their plans in place. Heck, they even look a little bit alike. Hey, I said a little bit.
The rosters are mirror images of one another, too. Prior to the Frozen Four, how many Denver players could you name? For most hockey fans, I'd guess the over-under was two. Before New England beat St. Louis in Super Bowl XXXVI in New Orleans two years ago, how many Patriots could the average football fan name? I'd guess no more than six, and one of them would've been the backup quarterback.
Instead of filling the rosters full of blue-chippers a la the Washington Redskins – no, North Dakota fans, that is not a veiled shot at your beloved Sioux – the Pats plugged holes by signing moderately priced starters like Mike Vrabel and Antowain Smith. They also picked up valuable complementary players such as special teams ace Larry Izzo and jack-of-all-trades Dan Klecko.
Need proof? Other than Denver, no one wanted goaltender Adam Berkhoel until he guided his junior team to a national championship in 2000. Speedy playmaker Connor James was a radical departure for the Pioneers, who mainly employed physical forwards prior to his arrival. Defenseman Ryan Caldwell had all the tools, as well as a fuse shorter than Mini-Me's inseam. Fellow blueliner Matt Laatsch was a project of Cabrini Green proportions when he arrived in the Mile High City. The line of Luke Fulghum, Max Bull and Lukas Dora, the team's best during the playoffs? Skilled, yes, but they're grinders at heart.
What these teams may lack in talent, they make up for in character. For the most part down the stretch, Denver played a smart, disciplined, responsible game. Like an Army platoon, the Pioneers played like a band of equals, 20 privates in lock step toward a common goal. And if someone can't go – like Dora, suspended for the title game for violating team rules – just plug in someone else and keep marching.
Again, like Belichick, Gwozdecky got his guys to fit together like Legos. Ironically, he did it by backing off and letting his players, led by captain Caldwell, find their way collectively. They did just that, finishing the regular season with a nine-game unbeaten streak that allowed the Pioneers to earn an upper-division finish in the ultra-competitive WCHA. It takes some serious cojones for a coach to make a maneuver of that magnitude, but it also takes supreme confidence in one's troops.
Jerry York invited Belichick to speak to his Boston College team prior to the Frozen Four. Denver didn't need such motivation. They'd heard the message the entire season.
Now, let's compare Adam Berkhoel and Adam Vinatieri...