March 29, 2004
NCAA Tournament

Postcard: The Perfect Game
By Mike Eidelbes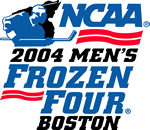 As my shuttle bus made its way to the Colorado Springs airport Sunday afternoon, sequences from the previous night's NCAA West Regional final between Denver and North Dakota replayed themselves in my cerebral cortex's TiVo unit. After about 15 minutes of reminiscing, a question sprung into my mind like the exposed coils of a frat house sofa: Did the 6,000-plus people at World Arena Saturday witness The Perfect Game?
Rummaging through the recollections of games I'd seen in the past, I was reminded of some dominating performances from an individual or a team and nail-biting back-and-forth affairs. But I could recall just one event as flawless as the Pioneers-Sioux match. It was a baseball game, the deciding game of the 1991 World Series between Atlanta and Minnesota, another 1-0 affair.
As in that Series clincher a dozen years ago, every play in last night's final was as tense as the courtroom scenes from "To Kill a Mockingbird." The centers of attention in both instances – pitchers Jack Morris and John Smoltz in '91, and goalies Adam Berkhoel and Jordan Parise Saturday – were magnificent. And in both games, one could count the number of physical and mental mistakes on one hand and still have two or three fingers unused.
There was a reason the Denver-North Dakota game remained scoreless until late in the third period: Every action had an equal and opposite reaction. When either team generated scoring opportunities, the goalies were impeccably positioned to make saves. On the rare occasions when Berkhoel and Jordan Parise failed to control rebounds, a teammate was there to move the puck to safety.
More importantly, the Pioneers and the Fighting Sioux both did what most would consider "little things" with machine-like precision. Smart play – coaches love that term – was the order of the night. Defensive zone coverage by both blueliners and forwards was exemplary. Checks were finished with due diligence. Players willingly sacrificed their bodies to block shots. Ill-advised decisions with the puck were virtually non-existent.
How fitting was it, then, when Denver got the only goal it would need late in the third period on a shot from senior forward Max Bull – whose brother, Jesse, won a national title with North Dakota in 1997 – that glanced ever so slightly off the stick of linemate and Colorado Springs native Luke Fulghum? In The Perfect Game, the outcome is often decided by minutia. Remember Chuck Knoblauch's fake in the late stages of that '91 World Series contest that kept Atlanta's Lonnie Smith from advancing to third base? That deception kept Smith from crossing home plate.
Prior to the weekend, the West Regional looked to be the least interesting of the four sites…kind of like the 1991 World Series that matched two teams that had finished last in their respective divisions the previous year. Those of us who were at World Arena Saturday are thankful we had a chance to witness The Perfect Game.