November 11, 2002
Postcard: Your Turn
One of the great things about running a web site is hearing back from the people who use our product. At times it can be humbling, but it can also be very rewarding and flattering at the same time.
We read all the e-mails you send us; we answer nine of every 10. All of them are good. Some of them are real good. Still others are outstanding. And some, well, some are just so good that we have to share them with all of you, along with our responses. So here goes...
Goldy Gopher, Minneapolis, Minn.: So you say its a bad thing to hear that Adam Hauser is starting in net? Why don't you ask CC, Michigan, and Maine how great it was to have Hauser in net last spring?
In fact, why don't you ask every college hockey team in the USA what they were doing on April 6, 2002? Adam Hauser and the Minnesota Golden Gophers answer will be a little different than the rest of the teams. If Potulny doesn't score the overtime winner, Hauser very likely would have been the Frozen Four MVP.
Don't worry, someday you guys will have a bona fide college hockey web site. Keep trying.
Former Minnesota goalie Adam Hauser. Can't see how he ever got beat. (photo courtesy University of Minnesota)
INCH sez: Well, Goldy – if that is your real name – I will admit, you've got bragging rights as far as Adam Hauser being a member of a national champion hockey team. Of course, Uwe Krupp has won two Stanley Cups. So can I not tear him down even though he moves as if he sharpened his skates with a hammer? At least Hauser didn't blow out his back dog-sledding.
Tell you what, I'll make a deal with you. If you can honestly tell me that you never doubted Hauser's abilities during his entire four seasons at Minnesota and never spoke badly of his play, then I won't rip him again on the web site.
P.S. – Spin your head.
Jeff Kusowski, Minneapolis, Minn.: As a Michigan Tech grad, it fired me up to see "In Heaven There Is No Beer" get some press. I can still sing about five verses. I look forward to seeing my Huskies at least put up a battle when they come to Minneapolis in a few weeks.
INCH sez: Jeff, your e-mail gives me an idea. If someone can send me all the verses to Tech's version of "In Heaven There Is No Beer", I'll give you...well, we can't really give you anything right now. But we'll give you credit for your work and, in the meantime, we'll try to find proper remuneration.
Andy Zenchak, Pittsburgh Pa.: I enjoyed your site on college hockey. I hope one of Pittsburgh colleges upgrade their hockey clubs to Division I level.
INCH sez: We'd like to see more schools add Division I hockey, too, mainly so we have more cities to visit (especially ones that appreciate Yuengling Lager). Plus there's talent in Pennsylvania – Ryan Malone and R.J. Umberger immediately come to mind. And I know Penn State isn't real close to Pittsburgh, but the Nittany Lions have a outstanding club program. However, the realities of Title IX make adding men's programs nowadays difficult.
By the way, it's nice to see the Penguins have upgraded to the NHL level this season.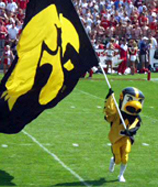 Herky the Hawkeye voted for BC in this week's INCH poll. (Photo courtesy University of Iowa)
ECM Survey, Parts Unknown: How can Ferris only be 12th???? Look at the teams they have played, and their goal differential. Are they not the hottest team in college hockey right now?? Example: FSU goes to Notre Dame and sweeps the Irish in 2 routs. Boston College goes to ND and ties, yet they are #1? What am I missing here?
INCH sez: Well, ECM, Boston College is undefeated and Ferris State has one loss. I suppose you have Iowa rated ahead of Miami in your college football poll because the Hawkeyes have been playing much better than the Hurricanes prior to Saturday's win at Tennessee.
Seriously, our readers can send us their rankings. Give us your thoughts and we'll post them. Or laugh uncontrollably.

Doug Hancock, Big Rapids: Wow, it's early in the season, but your pre-season comments/analysis are not holding! Being from Big Rapids, I may bias, but you may be looking at the best well-rounded team in the CCHA – All-American talent, multiply (sic) scorers, strong goaltending and kids whom (sic) want to play the game...to WIN. FSU will be among the top late in the season. That's my analysis!
INCH sez: Good point, Doug. Next season, I'm going to wait until December to write my conference preview. And look for my Frozen Four picks during the Memorial Day weekend.

Bruce Meek, Cadillac, Mich.: Just a thought from a long suffering Ferris State fan. If the Bulldogs keep running, give a bunch of "no-names" their due. Legacy is important, but when you have the beginnings of an interesting story forming in little old Big Rapids, take a break from the top tier school adulations and have some fun with a bunch of nobodies who are setting 2002-03 up for some really interesting college hockey. Mikey (Brown) is unconscious.
INCH sez: Hope you enjoyed last week's West Notebook, Bruce. Stories like Ferris are good for college hockey. Especially if they're doing all this with an unconscious goalie. Damn, there's an Adam Hauser joke just sitting right there that I can't use. Curse you, Goldy!
Tom van Haaren, Ithaca, N.Y: Cornell plays "O Canada" and all home games and sings it at all away games.
Jeff Hopkins, Whitehall, Pa.: It's been a tradition at Cornell since I was a student (1979-1982) to play "O Canada" at the start of every game. Some might say it's because our players in the 1970's were all Canadian, but we prefer to think that it's now in deference to the roots of the game. Also at tournaments (ECAC and NCAA) where the organizers insist that our pep band not play "O Canada", the band and the fans sing it a capella.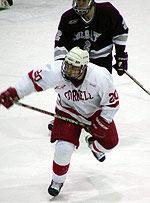 Cornell: Canada's Team (photo courtesy Cornell University)
Chris Parkin, Ithaca, N.Y.: I just had two quick responses to the favorite hockey songs feature:
1) The Cornell Band plays "Hey Baby" as well, however the Lynah faithful sing "Hey Baby (pronounced Bobby, as in captain Stephen Baby), I wanna know, if you'll kill someone, please kill someone." 2) "O Canada" is played before every game at Lynah.
INCH sez: Although we at INCH don't condone any killings, the Stephen Baby reference is top cheese.
As an aside, I'm a Minnesotan and was raised believing in the concept of "Minnesota nice." But I have to say that, as a whole, the Eastern e-mailers are more cordial and less defensive than those from the West. But we haven't got anything from Boston College fans yet, so the jury's still out.
Back to Cornell. Kudos to the tradition of performing "O Canada" prior to each game. If Tim Horton's coffee is served at Lynah and there's a Swiss Chalet within walking distance of the rink, I'll buy season tickets.

Brandon Carlson, Minneapolis, Minn.: I would just like to say that while a lot of people had some negative comments about your web site, I have actually enjoyed visiting it. Some of your preseason picks were criticized quite heavily, but I did agree with a majority of them.
INCH sez: It would be too easy to fall back on a "your check's in the mail" joke here, so I won't do that.
By the way, your bail money is in the mail.

Nathan Eide, somewhere in Minnesota: Quite possibly the highest pressure position in the last four years at Minnesota has been Adam Hauser's five hole.
INCH sez: I'm forwarding your email address to Goldy Gopher. He'll spin your head.

Al Roettger, Sioux Falls, S.D.: How can Paul Martin be left off all of the three all-American teams? In the WCHA preview, you mention him as a "potenial superstar" along with Keith Ballard, also of the Gophers and listed as a second team all-American. Paul Martin is better. I like them both, but Martin is the nuts and bolts behind this year's Gophers team, but yet gets no mention as an all-American. Are we looking at pro potential, or college ability?
Kirk, Minneapolis, Minn.: Paul Martin, why is he not on your first team list at all, a preseason Hobey finalist by Sports Illustrated. Player that at this time in his career has more points then Leopold at the same point. If you want to have a good site, you don't want to make your predictions on speculation. make them on talent and last years performance. Paul, in my and many other peoples' minds, is the best defenseman in college hockey and you guys over looked him. If I had to rate your site out of possible 10, I would have to give it a 3, and that is just because you exist. And why was Minnesota not number one. All the major polls had them there. Maybe they are going by talent and what they did last year.
Andrew Blaylock, parts unknown: I have a bias, I am a Gopher fan. I will try to avoid that with what I have to say. There are guys on your three All America teams that I would not put above Paul Martin. Martin might be the highest scoring returning D-man in the nation with 38 points as a sophomore. Although his physical play is almost non-existent at times, he gets it done defensively with positioning, anticipation, and his amazing poke check. In many people's opinion, he was the best defender during the Frozen Four last year...better than Metcalf and Leopold and I can't remember a single hit that he made. I can remember that he didn't get beat and his pokecheck turned many opposition rushes into opportunities for the Gophers.
INCH sez: O.K., O.K., enough with the Paul Martin e-mails. But jeez, you'd think we tried to contract your baseball team or something.
In retrospect, we probably did miss wide on Martin. But as BU sports information director Ed Carpenter says, it's more important to be on the All-America team at the end of the season than at the beginning.
Kirk, as far as Minnesota being number one, mabye the other polls had the Gophers on top based on talent and what they did last year. However, our poll was for the 2002-03 season, so we decided to base it on talent and what we thought the team would do this year. Just a difference in philosophy there.
By the way, Kirk, before you rate our web site, make sure you check out our newest venture. It's called www.thehockeyworldrevolvesaroundMinnesotaandeveryoneelseiswrong.com.
J.R. Ryberg, someplace in the Midwest, we think: I heard about your site so I thought I would check it out. Liked what I saw until I came to a couple of your sections. Your anti-North Dakota bias and anti-St. Cloud State bias came out in a lot of your predictions and comments. If you want to call it "Inside College Hockey written by Gopher lovers", go ahead. It would be much more honest.
Dean Blais on the hot seat? Yeah right, are you kidding me. The guy has one bad season with a bunch of freshman and you think he is on the hot seat. Don Lucia chokes with great teams at Colorado College, comes to Minnesota and leads them to the national championship and you call him the best coach in the league/nation? If Grant Potulny doesn't score it, would he still be the best coach in the league/nation?
I actually thought about advertising on your site, not any longer.
INCH sez: The "Blais on the hot seat" issue is interesting. I think we're both right here, J.R. Look at it this way. Does Dean Blais' job security hinge on the team's performance this season? Of course not. So in that sense, you're right. But does the pressure mount if the Sioux have another mediocre campaign and, by the end of the year, the team is playing in front of crowds of 7,000 at the two-year old monument to financial largesse that is Ralph Engelstad Arena? I think that's a fair statement.
Regarding the perceived bias. So far, we've been accused of being anti-Gopher, anti-North Dakota and anti-St. Cloud State. I can't speak for my co-editor, Nate, but I'm pro-Crow River Tigers of the Termite house league in Delano, Minn. My nephew is only four, but he enjoys wearing a mouthguard and was thrilled at his first practice because he got to sit in the penalty box. Kind of sounds like a young Jed Fiebelkorn.
Finally, there is one reader whose comments have to be read unedited in order to be fully enjoyed.
Philip Thielen, St. Cloud, Minn.: You need to update you (sic) polls, if you are telling me that the MIAMI Redhawks are actually picked, then Bemidji State or Union College should be at the tenth spot? You can say that Miami has 5 and 1/4 goals a game, but I bet that a quarter of those teams or even half of them will not appear in the NCAA quarterfinals. You can't judge and rank a team on one weekend series........Example...Wolverines sweep Fairbanks, wow! It is true that they have not swept the Nanooks at Yost, but pushing them up to number six? Wow, as an SCSU Huskies fan, I am ready for a season of great hockey, or am I not? Apparently I am if the lower placed teams are nationally ranked. Not taking anything away from your website, I am thankful that I have more to look at than USCHO, And maybe someday we could get an article about the Huskies.
Philip Thielen, St. Cloud, Minn.: You were right! Alabama Hunstville (sic) was a great series!Both games were close and the Chargers dominated!!!! its (sic) just to (sic) bad the (sic) got outscored 16 to 3 in the series....maybe the Denver -vs- Bemidji game will be the next spolight (sic) series!!!
Philip Thielen, St. Cloud, Minn.: you were right, the huskies suck and the sioux are gonna win hahahaha 7-3 baby!!!!!!!!
INCH sez: For some reason, when I read Philip's e-mails I feel like they're the 21st-century equivalent of ransom notes where each individual letter is clipped from a newspaper. However, after referring to my college psychology textbook, I can tell you suffer from an affliction known as Brady Syndrome.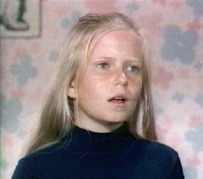 Jan Brady, St. Cloud State fan.
It's something fairly common among St. Cloud State fans. Basically, Husky Fan sees his/her team as disrespected and underappreciated, a la Jan Brady, the goofy middle daughter from "The Brady Bunch." And they see other teams – Minnesota and North Dakota, for example – as Marcia, the popular, talented, smoking-hot oldest daughter. What happens is that instead of trying to be the best Jan Brady she can, she focuses her efforts on denigrating Marcia. Therefore, when I hear Husky Fan rant about "Minnesota this" and "North Dakota that", I just imagine him/her saying "Marcia! Marcia! Marcia!" instead.

Now let's focus on Philip's arguments, which I will chew up and spit out like Tyler Arnason eating a salad.
1) As a SCSU Huskies fan, I am ready for a season of great hockey, or am I not?
You might be. But I know that season, based on past results, will end no later than first game of the NCAA Tournament.
2) You were right! (Minnesota vs.) Alabama-Huntsville was a great series! Both games were close and the Chargers dominated!
If I rememeber correctly, I think I said the two games wouldn't exactly be the '72 Summit Series (that's called sarcasm) and that the real attraction was the raising of Minnesota's championship banner. Never mind that the Chargers played the Gophers pretty close Saturday. 4-2 isn't exactly a rout.
3) You were right, the huskies suck and the sioux are gonna win hahahaha 7-3 baby!
What? When and where did we ever say the Huskies were going to lose to the Sioux? Are you sure you didn't dream that? Or did one of your imaginary friends tell you?
The Huskies are currently 4-3-1 after playing Ferris State, Rensselaer, North Dakota and Minnesota State University, Mankato. Here's the deal. Check in with me on Jan. 19, when St. Cloud will have just completed a stretch of five series against North Dakota, Denver, Minnesota, Denver again and Providence. Then we'll see who sucks.
And if the Huskies win less than half of those 10 games, we get to spin your head.
– Mike Eidelbes