May 25, 2004
Postcard: Secret Series
By Mike Eidelbes
Hours after the Tampa Bay Lightning advanced to its first Stanley Cup Finals after beating Philadelphia Saturday, INCH ECAC scribe Joe Gladziszewski and I discussed the upcoming series between the Lightning and the champions of the Western Conference, the upstart Calgary Flames, in a suburban Washington, D.C., hotel.

The first conclusion: this series wouldn't be a television ratings bonanza in the U.S. In fact, you could almost hear Sonys across the nation clicking off as the final seconds of the Eastern Conference Finals wound down in St. Petersburg.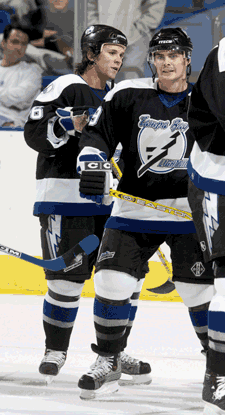 Vermont products Martin St. Louis (left) and Eric Perrin are four wins from their first Stanley Cup.
The second – and more important – conclusion, courtesy of Mr. Gladziszewski: put the Lightning and Flames in plain black and plain white sweaters and hockey fans from coast to coast would be talking about the prospect of seven games of back-and-forth, pedal-to-the-floor action about to take place.
One can even take that thought another step further. Outfit these outfits in jerseys emblazoned with the logos of, say, the Red Wings and the Rangers, and we'd be buzzing about the start of a series that could be one for the ages.
Despite its small market – or in Calgary's case, no market – trappings the 2004 Finals should be the antithesis of last year's Anaheim-New Jersey series, a seven-game yawner that produced enough memorable moments for a 15-minute highlight video…and that's if all the clips were shown in slow motion. This time around, we'll be treated to teams that forecheck aggressively (at least by today's standards), aren't afraid to take chances offensively and boast a bevy of young, skilled players. As hockey fans, that's what we want, right?
It doesn't hurt that the college ranks are well represented in this series by a number of players who boast great storylines. No one outside of Jessica Simpson has generated more buzz than former Vermont standout Martin St. Louis – the Lightning star, who started his NHL career in Calgary, is a favorite for both the Hart and Conn Smythe trophies – over the last couple months. Calgary's Craig Conroy, a Clarkson alum and 10-year NHL vet, has bounced back from a disappointing regular season and is among the postseason scoring leaders with 15 points in 19 games.
The Flames' Jordan Leopold, who won a national championship at Minnesota two years ago, is on the verge of winning another title due in no small part to his breakout sophomore campaign which earned him a spot on the U.S. entry into the 2004 World Cup. Miami product Dan Boyle, like Leopold, has been terrific on the Lightning blue line – witness his +8 plus-minus rating and seven points in the playoffs. Heck, you can even throw your support behind a coach (Tampa Bay's John Tortorella played at Maine) or an owner (Calgary's Harley Hotchkiss skated for Michigan State) with college ties.
But enough about picking sides. In fact, unless you've previously aligned your allegiances with either Calgary or Tampa Bay, just watch this year's Cup finals as a fan. Don't worry if the rest of the country chooses not to watch with you. We'll keep what should be a gem of a series our little secret.