December 7, 2004
Postcard: The Surreal Life
By Mike Eidelbes
As one of about 7,000 hockey-mad Michiganders who packed Yost Ice Arena in Ann Arbor last week for a charity exhibition match featuring the U.S. Under-18 Team against a collection of locked-out NHLers, many of them Detroit Red Wings, I saw a lot of crazy stuff.
People were sprinting up State Street to the rink in order to get a ticket to the hastily organized game (it was put together in about two weeks). Lloyd Carr could've run down the sidewalk pantsless and no one would've noticed. Chris Chelios played the role of cherry-picking forward, and would have drawn the ire of Don Cherry had the star of CBC's 'Coaches Corner' seen the long-time defenseman and chili magnate circle the neutral zone like a buzzard over a zebra carcass. The highlight, however, was seeing rock star and patron saint of trailer parks, Kid Rock, pace the same bench as venerable Wolverines head coach Red Berenson.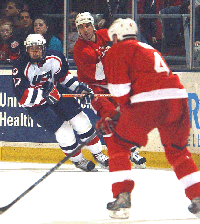 U.S. Under-18 defenseman Jack Johnson (left) wards off Chris Chelios (photo courtesy USA Hockey).
Of course, I've never seen Berenson wear a porkpie hat, as Kid did, during a game. Nor have I seen him proceed to center ice for a ceremonial puck drop wearing a floor-length fur coat with the word 'Cowboy' emblazoned on the back in sequins. I haven't seen the Red Baron constantly sip a mystery beverage that he neatly tucked away in one corner of the bench. And I'm pretty sure Red never walked off the home ice with a can of Labatt Blue in one of his pants pockets and a tin of chewing tobacco in the other.
"I looked around and said, 'What am I doing here? I don't think I belong here,'" diminuative U.S. forward Nathan Gerbe, a Boston College recruit, remarked of the surreal scene at Yost.
Certainly, this was no ordinary night for a team that usually plays in front of 200 fans at Ann Arbor's Ice Cube. Maybe it was Kid Rock's presence. Or that of actress and noted carouser Tara Reid, barely recognizable without Lindsay Lohan, Paris Hilton, the cast of 'That '70s Show' and a mobile wet bar in tow.
But Gerbe was likely referring to the guys making up the 'pro' portion of this pro-am challenge – future Hall-of-Famers Steve Yzerman and Chelios, for example, or Nicklas Lidstrom, arguably the best defenseman on the planet. Also in attendance was a Hart Trophy recipient (Sergei Fedorov) and a Selke Award winner (Kris Draper).
You'd expect a group of 21 kids between the ages of 16 and 18 to be glossy-eyed in the presence of such greatness. Heck, Chelios and Yzerman were in the NHL before most of the U.S. team was born. The same goes for Steve Duchesne, one of the pro defensemen whose age is determined through carbon dating.
"It was pretty incredible out there," said U.S. goaltender Jeff Frazee, who'll attend Minnesota next season. "You look at all these guys you looked up to when you were younger, and there they are shooting the puck at you."
Despite the opposition's star power, Frazee was the show stopper (Gopher fans – you're going to love this guy). He stoned Draper on a breakaway by getting his leg pads down in a textbook butterfly position. Shortly thereafter, he robbed hulking defenseman Derian Hatcher with a glove save on a shot from the high slot. In the third period, he stifled Chelios on a breakaway.
"Right when I stopped Draper on the breakaway in the first period, I settled down and kicked it in gear," Frazee said. "I was really nervous."
As nervous as Frazee may have been, he could at least concentrate solely on stopping the puck. The U.S. defensemen had to contend with oncoming forwards like Fedorov and Boston Bruin Sergei Samsanov, guys with more speed than the VIP room at an Amsterdam dance club.
"It took pretty much the first period for me to figure out if it was real or just a dream," said Michigan-bound rearguard Jack Johnson. "I was out there one time following Sergei Fedorov like a deer in the headlights."
The task of slowing down Fedorov and Co. was even more daunting considering physical play was, for all intents and purposes, verboten.
"Obviously, we didn't finish checks or anything. We'd kind of stick check and if we missed the puck it was like, Oh well," Johnson said. "And scrums in front of the net, you're about to hit 'em and you stop. You're like, Wait a minute. It's Kris Draper. Don't touch him."
Said Gerbe, "The great player I am, I was afraid I might accidentally get my stick up or get my knee out."
All of the Under-18 team's players left Yost with a personal scrapbook moment. Phil Kessel, the most coveted college recruit since God-knows-when – and no, he hasn't made a decision yet – scored his team's first goal in the second period, blowing past Hatcher as if the 13-year NHL vet was sitting in a beanbag chair.

"When you're out there, you don't really think about it," said Kessel, who was flattened after he shot and didn't see the puck go into the net. "But when you get to the bench, you think, 'I just walked so-and-so.'"
Of course, not everyone's prime memory of the evening was as visceral as Kessel's.
"It was definitely a highlight," said Johnson, "to see Tara Reid."