July 21, 2003
Postcard: The Curse of the Sioux Goalie
The news of North Dakota goaltender Jake Brandt being cited for stealing $200 worth of pull tabs from a bar in his hometown of Roseau, Minn., earlier this month shouldn't come as a shock.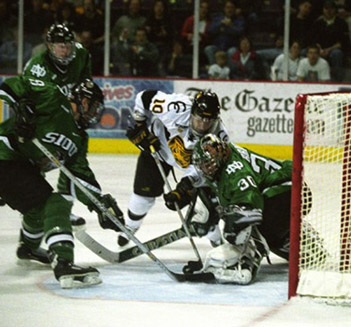 Jake Brandt: the latest victim of The Curse?
Before you fire off that "Jake is a fine young man" e-mail, take this into account: We're not calling Brandt's character into question, even though we have every reason to do so. It's just the latest occurrence of the Curse of the Fighting Sioux Goalie.

North Dakota has a fine history of goaltenders. Guys like Bob Iwabuchi, Jon Casey, Darren Jensen, Ed Belfour and Karl Goehring left an indelible mark on the program. Take a closer look at the team's roll call of netminders over the last 16 years, though, and it's hard not to think the Sioux treat goalies like Van Halen treats lead singers.

Belfour, in his lone season at North Dakota – you're allowed to insert your own "one year in Grand Forks equals three seasons anywhere else" joke here – won a national championship as a member of the Hrkac Circus in 1987, posting a 29-4-0 record, a 2.43 goals against average and a 91.5 saves percentage. In the 16 seasons since, one can argue the Sioux haven't had a go-to guy between the pipes for a myriad of reasons, from the arrival of "the next big thing" to coaches whose patience with goalies rivals George Steinbrenner's patience with...anything.
Just the facts, ma'am
Since 1987-88, the Fighting Sioux have had two goalies record 10 or more decisions in the same year 10 times in 16 seasons. By comparison:
Minnesota-Duluth has done so seven times during the same span, including each of the last four seasons and all three since former UND assistant coach Scott Sandelin took over as the Bulldogs' bench boss. Coincidence? Yeah, probably.
Michigan State has had two backstops with 10+ decisions in the same year five times since 1987.
Boston College had two goalies with double-digit decision totals four times in 16 seasons. Once was in 1999-2000, when Scott Clemmensen was hurt and replaced by backup Tim Kelleher.
At Michigan, it's happened exactly twice. Once was in 1999-2000 when Josh Blackburn, who made 40 or more starts in a season three times in his career, was sidelined with an injury.
How about games played?
In 16 years, North Dakota goalies have eclipsed the 30-start plateau in a season seven times. Throw out Goehring and Kvalevog and that number drops to one (Todd Jones in 1991-92)
At MSU, one goaltender has made a minimum of 30 appearances in all but two seasons, one being 1999-2000 when the Spartans boasted a returning All-American (Joe Blackburn) and a future Hobey Baker Award winner (Ryan Miller).
At least one BC goalie has seen action in 30 or more games in 12 of the last 16 seasons.
And at Michigan, where Red Berenson treats goaltenders like Nike treats southeast Asian sixth graders, one goalie has made 30 or more appearances in all but one season.
It's not too difficult to conjure up the statistical backing to support of this theory (see box at right). But as a friend posited, it's more likely that one good goalie ruins things for the next five to follow. Why else would the goaltenders' log at North Dakota read like something out of the book of Genesis: Brower begat Dickson, who begat Peters who begat Couture, and so on?

Has there ever been a place outside of CBS' NFL pre-game show where so much talent has gone, only to drop off the face of the earth shortly thereafter? Long before "Survivor" was even a thought in a producer's mind, netminders were being voted off the wind-swept prairie with alarming regularity.
Take into consideration:
Steve Peters, son of former North Dakota and Bemidji State coach and current College Hockey America commissioner Bob Peters. Touted as one of the aforementioned "next big things," the younger Peters played in 17 games over three seasons.
Todd Jones, who made 30 starts in his rookie campaign in 1991-92. Since Belfour's departure, he's the only goalie not named Toby Kvalevog or Goehring to accomplish that feat. The following year, he split time with freshman du jour Kevin Powell. As a junior, he played in three games.
Powell, who appeared in 17 games as a freshman, saw action in 12 games in his next two seasons.
Kvalevog was a workhorse, playing in 99 games in his first three years at UND. In recognition of his yeoman-like effort, he was benched in favor of freshman Aaron Schweitzer in 1996-97. Of course, Schweitzer backstopped the Sioux to a national title that year.
Schweitzer fell out of favor with coach Dean Blais after starting the 1997-98 season with an 0-1-7 record. His replacement? A diminuitive netminder named Karl Goehring. Schweitzer left North Dakota, bounced from the Canadian national team to the West Coast Hockey League to a Canadian college. He's now out of hockey.
Goehring did pretty well for himself, winning a national title and all. Still, he had moments like the 1999 WCHA Final Five title game, when Denver defenseman Shawn Kurulak beat him from the top of the circle with a looping, saucer-like backhand in the third period to provide the Pioneers with the final margin of victory. The Sioux never recoverd from that goal, losing to Boston College in their first NCAA Tournament game that season. Goehring also battled injuries during his career, enough to allow backup Andy Kollar to see significant playing time.
Kollar wobbled to a 7-9-1 record in his first season as "the man" after posting a 34-5-4 mark in his first three seasons. He eventually yielded playing time to Brandt and Josh Siembeda.
Siembeda, the subject of a fierce recruiting war between North Dakota and Michigan State, joined the Sioux at the midway point of the 2000-01 season. He was named to the all-Great Lakes Invitational team after backstopping his team to wins against Michigan and Michigan State in his first two career starts. He'd go on to record three wins in his next 10 starts. His 2002-03 record (12-4-0) looks respectable. Then your eyes hit that 85.3% save percentage. Siembeda will not return to the Sioux this season.
Last season, three different goalies saw significant game action: Brandt, Marc Ranfranz and Siembeda. None had a save percentage better than 90%, although each had at least one shutout.
The curse even trickles down to recruits. Layne Sedevie, a goalie who had been on the UND recruiting list so long it seemed like he verballed with David Hoogsteen, had his scholarship offer withdrawn due to concerns surrounding an injury he sustained in the USHL. Sedevie has since signed a tender with Bemidji State.
For the sake of argument, let's say that Brandt gets booted off the team. Knowing Siembeda is gone, North Dakota returns Ranfranz and welcomes freshmen Jordan Parise (Zach's brother) and Nate Ziegelmann, fresh from the USHL. That's a combined nine games of college hockey experience between the pipes. I'm prepared to eat crow in April, but I don't see that trio leading the march to Boston.
Maybe Ralph Engelstad's insistence on bucking political correctness in favor of the Fighting Sioux nickname and logo angered a powerful Native American deity, who then decided to put a hex on the position the tycoon played at North Dakota more than 50 years ago in retaliation.
Hey, it's gotta be something.
– Mike Eidelbes