March 26, 2004
NCAA Tournament

Postcard: Victory, But for Who?
By Mike Eidelbes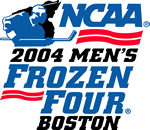 This should be a great time to be a Minnesota fan.
After all, the Gophers' quest to win a third straight national championship is gaining momentum. They've won six in a row, all of which have come at the expense of bitter rivals St. Cloud State, Minnesota Duluth and North Dakota. If the tournament plays out true to form, Minnesota will play UMD in Grand Rapids, Mich., Sunday for a Frozen Four berth, with the winner likely drawing the Fighting Sioux in the semifinals.
So why did Minnesota fans spend the first part of this week wringing their hands and generally acting as if the ghost of Ralph Engelstad has returned from the great beyond to kick Goldy Gopher in the Ski-U-Mah?
Sources of consternation in the Land of 11,842 Lakes can generally be narrowed to the following trio – mosquitoes, the Minnesota Department of Transportation and Carl Pohlad.
Pohlad, the Monty Burns-esque president of Marquette Bancshares and owner of the Minnesota Twins, also owns a fledgling cable outlet called Victory Sports. Its primary purpose is serve as the home of Twins broadcasts, but Victory also secured the rights to air this weekend's NCAA hockey regional games. One problem: Victory Sports is available to roughly three cable and/or satellite customers in the Upper Midwest.
OK, so we're exaggerating a little. Thirty cable providers in the area carry Victory, but the giants that serve most of the Twin Cities – Comcast, Charter and Time Warner – aren't among them. Seems the cash-strapped cable companies (those four words have never been used in the same sentence in the history of the mankind until now) aren't willing to shell out the cabbage Victory is seeking.
Needless to say, the stubbornness of two fabulously wealthy entities had Gopher fans on edge. How would you feel if your team began defense of its national title and you couldn't watch…but folks in hockey hotbeds like Memphis and Tulsa could?
"Leave it to a baseball channel to screw up college hockey," Gopher fan Mark Fritsche said. "How can a channel that has little to no distribution pick up the NCAA regionals…and hose all of us Gopher fans?"
Normally in a situation like this, cooler heads would prevail. Not here. Gopher fans, frothing at the mouth, badgered (no pun intended) both Victory Sports and the cable conglomerates to make something happen….now! Fans flooded both sides with phone calls and e-mails. The impasse was the hot topic of discussion in the Twin Cities – in the newspapers, on television, talk radio and Internet message boards.
All the pressure and vitriol from the outside left the big wheels with no choice other than to come up with a solution or face the torrent of criticism that would be sure to follow. So they made a deal. The cable companies will pick up Victory Sports for the weekend, allowing viewers to watch their beloved Gophers (or Bulldogs or Badgers or Fighting Sioux) from the comfort of their own homes.
Fritsche, for one, will watch Saturday's game with friends either at his home or his group's favorite pre-game hangout. Quite a change from a few days ago, when such options were non-existent.
"As one of my fellow Minnesota fans said," Fritsche recalled, "never underestimate the passion of a Gopher hockey fan."