June 27, 2004
Postcard: The Weight of the Wait
By Mike Eidelbes
RALEIGH, N.C. – The second day of the NHL Entry Draft is hardly glamorous. With a handful of hardcore fans in attendance and no television coverage, the proceedings are about as exciting as your local zoning board meeting.
Still, it's a nerve racking morning for prospects that sat in the RBC Center stands for five hours Saturday without being chosen in the first three rounds and woke up early to head back to the rink for the final six rounds.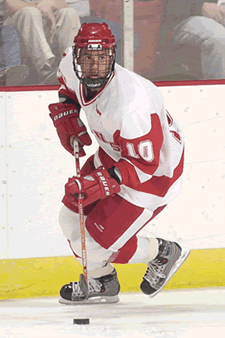 "I know I have first-day [rounds 1-3] potential and I think Toronto
definitely got a steal here," said Robbie Earl, who had 14 goals as a freshman at Wisconsin last season.
Wisconsin forward Robbie Earl could barely contain his frustration after being selected by Toronto late in the sixth round (187th overall), a precipitous fall for a player ranked 59th among North American skaters in the NHL Central Scouting Service's final ratings.
"It was probably one of the hardest things I've done," Earl said of his wait. "It's kind of difficult being projected a lot higher and falling back pretty far. I don't know what went on. But, hey, that's where the chips fell."
Earl's not alone. A lot of players feel they should have been taken Saturday. Anaheim assistant general manager Dave McNab says prospects need to look at the proceedings with a different perspective.
"The players here today sat through all day yesterday, and a lot of them get here today and they're depressed," McNab said. "You see them moping around, and what they have to realize is that getting taken in the fourth round of a professional draft is a great thing.
Unlike Earl, Michigan recruit Kevin Porter expected to be taken on the second day. His wait was a short one, going to Phoenix in the fourth round.
"I was fairly confident that I was going to be picked at least sometime during the nine rounds," said Porter, a member of the U.S. National Team Development Program last season. "I kind of knew that coming in and I knew it was going to be tough, but I told myself that's where I was going to go – the second day – and I've got to deal with it."
The ultimate fear belongs to the handful of prospects watching Sunday's selections knowing they could face the ultimate indignity – leaving the arena undrafted.
"That was something we thought about," said UMass Lowell forward Ben Walter, a fifth-round selection of Boston. "But my [advisor]…thought we should come and I'm glad we did."