June 26, 2004
Postcard: Wheeling and Dealing
A surprise pick makes Minnesota recruit the first collegian taken
By Nate Ewell
RALEIGH, N.C. – Blake Wheeler knows where he'll be playing hockey in the fall of 2005, thanks to a verbal commitment to the University of Minnesota. After the Phoenix Coyotes stunning move to take him fifth overall in the NHL Entry Draft, he knows where he'll begin his pro career as well.
What Wheeler doesn't know yet is where he'll spend his senior year of high school. The big right wing doesn't need a fortune teller; he needs a present teller.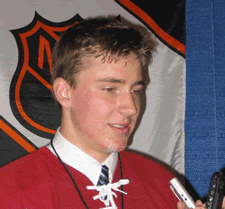 Blake Wheeler had 100 points for Breck School this season. "He's a 6-foot-4 player who scored 100 points last year," one scout said. "You can say what you want about the level of competition, but not many players can do that."
Wearing a big smile and a bandage on his chin, courtesy of an elbow in a recent pick-up game, Wheeler was clearly content to put off deciding where he'll play this year for another day. He was as surprised as anyone to be the first American and first collegian to be taken in the draft.
"When [the Coyotes] were interviewing me, the feeling I got was that they were going to try to take me in the second round – and that would have been great," Wheeler said. "I couldn't have ever dreamt this."
It's the second straight year that a Gopher (or future Gopher) was the first college player taken in the NHL Draft. Thomas Vanek held that spot last season, also at No. 5 overall.
Rated 17th among North American skaters by the Central Scouting Service, most experts expected Wheeler to be taken late in the first round or early in the second. But Coyotes managing partner Wayne Gretzky felt confident that his team got their guy.
"We just felt that this young man has tremendous upside," Gretzky said. "He's a tremendous athlete. We were very comfortable with picking him at number five. We kind of took a bit of a risk, but we believe he has tremendous upside."
Other scouts weren't so sure that taking Wheeler in the fifth spot – instead of possibly trading down and getting him later – was a good move by the Coyotes.
"I was floored," one NHL scout said. "Who knows, in five years he may be a great player and they might look like geniuses for taking him at five. But you had to think he would be available 15 spots later. That's what amazed us."
College fans, meanwhile, will have to wait another year before Wheeler takes the ice with the Gophers. He's entering his senior year of high school, and could return to the Breck School to defend the team's state championship. He has also been drafted by the USHL's Green Bay Gamblers, and joining the USHL remains a possibility.
Wheeler was happy to enjoy the moment, and not worry too much about what lies ahead. For someone who hasn't even taken the SAT or ACT yet, the future can seem a ways away.
"There will be some talk with the organization, I'm sure," he said. "My future will be planned out pretty quickly."
Gretzky was more inclined to let the future Gopher take his time.
"We know he's a few years away from playing in the NHL," he said. "He's just finished grade 11, he's 17 years old. It's not a race now to get to the Phoenix Coyotes. Let's let him finish at least grade 12, and we'll go from there."