June 4 , 2003
Postcard: You've got questions...we've got answers
Since our inception about a year ago, the Inside College Hockey World Headquarters in beautiful mid-Michigan have been flooded with letters, phone calls and e-mails from college hockey fans across North American seeking honest answers to tough questions.

As a service to our devoted, knowledgable readers, INCH management is proud to introduce to you the college game's version of Yoda, the INCH Wizard.

Hey INCH Wizard: The Edmonton Oilers will host the Montreal Canadiens Nov. 22 in an outdoor game at Commonwealth Stadium. Will it top the Michigan-Michigan State game played at Spartan Stadium a couple years ago? Thanks, Peter in Red Deer.
Peter: The Oilers-Canadiens tilt may not surpass the attendance record (a little more than 74,000) set in East Lansing in 2001. Commonwealth Stadium – a north-of-the-border version of Arrowhead Stadium in Kansas City – seats 60,217 for football, but the only way they'll cram more than 70,000 into the place is if half the crowd is Doug Flutie-sized.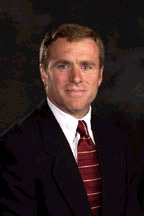 "Double Duty" Eaves
Actually, the game may not happen at all, since the NHL Players Association was hemming and hawing about signing off on the deal. Jeez, it's hard to believe the NHLPA, an organization about as flexible as Uwe Krupp after a day of racing sled dogs, would hinder a proposal that would showcase the game of hockey to the entire world.
That being said, the game of hockey is a Canadian passion. This game may not be bigger than the Cold War, but odds are that it will be better. Hey, they've already surpassed the U.S. in donut and coffee technology (Tim Horton's), beer production (Labatt and Molson) and crappy, punk rock wannabes (Avril Lavigne, Sum 41).
By the way, if this game becomes a reality, is there anyone willing to join me in begging Montreal general manager Andre Savard, uh, make that Bob Gainey, to make sure ex-Wolverine Mike Komisarek suits up just so he can say he played two games in front of a combined 140,000 spectators? Let's put that figure in perspective: That's the same number of fans who've attended the last 140 Detroit Tiger home games.

Wizard: Wisconsin hockey coach Mike Eaves will coach the U.S. team at the next World Junior Championship in Finland and he's taking assistant John Hynes with him. Who's going to run the show during the holidays for Bucky? Jim in Sun Prairie, Wis.
Jim: The World Junior Championship runs from roughly Christmas Day to Jan. 4. During that stretch, Wisconsin hosts the Badger Hockey Showdown and plays a two-game series at Minnesota State, Mankato.
Assistant coach Troy Ward will be in charge while Eaves and Hynes are overseas. Maybe the Badgers should do like David Letterman did when he was on sick leave recently and have guest coaches for every game. Bucky could roll famous alums such as actress Joan Cusack, rocker Steve Miller (he actually dropped out before getting a degree), television legal analyst Greta Van Susteren or even Vice President Dick Cheney, although he, too, pulled the chute before grabbing a sheepskin. Maybe even baseball commissioner Bud Selig, although every game would end in a tie.
Of course, you'll probably miss freshman defenseman Ryan Suter – a lead-pipe cinch for the U.S. entry for the WJC – more than you'll miss the coaches.
INCH Wizard: Michigan State is at it again. According to a recent Detroit News story, the school will play a men's basketball game against Kentucky at Ford Field in Detroit. What gives? Dave in St. Johns, Mich.
Dave: Good question, Dave. It's going to happen in December. Does college basketball come up with any good ideas of its own? No. They have to steal from hockey. The great minds of the hockey community blaze the trail and, predictably, the image-conscious pretty boys from the basketball world tra-la-la their way down the path while trying to keep their Bruno Maglis free from grime.
Maybe the powers that be in basketball will go to a four-on-four overtime. Wait a second…I said they were only taking the good ideas.
How about hockey fights then? I don't necessarily consider fighting to be an integral part of the game, but I'm not adverse to watching Domi and Brashear go mano-a-mano every so often. But have you ever seen a basketball fight? Other than Kermit Washington going Fight Club on Rudy Tomjanovich's piehole 30 years ago, hoops brawls are about as physical as the National Spelling Bee finals, although the feature the same amount of high-pitched screaming.
As an aside, this game at Ford Field has been labeled "BasketBowl", which I thought referred to an all-star game consisting of guys who failed the NBA's mandatory drug test. But I guess the Trailblazers and Clippers play enough during the regular season. Feel free to insert your own Kevin Stevens joke here.

Wiz: In an article that ran in the Grand Forks Herald a few weeks ago, North Dakota coach Dean Blais said his future being the Fighting Sioux bench in hazy. He's kidding, right? Take it easy, Kirk in Pembina, N.D.
Kirk: While Dean Blais can present the persona of an "aw shucks" hick from the sticks, he a pretty smart dude. What better way to put a little pressure on the university than publicly contemplate his future in Grand Forks?
Here's the deal: The guy is more popular in the area than grinders from the Red Pepper. His teams play in an arena that's far superior in amenities and creature comforts than any college barns – and most NHL rinks. Recruiting? Not an issue. Money? Hell, he got truck, trailer and fishing boat a couple years back and he received a country club membership as part of his current deal, which makes him the Mark Cuban of the Red River Valley.
Adam Hauser: INCH whipping boy and owner of a generous five-hole.
Besides, where would he go for another job? The NHL? Not likely. I doubt he'd be interested in another college gig except for maybe Minnesota, his alma mater, but by the time that position is vacant, Blais will be playing bingo at the East Grand Forks Elks lodge on Salisbury steak night.
On a totally unrelated note, could you imagine Blais, who treats goaltenders like Jennifer Lopez treats husbands, coaching a team with Adam Hauser as his top netminder? For devoted readers of ESPN.com's The Sports Guy, the Unintentional Comedy Rating of a Blais-Hauser union would be 100.

Wiz-dog: What's up with Bowling Green alum and current Mighty Duck Dan Bylsma riling up New Jersey's Scott Stevens prior to the start of the Stanley Cup Finals? Doesn't he remember a few years back, when Stevens made Eric Lindros go fetal for more than a year? Later, Doug in Holland, Mich.
Doug: Well, it wasn't exactly Joe Namath guaranteeing victory in Super Bowl III or Mark Messier doing the same for the Rangers as they faced elimination in the 1994 Eastern Conference Finals. It's not even Jake Taylor calling his shot and then squaring to bunt in "Major League."
"Playing New Jersey would be great too because I'd really like to shake Scott Stevens' hand when he's congratulating me on winning the Stanley Cup," Bylsma said prior to the start of the series with the Devils.
The Anaheim winger said he meant it in deference to a player he's admired for a number of years.
"A kid from Grand Haven, Mich., never thinks like that," Bylsma said before Game 1. "If it's on their (bulletin) board, I guess it means that I'm here."
All right then, Dan. I really do get the sense that you didn't mean what you said in a negative manner. But do you really want to goad Scott Stevens? Why not Brian Gionta? He's about 5-foot-2 and you should be able to rag-doll him in a skirmish. Or one of those soft Euros Don Cherry is always complaining about? Anyone but Stevens, who's delivered more jarring hits during the course of his career than anyone this side of a Arturo Gatti-Mickey Ward lightweight fight.
Speaking of the Stanley Cup Finals, I can't believe we're sitting through a Ducks-Devils series. No disrespect to either organization (that's pronounced oar-gan-EYE-zay-shun), but don't you get the same feeling you had while watching Super Bowl XXXIV when St. Louis played Tennessee? I must remind myself constantly that these two teams are playing for hockey's biggest prize, and not slogging through a meaningless mid-January snore-fest.

That's it for now. Thanks for your questions. Keep your head up.
Got a question for the INCH Wizard? Send it to inch@insidecollegehockey.com.