January 5, 2004
Come Together...Right Now
By Mike Eidelbes
Remember Bill Murray's impassioned rant to the mayor of New York City about the onset of the apocolypse in "Ghostbusters", specifically his claim that the arrival of the four horsemen would result in chaos including "dogs and cats living together"?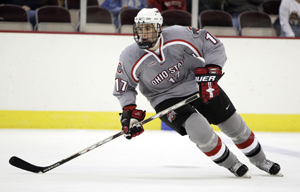 Ex-Buckeye Ryan Kesler was one of the top two-way forwards at the recently completed 2004 World Junior Championships.
There have been no media reports from Finland regarding an uptick in paranormal activity. But in the comfort of my own home, I saw phenomena similar to that predicted by Murray live via satellite from Helsinki. And I've got the entire episode TiVo'd to prove it.
Wolverines hugging Spartans. Black Bears embracing Eagles. Badgers celebrating with Fighting Sioux. Tigers hugging Pioneers.
They are, of course, all Americans. And they won the country's first gold medal at the World Junior Championships Monday, rallying from a two-goal deficit to secure a 4-3 victory against Canada, the Stay Puft Marshmellow Men from the North. It's a great moment for hockey in this country, even if it wasn't a great game.
Actually, it wasn't even a very good game. Entertaining, yes. A classic? No. The game-winning tally came when goaltender Marc-Andre Fleury, the first overall pick in the 2003 NHL Draft, tried to clear the puck out of his zone but instead shot it into a teammate's backside. The puck caromed straight back past Fleury and into the net. Not exactly Bobby Orr in the 1970 Stanley Cup Finals, but it counts.
And while it's not a galvanizing moment for the country by any stretch, the best part of the game for me was that post-game scene. No East hating West, or NCAA pitted against the major junior ranks, or Michigan loathing Michigan State.
It seems like sports fans exert a lot of energy in dispensing venom toward their enemies. We're all guilty of it. But we shouldn't have wait for these players to wear a jersey we don't mind cheering for in order to applaud or, at the very least, appreciate their abilities.
Maybe it's just me getting older, but I appreciate great performances – even from players on teams that once caused my blood to boil. So if you're lucky enough to hold a ticket to the Michigan-Michigan State game at Munn Ice Arena later this season, take delight in the duel between gold-medal goaltenders Al Montoya and his WJC backup, Dominic Vicari. If you've got seats to this month's North Dakota-Minnesota series in Minneapolis, marvel at watching Zach Parise, who, for at least two weeks, was the world's best player in his age group. If you're bitter about the pipeline of underclassmen heading into the professional ranks, reflect on the play of ex-Ohio State forward Ryan Kesler and realize he belongs in the NHL...or at least on the cusp of The Show.
After all, as we learned today, dogs and cats living together ain't that bad.