Yost-card: The Kids Are Alright
As someone whose life pretty much revolved around the Michigan State hockey program for the previous two seasons, saying I've learned to dread visits to Yost Ice Arena is like saying Martha Stewart has learned to dread phone calls from the Securities and Exchange Commission. But I was there last Saturday, watching the Wolverines play the University of Toronto in an exhibition game.
Naturally, I wasn't there to see the Varsity Blues – yes, that's the Toronto team's nickname – on the off chance there might be a James Van Der Beek sighting. And I wasn't expecting a barnburner. In fact, the 8-1 final score makes the game seem closer than it actually was, considering Michigan outshot Toronto 54-13. (Incidentally, Toronto's lone goal was scored by winger Ian Malcolm. Varsity Blues coaches, I implore you, please put him at center so guys like me can fill our notebooks with "Malcolm in the Middle" references. It's all about promotion.)
Anyway, I had to go to Ann Arbor to see arguably the nation's most heralded freshman class. And the kids did not disappoint.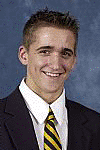 Danny Richmond
Defenseman Danny Richmond, a member of INCH's preseason all-rookie team, has an offensive flair the Wolverines haven't seen from the blue line in some time. Forward Jeff Tambellini gives Michigan a dimension of speed they lost when fellow paesan, Mike Cammalleri, signed with the Los Angeles Kings during the summer. A deft passer, he wowed the U-M faithful in the first period with a filthy backhand pass to John Shouneyia as he streaked into the slot. The Wolverines will need more plays like that from the British Columbia native, as Shouneyia is out for up to two months with a broken wrist.
Diminutive front-liners Andrew Ebbett and Brandon Kaleniecki were impressive, too. Ebbett, at 5-foot-9, always seemed to be around the puck and notched a goal and two assists. The 5-foot-8 Kaleniecki, last year's North American Hockey League Player of the Year, picked up a pair of goals and was a threat on the power play.
The jury is still out on goaltender Al Montoya, who only faced seven shots. Shaky at times, he was forced to make a spectacular diving stop on a Toronto attacker after flubbing a clearing attempt.
Needless to say, the quintet of Michigan freshmen gives hockey fans a good reason to visit Yost Ice Arena
– Mike Eidelbes