January 20, 2004
INCH Measures Up: Mike Ayers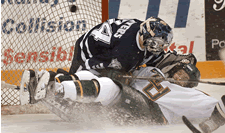 With consecutive shutouts against Dartmouth and Brown last week, UNH goaltender Mike Ayers has four whitewashes on the season. (photo by Michael Silverwood)
New Hampshire goaltender Mike Ayers will wrap up his college career in a few months as one of the best netminders in Hockey East history. The proof is in the numbers – the Hingham, Mass., product enters UNH's game against Merrimack Friday with 52 career wins, a lifetime 2.36 goals against average and a save percentage of .919 in three-plus seasons in Durham. And that's just the tip of the iceberg.

One of the few accolades to elude Ayers, however, is a national title. He and his teammates have been close in each of the past two seasons – they lost to Minnesota in last year's finale in Buffalo and bowed to Maine in a Frozen Four semifinal match in 2002.

After enduring a shaky four-week stretch in which they were 1-4-2, the Wildcats have rebounded to win three in a row, including back-to-back shutouts against two teams – Dartmouth and Brown – currently residing in the INCH Power Rankings. We caught up with Ayers, the reigning INCH Player of the Week, to get his thoughts on the season thus far.


Inside College Hockey: Your play seemed to mirror that of your team during the first half of the season in that inconsistencies seemed to be the rule rather than the exception. Any theories as to why that might have been?

Mike Ayers: I don't know what it was. I think it was just a matter of knowing what role to fill out there. We have a lot of younger guys on the team and I think there was a lot of burden on their shoulders. That's where the seniors have to step up and play their game. All the guys who have been there before…it's just a matter of letting [the younger guys] know what to do. The whole team was trying to get into a rhythm and it wasn't happening for us.

INCH: Things have picked up for you in recent weeks. Do you feel like you've finally settled in?

MA: I feel really good. I didn't feel like I was able to get into a groove early in the season. I think as a team, we're playing well. I'm not going to be able do things by myself out there. You need teammates in front of you.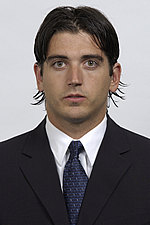 INCH: This program has been come so close to winning a national championship on a number of occasions in the past. How have you and your teammates dealt with standing on the altar and not getting the bride?

MA: I don't think it's affected us. It just makes us work harder to get there again. It's tough because you're not always going to have that opportunity You're not always going to have the team to get to the next level. It would be nice to get back there, but it's not easy.

INCH: There's an NCAA Regional down the road in Manchester this year, and the Frozen Four is at the Fleet Center in Boston. You guys are no strangers to either building. Have you thought about the ramifications of playing NCAA games in your own backyard?

MA: It would be great. Ever since they built that rink in Manchester, they've been trying to push to get an NCAA Regional there and this year it's an added bonus to get there. But you can't look at the big picture. You've got to take it a game at a time…play 60 minutes each game and worry about the rest later.

INCH: Thumbing through the Hockey East record book, your name pops up quite a bit and you figure prominently on the league's list of great goaltenders. Have you thought about your place in history with guys like Snow, Dunham and Conklin?

MA: I think it's something I'll be proud of later. Obviously, right now I'm not thrilled because we haven't gotten the big title…I'm not happy with what I've done. I don't want it to end now. I want it to keep going.