January 6, 2003
Pro-file: Brad Bombardir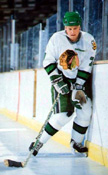 Brad Bombardir played for North Dakota from 1990-94.
He went from New Jersey, a perennial Stanley Cup contender, to the expansion Minnesota Wild prior to the 2000-01 season. That would seem like a bad move. For defenseman Brad Bombardir, a four-year letterwinner at the University of North Dakota, it was a chance to spend less time in the press box watching regulars like Scott Stevens, Scott Niedermayer and Brian Rafalski and get more time on the ice.
Mission accomplished. In three seasons with the Wild, Bombardir has played in 130 games -- injuries limited him to just 28 appearances last season -- and become one of the team's leaders. On pace for a career high in points and one of the NHL leaders in plus-minus rating, the Powell River, B.C., native has been a key reason Minnesota is pushing for a home-ice berth in the Stanley Cup Playoffs. INCH tracked down Bombardir following the Wild's win over the host Detroit Red Wings just prior to the holidays.
Inside College Hockey: Even though you grew up in British Columbia, you spent four years at North Dakota. Now that you're with the Wild, in Minnesota, do you feel like you're back home?
Brad Bombardir: I really do. I enjoy the Midwest and I enjoy the people. I spent six years out east -- in Albany, N.Y., for three years and New Jersey for three years with the Devils -- and I'm just a Midwest kind of guy. My wife's from Minnesota originally, so it's like we went back home, back to her family and back to my family. It's been a great experience.
INCH: You've spent some time this season paired with Nick Schultz, a young defenseman who's still learning to play at the NHL level. Is it an honor for you to be paired with a player like Schultz, a prospect with a high ceiling, and be asked to show him the ropes?
BB: You always take pride in playing with the young guys. They have so much skill. A lot of these young guys in the league right now...it amazes me at how much skill and confidence they have at the age of 20, 21. It's been fun playing with him. He's a skilled player and he's a smart player. It's been fun for me and hopefully, he's enjoyed it as well.
INCH: Xcel Energy Center, the Wild home rink, is arguably the best arena in the NHL. But you got the chance to skate at the new Ralph Engelstad Arena in an exhibition game in October. What were your impressions of the new barn in Grand Forks?
BB: It's incredible. It's a palace. It's one of the nicest hockey arenas I've been in in my life. I hate to compare it to the Xcel Energy Center, so I'll leave it at that. It's definitely one of the nicest places in the U.S., probably in the world.
INCH: Did you know Ralph Engelstad at all? And what thoughts came to your mind after you learned he had passed away?
BB: I didn't know him so well. He'd come in and out of games once in a while. Obviously, he was a great man and he worked so hard for everything that he had. He liked to share it with people...the University and other people throughout the state, people that were in need and his hometown of Thief River Falls. He was a great man and he has really done the University proud.
INCH: The Fighting Sioux won the Great Lakes Invitational here in Detroit in 2001. Did you check out the banner hanging from the Joe Louis Arena rafters noting that achievement?
BB: You know what? I didn't even notice it. Certainly, I always keep tabs on North Dakota and the successes they've had the past few years. They're an excellent hockey club and I always have fond memories of being there. College hockey is a great place to go, and a great place to be.