October 29, 2003
INCH Measures Up: Chris Conner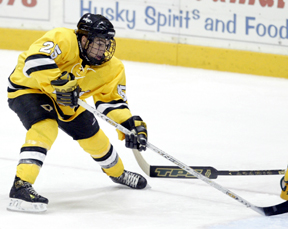 Michigan Tech sophomore Chris Conner has nine goals and 11 points heading into this weekend's series with Vermont. (photo courtesy Michigan Tech University)
Four games. Nine goals. 11 points. You could say Michigan Tech forward Chris Conner is off to a pretty good start this season.

Conner, a sophomore who calls Westland, Mich., home, has teamed with junior linemate Colin Murphy (six goals and 10 points this year) to form one of college hockey's most dynamic one-two offensive punches. Thus far, the 5-8, 175-pound centerman has proven he can beat goalies at even strength, with the extra man (one PPG) or on the penalty kill (two SHGs). Conner took a study break to field a few questions from Inside College Hockey.

Inside College Hockey: What was your first impression of your new coach, Jamie Russell, when you stepped on the ice for practice last month?
Chris Conner: "The first thing I noticed is that he likes being involved with the drills, and all of the drills he sets up translate to the game that he coaches. Everything we do in practice is very useful in the games. That's the main thing that popped out at me. That, and he makes practices fun."
INCH: You and Colin Murphy are off to unbelievable starts this season. What kind of chemistry do the two of you have?
CC: "Murphy and I played together half of last year and now the beginning of this year. Colin is a great player, and we just seem to know what we're going to do and what each other thinks when we're out there. Off the ice, we're really good friends and I think that translates to what we do on the ice."
INCH: Given your current scoring pace, do you and Colin look at each other and think, this is quite a roll we're on?
CC: "We look at each other and kind of smile and keep playing. We couldn't do it all by ourselves, though. Our teammates are working hard and our team has been playing pretty well. We're only 1-2-1, but they've been really close games...games that we could've won. It's just a combination of everything -- working hard, not giving up and doing what we have to do.
INCH: During the past couple of seasons, Michigan Tech has been competitive, making teams earn every victory, but hasn't found a way to turn those close losses or ties into wins. Is your team ready to make that step this season?
CC: "Most definitely. We've got to learn how to play with and finish teams off. We're very close to that and once we figure out how to do that, we're going to be a tough team to beat in the WCHA."
INCH: How did you end up at Michigan Tech?
CC: "[Former] Coach [Mike] Sertich recruited me and the staff was very straightforward with me. One thing I wanted to do was play. I didn't want to come to a school and sit out for a couple years. And I love the atmosphere up here. It's a small town, and everyone is really nice. It just seemed like the best fit for me."
INCH: So when you're out and about in Houghton, are you and your teammates the town's Derek Jeters?
CC: "A fair amount of people know that we play on the Michigan Tech hockey team. We walk in somewhere and they say, 'Nice game.' It's a good feeling."
INCH: But it doesn't get you great tables at restaurants or discounts or anything?
CC: "No...nothing like that."
INCH: Any big snowfalls yet?
CC: "Not yet. We had a little bit this morning, but it's all gone now."
INCH: How many times have you woken up in the morning, seen a fresh dump of snow and said to yourself, "Awww...I don't want to trudge around in this"?
CC: "There were a few last year. I had 8 o'clock classes and getting up to walk to class from the dorm...it was brutal."
INCH: I suppose, given all the snow that falls in the area, they've got snow removal down to a science and classes are never cancelled.
CC: "I don't think we had one day cancelled last year because of snow. They've usually got the roads and everything plowed by morning. They're pretty good as that."
INCH: Have you ever seen anyone with a larger head than [Michigan Tech assistant athletic director] Dave Fischer?

CC: "No, I haven't. Biggest one I've seen so far."