October 22, 2002
Pro-file: Craig Conroy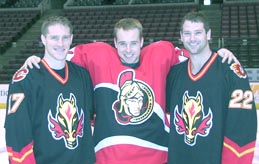 Craig Conroy (right), with fellow Clarkson alumni Chris Clark and Todd White. (Photo courtesy of Clarkson Sports Information)
Calgary Flames captain Craig Conroy was born in the shadow of the Clarkson Golden Knights. The native of Potsdam, N.Y., averaged better than a goal per game as a senior at Northwood Prep, then skated four seasons at Clarkson.

As a freshman at the ECAC powerhouse, Conroy was a member of the Knights' last Frozen Four team. As a senior he was a first-team All American and finished as runner-up (to Minnesota-Duluth's Chris Marinucci) for the Hobey Baker Award in 1994.

He made his NHL debut in 1995 with the Montreal Canadiens and suited up in 13 games for the Habs before being dealt to St. Louis in October 1996. He played the better part of five seasons with the Blues before he was traded to the Flames in March 2001. In his first full season with Calgary, Conroy notched new career-bests in goals (27), assists (48) and points (75).

After a recent Flames pregame skate, Conroy, 31, talked with INCH contributor Jess Myers at the Xcel Energy Center in St. Paul about a life spent in college and pro hockey.

Inside College Hockey: When you played in the ECAC, how many times did you see naked guys climbing over the boards during games?
Craig Conroy: That was a first for me. It almost looked like a dummy because the guy fell and was just laying there. I
never saw that in the ECAC.
INCH: What was the most memorable thing you saw in an ECAC rink, either your own or on the road?
CC: Playing at Cornell was probably the best because they had so many things going on during games. They had chants and songs and people doing things non-stop. It almost seemed like they put more effort into that than school. They must have worked all week on that stuff.
Vermont was another great place to play. They had one little cowbell but it got the whole place rocking. I always wondered how just one little cowbell could do that.
INCH: Growing up where you did, was there ever a question about whether you'd play for Clarkson?
CC: From the time I was five years old, playing for Clarkson was my dream. Playing there was my NHL. So when I finally got to play in the ECAC, I figured that if that was it, I'd have had a great career. So getting to actually play in the NHL is better than I ever imagined.
INCH: Were you always a Canadiens fan as a kid?
CC: Of course. Hockey Night in Canada always had Montreal on. We were only about an hour and a half away, so everything was Montreal, Montreal, Montreal. Then I went there and they didn't play me, so now they're not my favorite anymore.
INCH: Playing with two Hobey winners (Chris Drury and Jordan Leopold) on the Flames, do you ever get razzed for being the runner-up?
CC: They don't even know. They only know the winner and everybody forgets second place. I honestly don't think they know I was the runner-up. They're too young and
Leopold doesn't even know what's going on yet. He's just still all about Minnesota.
INCH: Did you ever feel like you should've won the trophy ahead of Chris Marinucci?
CC: It's tough because I always feel like the ECAC might not be as difficult as the other leagues, so I think they might get less respect. I would have loved to have won it, but not many of the winners are in the NHL, so maybe it wasn't a bad thing to be the runner-up. I don't even know where Marinucci is right now. But I would've loved to have won it.
INCH: The Flames and the Oilers are like a couple of college all-star teams. What is it about collegians and Alberta?
CC: Craig Button, our g.m., watches a lot of college guys, and I think that's the way the trend is going in the NHL. It seems like of the top young players, everybody wants to play college hockey in the U.S. The first-rounders still usually go to play juniors, but
it seems like everybody else wants to play college hockey, which is good for us. And then after they play college, they all want to come to Alberta, which is also good four us.
INCH: Clarkson alum Erik Cole took it up a notch last spring, getting to the Stanley Cup Finals with the Hurricanes. Any more pressure on you because of his success?
CC: He did great. I figure that I've got to get us to the postseason so I can get a chance at that. I would've loved to see those guys win the Cup, because Erik really did take his game to another level. I would've been a little jealous, but somebody's got to bring the Cup back to Potsdam eventually. If it's me or him, that's fine.
INCH: Do you get back to see Clarkson play at all?
CC: Now that I'm in Alberta I haven't. It seems like every time we get a break, Clarkson's not playing. But when hockey's all done I'll definitely go back and watch a
lot of games there.