INCH Measures Up: Ben Eaves
INCH Preseason First-Team All-American Ben Eaves leads a Boston College team seeking a return to the NCAA Tournament following last year's disappointing season. For Ben, the 2002-03 season will truly be a family affair – brother Patrick joins him on the Boston College team, and father Mike takes over as head coach at Wisconsin. Oct. 25 the Eaves brothers face off against their father and the Badgers at Conte Forum.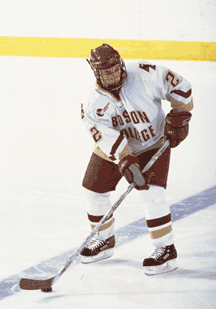 Junior Ben Eaves captains the
2002-03 BC Eagles.
Inside College Hockey: How did you spend your summer vacation?
Ben Eaves: I spent the first part here at school. A lot of the guys stick around and take classes, work out, and get jobs. I worked for (teammate) Billy Cass's father as a seal coater – sealing driveways and parking lots at night.
Then I split time between our house in Fairbault, Minn., and Madison, Wisc. We were just moving in to Madison. So I was bouncing back and forth, working out, and skating every day.
INCH: What were your impressions of Madison?
BE: It's an unbelievable place. I've spent time there before, but I never realized how fun it was. There's a lot of energy around campus and in the city.
INCH: When you got together as a family, did you, Patrick, and your dad talk about the season much?
BE: We didn't, but we got a few laughs because other people kept bringing it up. It's going to be a fun night for everyone when we play Wisconsin – the Eaves family in one place, which hasn't happened too often with my dad's schedule and Patrick and I always playing games. We'll have people from all over flying in for that game.
INCH: Who plays more like your father, you or Patrick?
BE: I'd say I do. Patrick has a different build – he's taller and lankier, so he can play more of a physical game. I'm more like my dad – think pass first, and try to survive as a little guy in a big man's game.
INCH: Do you and Patrick expect to play together?
BE: I hope so. Coach has talked about it a little bit. We've grown up playing together, and I think with our styles, we complement each other.
INCH: What should people expect from your dad's team this year?
BE: People are going to see his commitment to winning. Wherever he goes, he puts everything into his job. When he comes home, 12 or 14 hours later, you can see that he's completely exhausted. As for his team, he's been really excited about the way his team has been working, and he's looking forward to getting on the ice.
INCH: Say you've got a recruit staying with you at BC who's headed to Wisconsin the next weekend. What do you tell him?
BE: I'd probably get a shot or two in there about my dad. I'd have to. But there's not really any competition – I think he's got a great situation there, and Patrick and I have a great situation here.
I'm more like my dad – think pass first, and try to survive as a little guy in a big man's game.
– Ben Eaves
INCH: Talk about Boston a little bit – what's your favorite spot in the city?
BE: There's a place called The Stockyard – a great steakhouse, and it's as Irish as they come. We were there for St. Patrick's Day, and they had bagpipes and the works. We take my mom there every time she's in town.
INCH: We hear you're quite a musician.
BE: I wouldn't say that – I play around on the guitar a bit. I used to play with Brian Gionta and Mike Lephart a bit, and some of the guys now are getting into it. Taylor Leahy can play a bit, and Ryan Shannon and Ryan Murphy are looking to buy guitars. We may have to get a little band together.
INCH: What's in your CD player now?
BE: A friend just gave me a Stevie Ray Vaughn CD, Blues at Sunrise. It's classic blues – relaxing, fun to listen to.
INCH: Back to hockey – favorite team to play against?
BE: BU. There's so much energy between the two schools, it makes for an unbelievable atmosphere.
INCH: Favorite player to play against?
BE: There's a couple of kids on Denver I'm really looking forward to playing against (Oct. 18 in Chestnut Hill). Ryan Caldwell and Max Bull were teammates of mine in high school at Shattuck St. Mary's. If I can keep a straight face when I'm on the ice with those two guys, I'm pretty focused.
INCH: Who's the best practical joker in the BC locker room?
BE: We've got a bunch of guys – but Anthony D'Arpino's the best. You've got to keep an eye out when he's around.
INCH: Who can do the best Coach York impression?
BE: Ben McManama's a good impressionist. I'd recommend him.
INCH: So you've got BU, Wisconsin and Denver circled on your schedule – anything else?
BE: I'm really excited to go to Minnesota for the Mariucci Classic. I'll be back closer to home, and I know about three-fourths of the guys on the Gophers. It would be fun to go out and spoil their party. And we play our old assistant coach, Scott Paluch, in the first game against Bowling Green.
INCH: Between BC and Team USA, you've had a lot of highlights in your hockey career – can you single one out?
BE: It would have to be winning the national championship (as a freshman in 2001). That's what everyone's going for, and not too many people get to experience it. Everything has to come together – all the mottos, and all the hard work. Coming in as a freshman and playing on a team like that – with so many NHL caliber players – was an amazing experience.
INCH: Are you guys ready to get back to that level?
BE: I think so. We took a lot of bumps last year, and hopefully we learned a lot of lessons. There's a lot of excitement around here, and we can't wait to get going.