January 1, 2004
INCH Pro-file: Jeff Halpern

Joe Gladziszewski is on vacation this week, so in lieu of his ECAC Notebook, Inside College Hockey presents a Pro-file of former ECAC star Jeff Halpern.
When you think of Princeton's hockey history, the first name that springs to mind is Hobey Baker. The player who has had the biggest impact for the Tigers in the last 80 years, however, has to be Jeff Halpern. The 1999 graduate led the Tigers to their first and only ECAC Tournament championship and NCAA Tournament appearance.
After graduation, the Potomac, Md., native signed with his hometown Washington Capitals. Recently Halpern, who has three goals in his last four games for the Caps, sat down with Inside College Hockey to discuss his college memories and more.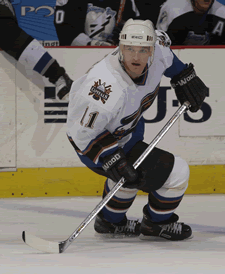 Inside College Hockey: What stands out as your fondest on-ice memory from your time at Princeton?
Jeff Halpern: "The year we won the ECAC championship in lake Placid stands out. We had a really, really good group of guys. We were all real tight, real good friends, and we went on a real good run through the playoffs to win it. The way we won it in double overtime up in Lake Placid was a special feeling, so that's easily my favorite part of my hockey career up there."
INCH: You guys could have beaten Michigan that year in the NCAA Tournament, too, couldn't you?
JH: "Yeah. I put one in on our own goal. We tied it up 1-1 with a minute to go in the second, went into the third and we had all the momentum in the world. They got a flukey goal and that was it."
INCH: They go on and win the national championship. That shows how good your team was that year, doesn't it?
JH: "We were good. The best team that year, I thought, was North Dakota, and we would have had to play North Dakota the next game. It would have been a tough game, but you never know, if a goalie gets hot, and we had a good power play that year. You never know."
INCH: How about off the ice? What are some fun memories, or some favorite teammates you had?
JH: "Just the whole team as a group. I remember, after the season was over, we'd have 20 guys golfing in the afternoon, we'd all eat dinner together, then go out from there. It was just a real tight group. There were nine seniors in my class, and we had a great group of guys and some really good characters."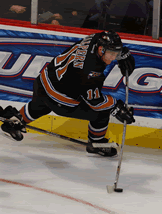 INCH: You're the only Princeton guy in the NHL, so you don't see any teammates on opposing teams. But do you enjoy seeing some of the other ECAC guys having success, like Willie Mitchell with the Wild or Martin St. Louis with Tampa Bay?
JH: "To play against those guys in college and play against them now, it's interesting to see how their careers have gone. Guys have done real well. It's a credit to the league, and it's a credit to the individuals."
INCH: Do you follow the Princeton team now?
JH: "Yeah, although they're not doing as well. They're young right now. They'll be good in the future."
INCH: I know you've met and played with Stephen Werner, a Maryland kid playing for Don Cahoon in college now and a Caps draft pick. His career has really paralleled yours. What's your impression of him?
JH: "He's a real good guy. As a 16 or 17 year old skating in the rookie camps here, I thought he outplayed a lot of the 18-year-olds they had here. He had a real good year last year as a freshman, he's having a great year this year and he's playing in the World Juniors. He's got a real bright future ahead of him.
INCH: Do you keep in touch with Coach Cahoon at all?
JH: "We keep in touch. He and Mark Dennehy are up there, and I like to see them do well. It's kind of nice to see their progress."
INCH: Any conflict in your mind when Princeton plays UMass?
JH: "Oh, I root for Princeton, no question. Lenny [head coach Len Quesnelle] is a real good friend of mine, and coached me at school. They're going through some tough times with the young team they have now, but it should pay dividends next year or the following year."
Joe Gladziszewski's ECAC Notebook will return next week. Meanwhile, if you see him on the golf courses of Florida, take cover.