February 5, 2003
INCH Measures Up: Mike Kompon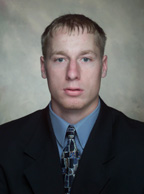 Miami's Mike Kompon
Miami's Mike Kompon is in the midst of a textbook breakout season. The Thunder Bay, Ontario, product scored 18 goals and added 27 assists in his first two seasons with the RedHawks, certainly respectable numbers. Now a junior, Kompon has nearly matched those numbers – he ranks tied for second in the CCHA in overall scoring with 15 goals and 23 assists and is a major reason Miami is in contention for an NCAA Tournament berth.

Inside College Hockey tracked down Kompon following the RedHawks' series at Michigan State last weekend.

Inside College Hockey: The RedHawks just endured a stretch during which you were 2-7-1, but you've since split with Ferris State and Michigan State. What's made the difference over the last four games?
Mike Kompon: We just had to start being consistent again and play hard. A lot of those games we played hard, but we didn't play hard the whole 60 minutes. In this league, it's so tough – if you don't play hard for a full 60 minutes, they'll score two or three goals on you. Just like (Saturday), there was a 10-minute lapse, (Michigan State) scored two goals on us and it's tough to rebound against a good team like that.
INCH: On a personal level, you've had a great season. Your numbers for this year are almost equal to your totals for your first two seasons combined. Are you doing anything differently this season, or is it just a matter of confidence that comes with being an upperclassman?
MK: I've been trying to play hard every night. I think in the past I'd take one night off and then one night on. The older guys taught me that you've got to play hard or the coaches get on you. I'm just trying to work hard every day in practice and trying to be consistent. And I have to give a lot of credit to my teammates. Without them, a lot of the goals I wouldn't get. I've been hanging around getting rebound goals, so it's my teammates, too. They've helped me a lot.
INCH: There are only three seniors on your roster. As a junior, do you feel like you've got to assume a leadership role with the team because of the lack of seniors?
MK: The thing about our seniors is, we've got three great leaders. Those guys are our hardest workers day in and day out. Those are the guys we turn to whenever we need help. They're the centerpiece of our team. Without them, I think we'd be in big trouble.
INCH: You've never missed a game in your college career. Do you take a lot of pride in that streak?
MK: I've been lucky so far, knock on wood. We've got great trainers. There are times I'll be hurt and they'll fix me up right away. I feel lucky to get the chance to play every night, because there are a lot of guys who don't and would do everything the can to get in there and I don't want to lose my spot.
INCH: The RedHawk roster consists of players from 12 different states and provinces. With all these guys from varying backgrounds, does it make for a unique locker room?
MK: We spend a lot of time together and we all have a lot in common. We learn from one another. One thing that helps us is we all stay (in Oxford) in the summer. Once the season is over, we get ready for next year. I think that really helps because we don't leave each other; we're always there.
INCH: Miami has been one of the nation's most successful teams at home this season. In your opinion, do you think it's crucial for you guys to get a home-ice berth for the first round of the CCHA playoffs in order to make a run at the conference title?
MK: It's always good to get home ice but I think our team, especially after this weekend, is ready to play out of our home building. But everyone wants to get home ice. That's what we're striving for, so hopefully we can keep on working and get ready for Ohio State, which is going to be a huge weekend. We love playing them. It'll be interesting to see how this all pans out.

INCH: Do you have a standard answer prepared for people who asked you about going to Miami (Ohio) and think you attend Miami (Fla.)? What do you say?
MK: Half an hour away from Cincinnati. I don't even bother. It's funny – I'm in my third year (at Miami) now and my friends will still say, "I'll come down to the beach one weekend." I tell them, "There are no beaches. There's none." Miami is kind of in the middle of nowhere, but it's great to be there.