October 18, 2002
INCH Measures Up: Chris Kunitz
Only five players in the NCAA Division I ranks scored more goals last season than Ferris State forward Chris Kunitz, who found the back of the net 28 times in 35 games for the Bulldogs. The 2001 all-CCHA first team selection, who enters the weekend series vs. Bowling Green with 66 goals and 32 assists for 97 career points, leads Ferris State in its quest for home ice in the conference playoffs and a visit to Joe Louis Arena in Detroit for a berth the league's Super Six Championship for the first time since 1993. The senior from Regina, Saskatchewan, took time earlier this week to answer some questions from the Inside College Hockey staff.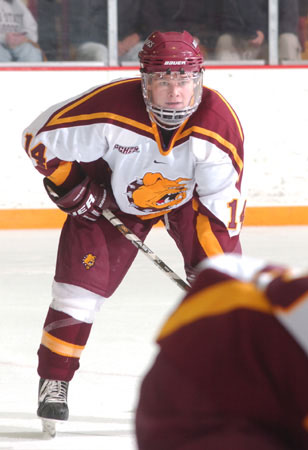 Ferris State senior forward Chris Kunitz (photo courtesy of FSU sports information)
Inside College Hockey: Ferris State is one of the toughest places in America for a road team to play, but it doesn't get much noteriety. Do you think teams unfamiliar with Ewigleben Ice Arena are caught by surprise when they visit?
Chris Kunitz: We went and played St. Cloud State two years ago, and they've got a nice rink that holds about 7,000. So they come into our rink this year and don't think much of it until the game starts. They're kind of shocked by how loud the crowd is, how they're into the game all the time and how much of a boost they give us.
INCH: Are you glad you don't have to play in front of the Ferris State student section as a visitor?
CK: For sure. You see the faces of the opponents when they're skating around for warmups and they're kind of looking at you 'What's going on here?' I wouldn't want to play here.
INCH: What's it like to play for one of the college hockey's really nice guys in Bob Daniels?
CK: Bob has treated me with nothing but great respect since I've been here. He's got a system that adapts his players well. His system works.
INCH: You had an amazing season last year (28 goals, 38 points) and part of that was due to the way you and linemate Rob Collins worked together.
CK: Rob's kind of a playmaker, and I'm a guy who's been known to finish with the puck once in a while, so we clicked like that. Just our personalities – we hung out together and we had kind of the same mindset. Those are just a couple things that all together that made us feel like we played well together. We liked playing together and things worked out well.
INCH: Rob has graduated. How has the transition been to your new linemates?
CK: The guys I'm playing with right now are at the top of the league, too. Jeff Legue's the center and Derek Nesbitt – they're both sophomores and both proved themselves last year to be at the top of the league among freshmen and they're going to do a great job this year. We're going to click really well.
INCH: Ferris State is one of those pesky teams that teams always seem to dread playing, and always seems to be pulling off an upset or two every season.
CK: We have been on-and-off for the last couple years, and when we've been on, we've been really on. I don't think people don't know what kind of team to expect. Night in and night out, they don't really know who's going to show up and what kind of effort they're going to have to put forth to match us. That, and the fact we're always going to have a hard-working team, tenacious, and hard-hitting. But it depends on which (Ferris State) team is going to show up each night.
INCH: You mention being on-and-off for the last couple years. Is this the year your team develops more consistency?
CK: We have great leadership. Every one is starting to come together. We've got the freshmen there, we've got the goaltending, our defense is there. We've got great speed and a lot of goal scoring. I think we're there.