January 13, 2004
INCH Measures Up: Mike Lalonde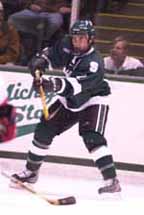 Michigan State's Mike Lalonde is among the nation's leaders in goals and points.
Just a couple months into his final season of junior hockey with the British Columbia Hockey League's Prince George Spruce Kings, Mike Lalonde's chances of playing NCAA hockey didn't look good. He'd missed the beginning of the season after a quadriceps muscle contusion calcified and, as he was preparing to return to the lineup, re-aggravated the injury in November.
He suited up the following month and made enough of an impact to draw the interest of a few Division I programs. He ended up committing to Michigan State and almost immediately proved to be a solid contributor.
The forward from Chetwynd, B.C. – a small town in the province's far northern reaches – is more than just a solid contributor these days. Now a junior, Lalonde enters the Spartans' weekend series at Bowling Green ranked tied for seventh nationally with 14 goals and tied for 11th in the country with 26 points. Inside College Hockey's Mike Eidelbes recently caught up with Lalonde and talked about his career thus far.

Inside College Hockey: You weren't a highly recruited player coming out of the BCHL. In fact, you committed to Michigan State in the spring of your last year of junior hockey.
Mike Lalonde: It was sort of a last-minute thing. I was in the last half of my last year in junior because I was hurt during the first half of the season. I had put together 10 or 15 pretty good games and people started to notice. Thankfully, everything worked out fine and I was grateful to have a chance to come down here.
INCH: Did you ever have doubts about getting to the college level?
ML: When the injury came, doctors told me that I'd never be able to come back. I just kept my head up the best I could, went back and told them that I need to try to play. They said, 'If you're going to try to play, or even have the opportunity, these are the things you need to do.' I was close [to returning] that November, but it got pushed back to December when I got hurt again in practice. Just when you try to come back and you get hurt with the same injury and have to back off and not do anything...it's disheartening when you really want to play the game you love.
INCH: You used the fact that you came into the Michigan State program with little fanfare to your advantage in that nobody knew what to expect from you, yet you managed to turn the coaches' heads almost immediately.
ML: It takes a lot of weight off your shoulders when you're not highly recruited like a Jim Slater and when you don't end up producing, people are asking questions about you. When you come in like I did and no one really expects much from you and you end up having a decent season, that's when all the work you've done pays off.
INCH: When did you get to the point where you felt like you had settled in as a contributor on the team?
ML: I'd say 10 games in. I was playing pretty well and had gotten rid of the freshman jitters and all the excitement. Right before Christmas, I saw myself having a pretty good chance [of contributing] so I went home, regrouped, came back and had a pretty good second half. That was the turning point in realizing that I can play and score a couple goals here and there and be a good player.
INCH: You and Jim Slater have very good on-ice chemistry. What has allowed you guys to thrive together?

ML: I've always been fairly good on the wall and he's very good at reading things and getting up in the play and creating breaks. When some people would hang back and wait for a pass, he just goes. It makes my job easy – I can just chip it out toward the far blue line and he's skating right in. I've gotten a little more speed over the last year where I can keep up with him and join him a little more instead of hitting him with a pass and following up.
INCH: One of your best attributes is your attitude. No matter how bad things are going on the ice, you always seem to get through it and smile when it's over and done. How do you keep such a positive outlook?
ML: Sometimes there are a lot worse things that can happen. That's what I've learned from the injury and coming from a small place. There are a lot worse situations than I can be in. I'm ecstatic to be here at Michigan State on a scholarship playing college hockey. That was always my dream.
INCH: What are trips back to your hometown like?
ML: It's pretty fun because I only get to do in for a couple weeks a year. A lot of people are excited, especially my family members. A lot of my family is still there and they're all like my best friends. It's a big gathering.
INCH: No wonder you only get to go a couple times a year. It's not the easiest road trip, is it?
ML: I usually fly from [East Lansing] to Edmonton and drive the eight hours home, but for Christmas when it's a little shorter time I'll get the money together to fly into either Prince George or Grande Prairie and drive 2-3 hours instead of the full eight.