November 12, 2002
INCH Measures Up: Freddy Meyer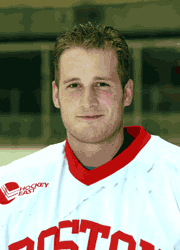 BU captain Freddy Meyer
Boston University defenseman Freddy Meyer has seen just about everything during his college career. An inaugural member of the USA Hockey National Team Development Program (NTDP), he joined BU as a freshman midway through the 1999-2000 season. He's played overseas, endured major back surgery, and now leads a Terrier team that just may boast the best defensive corps in the nation.

The Sanbornville, N.H., native and Terrier captain caught up with Inside College Hockey early this week as the team prepares to face Boston College and Maine this weekend.

Inside College Hockey: This year's BU team is really defined by your group of defensemen. As a group, do you take a lot of pride in that?
Freddy Meyer: We knew coming into the year that we had a pretty solid group of guys. Every day in practice we have eight guys competing for six spots, so week in and week out, everybody's working hard.
INCH: This is a game where goal scorers usually get all the credit. Do the forwards ever get bent out of shape when you defensemen steal the headlines?
FM: No, because one thing Coach Parker stresses is defense first. Good defense leads to good offense. We know we can jump in the play when the opportunity presents itself, and hopefully we can chip in a little bit. We all try to work as a group, whether it's on defense or offense.
INCH: How good is Ryan Whitney (BU's sophomore defenseman and the No. 5 overall pick of the Pittsburgh Penguins in last year's NHL draft)?
FM: He's going to be really good. He was drafted that high for a reason — he's going to be a great player.
INCH: As a senior, what's your role in helping him along?
FM: His skills are there. I just try to help with the mental aspect of the game where I can. Help him mature as a player a little bit.
INCH: Looking at your development, going to the USA Hockey National Team Development Program was obviously a big step.
FM: Personally, that was the best decision I ever made. It was kind of a chance to take at that point, being in the first group of players there, but it was a great experience, and we got great coaching. Being away from home and playing 60 or 70 games in a season helped me tremendously with the mental part of the game. Living away from my family and taking care of myself really helped me mature as a young adult.
INCH: You've played in Sweden, Russia, the Czech Republic — all over the place with different U.S. teams. What's your favorite place to play overseas?
FM: That's tough. We had some good times in Prague. My least favorite place is Russia. It's tough to go over there in the wintertime.
INCH: Worse than Orono?
FM: I think it might be. The sun doesn't shine, it's just one big cloud.
INCH: How about back here – what's your favorite Hockey East rink?
FM: Our home rink, Walter Brown Arena, is fantastic. Away from home … you mentioned Orono. The fans are great there, they really get into it. New Hampshire's a lot of fun. Even Northeastern, over the last year or so, has become a really great atmosphere.
INCH: No mention of BC?
FM: No – the fans are better elsewhere in the league. I'm not sure if it's just Conte Forum, or if the fans are really quieter, but you don't hear them as much as in other places.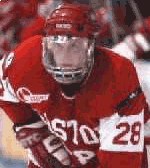 "I'm not the most talented guy out there, and I'm not the biggest guy, but I try to work really hard and hopefully that leads to success."
INCH: But obviously you guys get fired up to play BC. Describe the rivalry in one word.
FM: Fun. It's just fun to get out there in that environment – both teams are really jacked up and ready to play. That's what sports is all about.
INCH: As a captain at this point in the season, what kinds of things are you looking for to define your team's character?
FM: I think just that the guys are excited to be at the rink every day during the week, then ready to play on the weekends. Everybody's going to make physical mistakes. As long as they are working hard, that's what you're looking for.
INCH: So to this point, how would you characterize your team?
FM: We're not a bunch of snipers or natural goal scorers. We work hard and play well together, and that's what will bring us success.
INCH: As a captain, that's got to make you proud.
FM: It does, especially because it builds off the way I play. I'm not the most talented guy out there, and I'm not the biggest guy, but I try to work really hard and hopefully that leads to success.