May 13, 2004
INCH Pro-file: Andy Roach

If you had to pick one American skater to take a penalty shot, who would it be? Tony Amonte? Jeremy Roenick? Mike Modano? John Leclair?
We'd beg to differ. After the last 10 days, the easy choice here is Andy Roach. The former Ferris State blueliner, who earned second-team All-America honors in 1996 and '97, has spent the last five years playing in the obscurity of the German Elite League. Last week, playing in a tournament filled with NHL players, Roach led Team USA to a bronze medal and helped the Americans clinch a berth in the 2006 Olympics.
Roach was good throughout the tournament, finishing with five points, but he made his headlines with two game-clinching shootout goals. He was the only scorer in the shootout victory over the home team, the Czech Republic, and gave the U.S. the bronze medal with his shootout goal against Slovakia.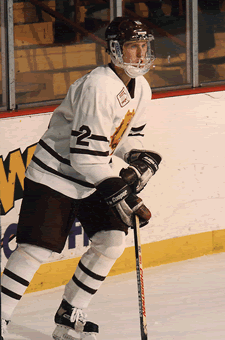 Inside College Hockey: What a wild ride these past few weeks must have been. Can you take us through it?
Andy Roach: "It was great. I didn't have too many expectations going into the tournament. I wasn't sure if I'd be playing in all the games or how it would work out. But every game we seemed to get better and better, and I think the real turning point for our team was when we beat the Russians.
"Beating the Czechs was great, and the icing was being able to take the bronze. The last week for me has really been a roller coaster. For me, it's been the best time playing hockey in my life. I haven't had an opportunity to play with and against players of that caliber, so it was a good tool for me to judge where I am."
INCH: For folks who have lost track of you after your time at Ferris State, walk us through these past few years and how you ended up in Europe.
AR: "Right after college I went and played in the IHL, and the second year I made the All-Star Game. I didn't get the interest I wanted from the NHL, though. By that time I was 26 and I decided to go over to Europe. I went right to the German Elite League and played one year for a team called Krefeld. Then I signed with Mannheim. I've been there for the last four years and I have two more years on my contract."
INCH: You might be sick of this question after the last week, but do you have a desire to come back and play in North America?
AR: "Before this tournament people would ask me that, and honestly I was content in Germany. It's a little older league, and it's not scouted the way maybe the Finnish league is. It's a great league, and it's been great for me, but it doesn't get the attention from the scouts.
"But after playing in this tournament and getting the exposure to this level of the game, I think it has opened some more doors for me, possibly. The only downfall is that it looks like there may be a lockout in the NHL this year, at least at the beginning of the year, and that may hold things up. But there definitely was some interest at the tournament."
INCH: I imagine your German contract has some sort of out clause if the NHL comes calling?
AR: "There's no NHL release clause in my contract, actually. But I have a really good relationship with the GM in Mannheim. If there's an opportunity, I think that's something I could work with him on."
INCH: A lot of us who watched you in college thought it was a typo when we saw you listed as a forward for the World Championship. Was that a change you've made in Germany?
AR: "Two years ago in Mannheim we had a lot of injuries, and I played most of the year at forward. I ended up leading the team in goals for the year, actually. Since then there has been an occasional game or two when I've moved up. I did play forward a bit in the Deutschland Cup [this winter] when Peter Laviolette was the coach. Going into this tournament I think Peter had me penciled in as a forward, but he knew I could play both positions. He asked, 'What do you feel is your natural position,' and I said defense. I think I play much better when I'm on defense."
INCH: So what's this special shootout move of yours?
AR: "In Germany all of our games that end in ties go to shootouts, so in the last five years I've been involved in quite a few. I work on things all the time in practice, and there's a few things I try to do. It's not any magic trick; just a lot of practice and reading what the goaltender is doing. It's nothing that anyone else couldn't do."
INCH: Do you think shootouts would be a good addition to the North American game?
AR: "It's great for the fans, but as far as determining points, I'd rather see a few other rule changes – getting rid of the red line, increasing the size of the offensive and defensive zones."
INCH: You'd think with this shootout reputation you have, you'd like them more.
AR: "They would make it better for myself, but I think the general consensus of the players is that they aren't a great way to decide games. It's like a baseball game being decided by a home run contest."
INCH: Were you guys well aware of the fact that the U.S. needed a good result in the World Championship to qualify for the Olympics in 2006?
AR: "We knew there was pressure. There were a few other players who could have been there – probably guys who will be asked to play in the Olympics – but we knew as a group what we needed to do."
INCH: The Olympics could always go to a shootout. Think you might get a call?
AR: "You never know. Obviously I'd love to be there. I still don't know if they know whether there will be NHL players involved. It worked out great last time in Salt Lake, but having the Olympics in North America made it easy. The NHL didn't have to shut down for too long. It might be different being in Europe, especially if there is a lockout. Obviously I'd love to be a part of it."
INCH: Looking back at your time at Ferris, how did that time help you grow?
AR: "I probably played a lot more at Ferris than I would if I had gone to Michigan or Michigan State, one of the bigger schools. I had a great opportunity at Ferris. The whole experience up there and the exposure I got was great. Those four years really helped me develop as a player."