December 10 , 2002
INCH Measures Up: Grant Stevenson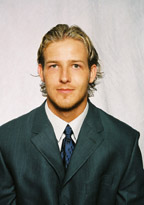 Sophomore forward Grant Stevenson of Minnesota State University, Mankato
Two streaks are on the line this weekend when Minnesota State University, Mankato hosts Colorado College in a two-game WCHA set. The first-place Tigers are in the midst of a 14-game unbeaten streak. Meanwhile, Minnesota State forward Grant Stevenson extended his point streak to 10 games with two goals and two assists as the Mavericks took three of four points from Alaska Anchorage. The sophomore from Spruce Grove, Alta., shares the league lead in scoring with 10 goals and 10 assists in conference play. With 13 goals and 15 assists in 14 games, Stevenson ranks third in the nation in points per game, trailing only Peter Sejna of Colorado College and North Dakota's Zach Parise.
Inside College Hockey caught up with Stevenson this week to talk about the Mavericks' season, how his game has changed since last year, and the Hall of Famer in the family.
Inside College Hockey: Your team has had a pretty weird first half to the season. No real losing streaks, but no real winning streaks either. Still, you're right in the thick of the race for a home-ice spot in the playoffs.
Grant Stevenson: We had a pretty tough first half. We learned a lot, had some ups and downs and still played pretty well. We're maybe not getting the results we'd like to get. I think in the second half, we need to turn around and get back to finishing plays and doing the things we need to do to win games and start getting on a role.
INCH: You've managed to post a few big wins this season -- beating Minnesota, splitting with St. Cloud State -- but we never really hear much about Minnesota State. What's the reason for that?
GS: We can't really influence what happens outside the rink. We can only control what we do on the ice. We know we're a good hockey team and we have a lot of potential. Sticking in games with North Dakota and Minnesota, teams like that are supposed to be powerhouses in the league and in the country and it's a big boost for us. It lets us know that we're in the thick of things and we can compete with those types of teams. It's just a matter of fine-tuning things.
INCH: In the WCHA, everyone obviously guns for Minnesota, but your school has a long history with St. Cloud State and you've given North Dakota fits in recent years. In your mind, who's the biggest rival?
GS: Being a Canadian, they're all good teams and I get pumped up just as much for each of them. But I know the guys from around here, the Gophers are the big rivalry and that's the team they want to beat all the time. The vibe in the dressing room and the talk around the rink when we're playing the Gophers, everyone is pretty fired up so that's probably our biggest rivalry. But we're starting to develop a rivalry with St. Cloud and going up to North Dakota, we play pretty well up there, but I'd have to say Minnesota is still the biggest one.
INCH: You had a pretty good freshman year, with eight goals and eight assists. But you've really come into your own this year. What's made the biggest difference?
GS: I felt my way around last year and was pretty frustrated. I didn't have a great year last year and felt I could've done a lot better. Coming into this year, I worked pretty hard this summer to have a good year and I expected a lot of big things from myself. It's just a matter of having confidence and capitalizing on the opportunities and trying to make more plays. It's been going well -- our power play is clicking and it helps a lot when you can get the power play going. When you can throw it around and get a couple of goals early and get the confidence going, it helps your game in the long run.
INCH: What is the scouting report on Grant Stevenson?
GS: (Laughing) I don't know! I like to think I have pretty good speed and can see the ice well. I like to pass, too. Shane Joseph and I play pretty well together, so I try to be a playmaker.
INCH: You've got a unique hockey background in that your grandfather is Hall of Famer Glenn Hall. With you being a forward and he a former goaltender, have you picked his brain for advice?
GS: Definitely. I've talked to him about it before and he gives me little tips, like changing angles and given me stuff to do that's tough on goalies. I try to take that all in. I don't know how well I do it, but he definitely tries to help me out if I have any questions or I'm in a slump or if I need some tips, I just give him a call.
INCH: What's the best story your grandfather has told you about his playing days?
GS: His book just came out, so I've got more stories out of his book than he's told me. I haven't had a lot of time to read it, but I'm about halfway through right now. It's pretty good. We don't really sit down and talk about the times he's played and he doesn't really tell me the juicy stories. But he'd tell me about the little pranks they used to pull back in the day and how different the hockey was and stuff like that. I remember him telling me a story about him taking a puck in the cheek and he was able to stick his tongue through his cheek. They called time out, he went into the dressing room, stitched up and came back out.
INCH: So if you took a puck in the cheek like he did, you'd just go to the trainer, get some stitches and not miss a shift?
GS: I don't know. That's pretty amazing.