December 20, 2002
The Man Behind The Waibel Factor
It's a phrase that's taken on a life of its own with the Minnesota faithful.
The Waibel Factor.

Jon Waibel, a junior forward from Baudette, Minn., is one of those character guys who becomes a fan favorite for his work ethic, desire and ability to provide what coaches refer to as intangibles. Remember the old "NFL Today" show on CBS, when Jimmy "The Greek" Snyder used to pick winners based on weaknesses and strengths of the two combatants? Intangibles was one of the categories. Put a big check next to intangibles in Waibel's column.

This being the computer age and all, hero worship has progressed beyond a mere chant or a bedsheet-turned-banner. It's gone to the Internet, and one of the notable web sites is www.thewaibelfactor.com, administered by Gopher fan Joshua Fait, a 28-year-old computer software support specialist from Minneapolis. Fait talked about his labor of love with us, which we bring to you in this question-and-answer session.

Inside College Hockey: How many Gopher games do you see each season? Are you a season ticket holder? Follow them on the road?
Joshua Fait: I have attended games since the late 80's, and only the last couple years have I been lucky enough to have season tickets. Roadtrips I have been know to make are Madison, Duluth, St. Cloud and Mankato.

INCH: Why Jon Waibel?

JF: I think what I wrote after we won the title last year kind of sums up why Jon Waibel has a fan club.
"Jon, you put in the hard work every single night on the ice. That kind of effort is why we made this fan club. I think its symbolic of how the whole team played. Not just one guy for himself, but everyone giving their all for the team."
Jon didn't miss a single game his first two years at the University and came to play hard every time out. He doesn't get a lot of the glory, but he makes alot of good things happen on the ice.
INCH: What kind of feedback do you get from people who stumble upon your site?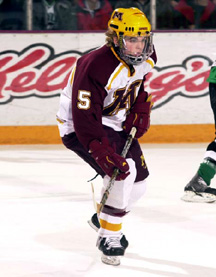 Fan favorite Jon Waibel (photo courtesy University of Minnesota Sports Information)
JF: Oddly enough, it was never meant for anyone other then the fan club members. This whole thing just kind of took off about halfway thru last season. I was watching the Gophers play at North Dakota on TV (Friday). Middle of the 3rd period the camera pans the crowd, and there is a guy wearing a homemade "Anti-Waibel" t-shirt. We had made "Waibel Factor" T-shirts to start the year, so this was a play on them. I don't know if Waibel saw him or not, but Jon ends up scoring the game winner in the closing moments the next night to cap a terrific comeback win. From that weekend on, everyone has taken notice of Jon, the web site and the fan club. Everything has been positive!
INCH: Has Jon seen it and, if so, what does he think?
JF: It's my understanding that he and his family have seen the site. They definitely know about the fan club. I think Jon kind of thinks it's funny. They all seem to enjoy it.
INCH: Is there anything you'd like to add to the site?
JF: I am always looking to add more content. I do all the content myself at the moment. It would be nice to have a few stories, maybe an interview and things like that on a regular basis.
INCH: Have you always rooted for guys who play a style of game similar to Waibel?
JF: Everyone, of course, roots for the big names. But I think each true hockey fan will always identify with one player on each year's team whether it's pro, college, or whatever. Usually, that player isn't the big name or the leading scorer. It's a guy who plays the game the way you think it should be played. He doesn't get all the glory on the stat sheet but without him, the team probably wouldn't have the same success.
You Tell Us
Who's your team's Jon Waibel? Send us an e-mail and we'll post the top vote-getters.
My favorite North Star growing up was Shane Churla. Some of my favorite Gophers from the past are Larry Olimb, Joe Dziedzic, Travis Richards and Jed Fiebelkorn. I think with the exception of Olimb, none of those guys were big scorers. But they all played hard or had something about them with which I could connect.
INCH: It's still a little more than a year down the road, but what happens when Waibel graduates?
JF: There have been a few ideas tossed around about what to do after Waibel moves on. The best idea yet is to dedicate the web site to one player each year who exemplifies the same qualities as Jon. Almost like a "Jon Waibel Award."