March 17, 2006
Atlantic Hockey Semifinals
Unlikely Heroes
Offense came from the strangest places as Holy Cross and Bentley advanced
By Ken McMillan
Holy Cross 4, Connecticut 1

Team
Goal
Str
Time
Assists
First Period
1-HC
Tyler McGregor (23)
EV
3:20
B. Bartlett, J. Landry
1-CT
Chris Uber (8)
EV
19:47
C. Solberg, S. Erickson

Second Period

2-HC
James Sixsmith (10)
SH
5:24
P. Napert-Frenette, R. Godfrey
3-HC
James Sixsmith (11)
PP
6:59
P. Napert-Frenette, S. Nappo
Third Period
4-HC
Pierre Napert-Frenette (14)
EV
13:31
J. Sixsmith, S. Nappo
Goaltending
CT: Brad Smith, 58:34, 25 saves, 4 GA
HC: Tony Quesada, 59:42, 37 saves, 1 GA
Penalties: CT 6/12; HC 8/16
Power Plays: CT 0-7; HC 1-5
Attendance: 2,000
WORCESTER, Mass. – In a league chock full of outstanding goal scorers, the name James "Bubba" Sixsmith is not instantly recognizable. Sixsmith is Holy Cross' fireplug, a guy who kills penalties, works hard and usually sets up more goals than he scores himself.
On Atlantic Hockey Semifinal Friday, however, Sixsmith showed that he is someone to reckon with on the ice. Sixsmith scored a short-handed goal, a power-play goal and set up an even-strength tally by linemate Pierre Napert-Frenette as top-seeded Holy Cross ran away from sixth-seeded Connecticut, 4-1, and gained a berth in the championship finals for the second time in three seasons.
"Bubba is a great hockey player for us,'' praised coach Paul Pearl. "It was nice to see him have success tonight.''
Pearl wasn't kidding when he said Sixsmith was "snakebit" in the goal-scoring department – he had just two goals in eight February games. March is going a lot better for him. Two weeks ago, he scored the tying goal and set up the game winner with 1:03 to play to lift Holy Cross to a 3-2 win over Bentley, the same team the Crusaders are playing in the title game.
Sixsmith had an assist in the season finale with American International, and saved his best for the semifinals.
Tied at 1-1 early in the second period, Sixsmith made a half-ice dash and beat Connecticut goalie Brad Smith to the short side with the short-handed goal and ultimate game-winner at the 5:24 mark. Ninety-five seconds later, Sixsmith positioned himself out front of Smith and knocked in the rebound of a shot by Napert-Frenette for a 3-1 lead. It was Sixsmith's 100th career point.
Holy Cross survived a 5-on-3 penalty kill late in the second period, thanks to the play of Matt Burke, Blair Bartlett, Jon Landry and Marc Bianchi, and maintained its 3-1 lead. Goalie Tony Quesada made five of his 37 stops while two men down.
Sixsmith worked a 2-on-1 break with Napert-Frenette, froze Smith and delivered the perfect pass for a shot that beat Smith over his right shoulder for a 4-1 lead at 6:29 of the third.
Sixsmith was banged up a bit during the game and was unavailable for comment afterwards.
"We started a little slow and then played a very, very good second and third periods,'' Pearl said. "I thought UConn took it to us a bit but we were able to withstand it and go from there.''
Bentley 3, Mercyhurst 2 2OT

Team
Goal
Str
Time
Assists
First Period
No Scoring

Second Period

1-MC
Jamie Hunt (12)
EV
16:55
D. Borelli, S. Champagne
Third Period
1-BC
Jaye Judd (1)
PP
2:55
T. Dickhudt, P. Markarian
2-BC
Marc Zwicky (10)
EV
7:53
T. Dickhudt, J. Chase
2-MC
Scott Champagne (16)
EV
15:37
B. Cottreau, D. Kirstein
First Overtime
No Scoring
Second Overtime
3-BC
Jaye Judd (2)
EV
0:58
T. Dickhudt
Goaltending
BC: Ray Jean, 80:58, 37 saves, 2 GA
MC: Tyler Small, 80:58, 53 saves, 3 GA
Penalties: BC 13/26; MC 14/28
Power Plays: BC 1-11; MC 0-10
Attendance: 2,000
OVERLY WONDERFUL
When second-seeded Mercyhurst and fourth-seeded Bentley headed into overtime knotted at 2-2, the Lakers had history on their side. During last season's playoffs, Mercyhurst knocked off Holy Cross in the semifinals and then nipped Quinnipiac in the finals – both were 3-2 scores and both came in overtime.
With no decision through 20 minutes, the edge may have shifted to Bentley. Only six days earlier, the Falcons needed 34-plus minutes of extra time to dispatch Army in the quarterfinals.
Bentley didn't wait that long this time around. Jaye Judd scored just 58 seconds into the second overtime to lift the Falcons into their first Atlantic Hockey final and put an end to Mercyhurst's quest to repeat as league champion.
In a terrific goaltender battle, Mercyhurst freshman Tyler Small made a tournament-record 53 saves and Bentley junior Ray Jean made 37 stops.
Judd, a sophomore out of Manitoba, had not scored a goal all season and he came up with two in the semifinals.
"I don't know … I guess the puck had eyes on a couple of those,'' Judd said. "I try to do my best to get my shot through and tonight I happened to get fortunate that two of them went in.''
Said Bentley coach Ryan Soderquist: "For him to score two goals and the double-overtime winner was just phenomenal.''
The winning goal came on a 3-on-2 break. Paul Markarian fed Brett Murphy. Judd was calling for the puck on the left side but his defense partner had the open shot and took it. The shot was wide and caromed off the backboards and came out on the right side.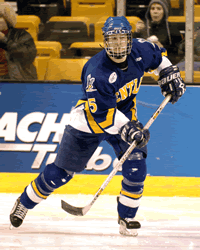 Jaye Judd's first two goals of the season have Bentley one win away from the NCAA Tournament.
"It was rolling on its side,'' Judd noted, "and I felt the goalie was trying to get across so I just put everything I had into it. I think it hit the side of his shoulder and went into the top corner. … I was basically scrambling to get to the puck as quick as I could before goalie got a chance to get set up again.''
Asked if he would petition to play forward in the future, Judd politely declined.
"I would be clueless up there, running around like a chicken with his head cut off,'' Judd said.
Both teams had scoring chances through the first 40 minutes but the only tally came from Atlantic Hockey Player of the Year Jamie Hunt. The defenseman was behind the goal and tried a jam shot. Jean stuffed the first attempt but Hunt persevered and poked in a rebound at 16:55 of the second period.
Judd tied the score at 2:55 of the third period on a slap shot from the point that may have nipped Small's shoulder and snuck under the crossbar while Small was hunched trying to see his way through traffic.
Marc Zwicky gave the Falcons a lead at 7:53 when he chased down a rebound and threw a puck out front which appeared to deflect off the skate of Scott Champagne in front. Denis Kirstein set up Mercyhurst's tying goal with 4:23 to play when he pinched in from his defensive position and threw a no-look pass to Ben Cottreau. His pass toward the side of the net was poked in by Champagne.
Soderquist said it was a beautiful goal but noted his skaters were on the ice for a long shift because they failed to clear the zone.
INCH's Three Stars of the Night
3. Tony Quesada, Holy Cross
It's award season so it must be time to hand out the "Tony's." Quesada continues to show why he is a big-money goaltender with his 37-save performance against Connecticut.
2. James Sixsmith, Holy Cross
"Bubba" produced a short-handed goal, a power play goal and assisted on another to lift the Crusaders over Connecticut.
1. Jaye Judd, Bentley
Are you kidding us? Judd entered the semifinal playoff with no goals … oh-for-the season, none, nada, zip (you get the point). In Bentley's biggest playoff game in history, Judd scores a pair, including the double-overtime winner.
SEEN AND HEARD AT THE HART CENTER
• A Harty crowd: The crowd was lined three-deep around the boards and the stands were full at the Hart Center. The pro-Crusader crowd was very boisterous, especially when a slew of Holy Cross players were headed to the box, prompting rants at the officials.
"It was unbelievable,'' Holy Cross coach Paul Pearl said. "It was a pretty great atmosphere and rocking from the beginning. That was a nice thing, a good home-ice advantage.''
• Getting the call: The referee assignments went to Brian Panek (first game) and Ed Boyle (second game).
• Calls them as he sees them: Ed Boyle wasn't afraid to use the whistle – he doled out 27 minor infractions, including five in the first overtime period. Neither power play unit did themselves proud – ninth-ranked Bentley was 1-for-11 with the man advantage and top-ranked Mercyhurst was 0-for-10.
• Falcon props: Bentley hero Jaye Judd said he has "never won anything big like this,'' though his Canadian junior team lost in the league finals.
"This is huge,'' Judd said of Bentley's ride to the finals. "Everyone had written us off at the start of the year and start of playoffs.''
• Off the air: Technical difficulties kept two of the three radio broadcasts off the air for the first period of their respective games. Things didn't get much better for the Connecticut student radio station, WHUS, whose play-by-play announcer was befuddled by missing numbers on the Holy Cross roster. The confusion was his own because he was using the Mercyhurst roster until he was corrected by his studio mates between the second and third periods.
WHAT'S NEXT
Bentley and Holy Cross met just two weeks ago. Both were tightly contested one-goal decisions. Tony Quesada won a 1-0 duel on March 3 and Pierre Napert-Frenette picked up a power play goal with 63 second to go to lift the Crusaders to the 3-2 win on March 4. Holy Cross also prevailed over Bentley, 2-1 and 4-1, on Feb. 3-4.
"We're excited about the matchup,'' Bentley coach Ryan Soderquist said. "We match up extremely well with Holy Cross.''
Pearl said his team will have to do a good job in its own zone because Bentley forechecks hard. The Falcons like to send the puck deep and work off the backboards – much the way they produced the game-winner in overtime against Mercyhurst.
"You have to be very, very thorough in your zone against those guys,'' Pearl said.
A victory for Bentley would bring its first championship. Holy Cross is shooting for its third.
"It's a great hallmark for your program,'' said Pearl, referring to what a championship would mean. "To be able to win and beat some really good teams to get there, we would be very proud. Our big thing is we like to be in the hunt every year. For five straight years we've been in the hunt. We have this last game and we would like to do well with it.''