March 16, 2006
WCHA Final Five
St. Cloud State Nets Win Against UMD
St. Cloud State 5,
Minnesota Duluth 1

Team
Goal
Str
Time
Assists
First Period
1-SC
Billy Hengen (7)
EV
0:44
A. Gordon, J. Jensen
1-SC
Nate Dey (5)
EV
3:18
G. Clafton
3-SC
Brock Hooton (4)
PP
12:55
J. Jensen, B. Hengen
1-MD
Tim Stapleton (14)
EV
13:56
J. Williams
No Scoring

Second Period

No Scoring
Third Period
4-SC
Andrew Gordon (19)
EV
0:48
J. Jensen
5-SC
Billy Hengen (8)
EN
17:34
A. Gordon
Goaltending
MD: Nate Ziegelmann, 58:51, 21 saves, 4 GA (1 ENG)
SC: Bobby Goepfert, 60:00, 36 saves, 1 GA
Penalties: MD 4/8; SC 3/6
Power Plays: MD 0-2; SC 1-3
Attendance: 16,312
St. Cloud State senior forward Billy Hengen needed some way to extend his college hockey career by at least two more days. Two goals and an assist did the trick.
Hengen's goal in the opening minute, and his empty-netter from the far blue line, were big factors as the Huskies advanced to the WCHA Final Five's semifinals, beating Minnesota Duluth 5-1 in the Thursday night play-in game.
But on a night where the winners managed just nine shots on goal in the first two periods, offense clearly doesn't tell the whole story. The least surprising story line of the night resided in the Huskies net, where goaltender Bobby Goepfert followed being named the league's top netminder earlier in the day by keeping the Bulldogs at bay in a second period which saw his team out-shot 15-3. He finished with 36 saves to earn his team a date with league champ Minnesota on Friday night.
"I played against him in juniors, and he was the same way," said Minnesota Duluth forward Tim Stapleton, who scored the Bulldogs' only goal in his final collegiate game. "We probably could've gone to the net more, but he made the first saves and hung on."
Huskies coach Bob Motzko, who has seen Goepfert's heroics all season, said Thursday night was typical.
"Bobby is exactly what you saw tonight – a great goaltender and a fierce competitor," he said. "He's into this thing."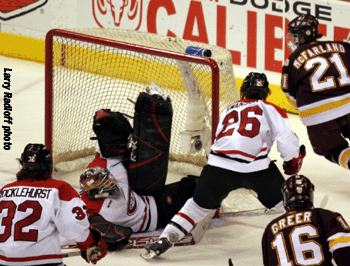 St. Cloud State goaltender Bobby Goepfert sprawls to make one of 36 saves against Minnesota Duluth Thursday.
Although getting into it, from a goaltending perspective, became much easier when the Huskies opened up a 3-0 lead in the first period.
"I was ready to play this game, and those three early goals really helped," said Goepfert. "I figured the second period would be big and they'd be shooting from everywhere, so I knew I had to get focused mentally."
After getting the win, Goepfert will have roughly 20 hours to re-focus mentally to face the top team in the nation. He's already beaten Minnesota once this year, and joins his teammates in saying, "bring it on."
"Last week we talked in the airport about how exciting it would be to play the Gophers here on St. Patrick's Day with the crowds going," said Hengen. "A couple of the guys said we want to hear that 'Gopher rejects' chant."
As for the Bulldogs, who head back to Duluth with just 11 wins after a surprise five-day extension of their season, coach Scott Sandelin looked at the big picture for his upperclassmen and saw good things.
"We've got seniors here who are in this tournament for the third time, plus a Frozen Four, so that's a pretty good career," he said. "To end the year here, as opposed to Denver, is a big plus for us."