March 17, 2007
Hockey East Finals
BC Gets a Title with its New D
Brian Boyle has found a new home on defense, and has played so well Jerry York isn't moving him
By Jeff Howe
Boston College 5,
New Hampshire 2

Team
Goal
Str
Time
Assists
First Period
1-BC
Matt Greene (5)
EV
10:45
M. Brennan
2-BC
Benn Ferriero (22)
EV
17:53
J. Rooney

Second Period

3-BC
Brock Bradford (18)
EV
18:38
N. Gerbe
Third Period
4-BC
Nathan Gerbe (23)
PP
6:14
B. Boyle
1-NH
Bobby Butler (9)
EV
9:07
unassisted
2-NH
Trevor Smith (21)
EV
11:33
J. Pollastrone, M. Fornataro
5-BC
B. Boyle
EN
19:42
B. Ferriero, J. Rooney
Goaltending
BC: Cory Schneider, 60:00, 36 saves, 2 GA
NH: Kevin Regan, 58:11, 29 saves, 4 GA (1 ENG)
Penalties: BC 7/14; NH 5/10
Power Plays: BC 1-3; NH 0-5
Attendance: 13,668

All-Tournament Team

G: Cory Schneider, Boston College
D: Brian Boyle, Boston College
D: Chris Murray, New Hampshire
F: Brock Bradford, Boston College (MVP)
F: Chris Capraro, Massachusetts
F: Benn Ferriero, Boston College
BOSTON – Cory Schneider thinks Brian Boyle could return next year and make the Hockey East All-Tournament Team as the goalie. Of course, Boyle is a senior so that won't be possible, but his logic makes sense.
Boyle was on the team as a forward last year, and he made the team as a defenseman this year, filling in for injured blue liners Carl Sneep and Anthony Aiello. He played solid on the back end, but the Hockey East scoring champ also added a unique offensive dynamic to the Eagles, notching two goals and six assists in the league tournament.
Boyle had a goal and an assist in Boston College's 5-2 championship victory Saturday night against New Hampshire, which gave the Eagles a league-high seventh tourney title.
"It's been great," Schneider said of the team's newest addition to the blue line. "He really provides a spark on the offense, jumping in the play and creating offense. Back on the blue line, he's got that long reach. He clears rebounds. He gets guys out of there. He is a big, physical guy. He can really do a lot of damage in the D zone.
"I think if he had one more year left, he'd be challenging for the goalie All-Tournament Team. It seems like he can do it all."
Reasonable enough. Boyle, however, balked at the comment.
"My dad was a goalie," Boyle said. "I tried it when I was younger just to try to be like him, and I was terrible. I can't stop pucks for my life."
Boston College coach Jerry York, who claimed his fifth Hockey East championship on the Eagle bench, will keep Boyle on defense for the entirety of the NCAA Tournament.
"He's a defenseman," York said. "There is no question with us. He'll run the rest of his career here as a defenseman. He is just so valuable there, so dominating of a presence for us. It's something that we need back there. I think it's becoming obvious every time you watch him play this is where he should be.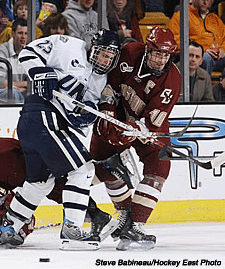 Boston College defenseman Brian Boyle battles with New Hampshire forward Trevor Smith during Saturday's Hockey East title game.
"He's gone from the leading scorer in the league back to a defenseman. He could be an All-American at both of those positions. He might very well be an All-American this year as a forward. He could have played all year as a defenseman and been an All-American. He's got that versatility to him. I've had a lot of All-Americans, but none that can play forward and defense. His path in the game as a defenseman is more dominating than as a forward. I really feel very strongly with him as a defenseman."
Boyle has played defense before so it's not like he's learning on the fly, but most of his experience on the blue line has been during the penalty kill. Instead of just jumping on the puck and firing it 200 feet down the ice on the PK, Boyle is expected to do something with it, like spotting a streaking forward up the ice to start an odd-man rush.
He credits the smooth transition to his linemate, Mike Brennan. As more of a stay-at-home, shut-down defenseman, Brennan provides the perfect yin to the offensive-minded Boyle's yang. Brennan has also provided enough leadership on the ice to keep Boyle thinking in the right direction.
"All the guys help me out there, especially Mike Brennan," Boyle said. "He is really vocal out there. He tells me where to go and what to do. I try to do the same for him. It's been easier because of him."
It also helps that Ben Smith has been able to step right in to center the first line and keep things moving between Nathan Gerbe and Brock Bradford. York was cautious of the move at first, but he and the team feel fine with the freshman's abilities.
For Boyle, though, trying to figure out which position he likes better is more difficult than actually making the switch itself.
"It's so different," he said. "It's a lot of fun both ways. It's still hockey, and I'm glad I get the chance to play both positions."
ROLLING AT THE RIGHT TIME
A year ago, Boston College was feeling a bit wary heading into the Hockey East tournament.
The Eagles flailed to a 1-5-1 finish and lost the regular-season crown to Boston University on the final night of the season. After winning three straight to reach the league championship game, they dropped a 2-1 decision in overtime to BU.
That didn't end up meaning a whole lot in the NCAA Tournament, where they ripped off three straight wins before falling in the national championship to a great Wisconsin team playing a short distance from its campus.
This season, things are dramatically different. Boston College has a 10-game winning streak in which it has out-scored its opponents 47-18 (seven of those victories have been by three goals or more). And, the Eagles are Hockey East champions.
"It's pretty simple," Brian Boyle said of the team's recent surge. "It's just 60 minutes of hockey, which we weren't able to do the first half of the season. We showed flashes of it, but I think now, everybody has a role, and everybody knows what their job is. Each shift, guys are going out there and being responsible, taking care of business and what their job is.
"It's a special thing going right now because guys are embracing the role that they have, and other guys are recognizing what a good job everybody is doing. We've got great camaraderie right now. It's turning around. It wasn't just like a flip of the switch. It's been gradual. We've really got something going good.
"But, one loss and we're done here. Last year, we weren't that hot coming in, but we got hot in the tournament. Other teams can do that, too. We've got to keep doing those things that we did, be responsible and knowing our roles. That is going to take us pretty far."
Entering the season, the Eagles had lofty expectations. They fully believed they had the club to get back to the Frozen Four and do a little more damage. But, they were just 16-11-1 after losing the Beanpot title tilt with Boston University on Feb. 12, and they were anything but a lock to even earn a berth in the NCAA Tournament.
Times have certainly changed. While they have greater goals than winning the Hockey East championship, they certainly have not taken the Lamoriello Cup for granted.
"They're hard to get," BC coach Jerry York said. "As I told our players afterwards, you can't go into the local department store and get one of those hats. You've got to earn it, and it's very difficult in our league to win a championship. We're very proud of it."
"It helps because it's a big game, and it's for a trophy," Cory Schneider said. "That's what we're fighting for. If you win trophy games, it gets you ready to win more trophy games. It's a good start, and hopefully we can continue it."
They are counting down now. They've got four wins left – or one at a time four times in a row, depending who is asked. Regardless, they'll take their chances with the way they're rolling right now.
"This was a strange year for our club," York said. "We were kind of up then down and all around. We were never where I thought we should have been over the course of the year. We're there now. I thought we'd be there earlier, but we're there now."
INCH's Three Stars of the Night
3. Brian Boyle, Boston College
Steady on the blue line and provided an extra dimension to BC's already explosive offense.
2. Nathan Gerbe, Boston College
One goal and one assist, which came with a mix of hustle and some sloppy play by Kevin Regan.
1. Brock Bradford, Boston College
Hockey East Tournament MVP. There was plenty of scoring to go around, but Bradford topped them all.
SEEN AND HEARD AT THE GARDEN
• The crowd is heavily in favor of the Wildcats. Of course, when the puck was dropped, the BC men's basketball team was in a tight contest with Georgetown in the second round of the NCAA Tournament.
• At least for the beginning of the game, the building was only half full. After last night's attendance numbers, this could turn out to be the worst pair of crowds the Hockey East tourney has seen in years.
• Nathan Gerbe made a nice series of plays halfway through the first period. With BC on the power play, Gerbe cut between three Wildcats on his way to the net. When his shot sailed wide and the rebound went long off the boards, Gerbe flew back up the ice and dove to knock the puck away from a UNH skater attempting to break free towards Cory Schneider.
• Gerbe upended UNH's semifinal hero Bobby Butler with about four minutes remaining in the first period. While taking the puck up ice through the neutral zone, Gerbe waited low (no joke intended) while Butler had his head down and flipped head over heels.
• Brian Boyle has done a very solid job adjusting to the blue line, but he provided a comical moment with three minutes to play in the first period. While taking the puck out of the zone completely uncontested, Boyle slipped at the right circle and landed on his back.
• This isn't a Nathan Gerbe running diary here, but Chris Murray took a shot at the BC sophomore's face after a whistle at 17:16 of the first. Both got two minutes for hitting after the whistle.
• If you're going to hold up a sign when the cameramen put you up on the video boards, make sure the sign is held rightside up. That wasn't the case when a UNH fan was trying to salute her school in the third period.
PLUSSES AND MINUSES

There was a decent buzz in the press area for the basketball games that were being televised throughout the evening, which was fun because the hockey game was out of hand fairly early.

"Kiss Cams" are great in any arena. You either see two people who are so sick of the thought of planting a fat one on each other's lips that they make a face like they just walked in on their grandparents, or a perfect pair who look like they're trying out for the cast of "Boogie Nights 2." It's always a win-win situation.

This crowd was horrendous. The announced attendance was 13,668. The announced two-night total was 29,496.
WHAT'S NEXT
Both teams punched their tickets to the tournament long before this weekend, but BC may have stolen a No. 1 seed away from the Wildcats. UNH is obviously heading to the Manchester Regional, and BC may follow, which won't sit well with the Wildcats after dropping three straight to the Eagles since the first weekend of March.