March 15, 2007
WCHA Final Five
Elliott Perfect, Again
By Jess Myers
Wisconsin 4 ,
Michigan Tech 0

Team
Goal
Str
Time
Assists
First Period
1-WI
Blake Geoffrion (2)
EV
1:45
unassisted

Second Period

2-WI
Michael Davies (11)
PP
2:42
A. Joudrey, J. McBain
3-WI
Andrew Joudrey (9)
EV
4:14
K. Klubertanz, J. Piskula
Third Period
4-WI
Tom Gorowsky (5)
EV
10:12
B. Street, K. Klubertanz
Goaltending
WI: Brian Elliott, 60:00, 26 saves, 0 GA
MT: Michael-Lee Teslak, 60:00, 27 saves, 4 GA
Penalties: WI 8/16; MT 7/14
Power Plays: WI 1-3; MT 0-3
Attendance: 16,449
ST. PAUL, Minn. — There hasn't been a varsity baseball team at the University of Wisconsin for more than a decade, but if there was one, Mike Eaves already has part of the rotation set. Eaves talked about his record-setting goalie like it was the start of spring training rather than the thick of the college hockey playoffs after Brian Elliott blanked Michigan Tech Thursday.
"It's like starting pitching in baseball. When you have good starting goaltending, you give yourself a chance to be successful," said Eaves, after Elliott set a WCHA career record for shutouts with his 16th. "He's our starting pitcher. He's our ace."
The perfect 26-save night came less than three weeks after a series in which the Badgers were swept by Tech in Houghton and Eaves pulled Elliott less than two minutes into the Saturday night game. In contract to those struggles, Thursday's game was the eighth consecutive postseason victory for Elliott. He said his teammates had elected to skip Thursday afternoon's WCHA awards banquet when it was announced that Elliott, the league's top goaltender statistically, didn't make the All-WCHA first team.
"Our team didn't even go to see who got those individual awards," Elliott said. "It's really not even about that. We're at a time where we have to win every game and that's all we're worrying about right now."
Huskies a little awed
Playing in an NHL rink is nothing new for Michigan Tech, as the Huskies get two games in Detroit's Joe Louis Arena every December in the Great Lakes Invitational. But a few players admitted that Thursday's night's huge crowd in an unfamiliar building took some getting used to.
The 16,449 tickets sold on Thursday set a tournament record, and the audience was dominated by Badger fans there to cheer for the red team and Minnesota fans there to boo Bucky. The smaller ice surface and the audience 500 percent larger than the ones they have at home were new experiences for the Huskies, who were playing the first game in school history at the Xcel Energy Center.
"All the guys on our team have never been here, and it's a pretty big stage," said Huskies captain Lars Helminen. "This was a little bigger stage than the GLI, and a lot bigger crowd. It maybe took us 10 minutes to get used to that and get our legs under us."
Unfortunately for the Huskies, there was very little break-in time, with the Badgers scoring the eventual game-winner just 105 seconds into the game.
"We're not a team that's built to generate a lot of offense, so coming from behind was difficult," Huskies coach Jamie Russell said. "I have to give Wisconsin a tremendous amount of credit for the game they played. When we got down it was a steep hill for us to climb to get back in the game."
Anderson bloodied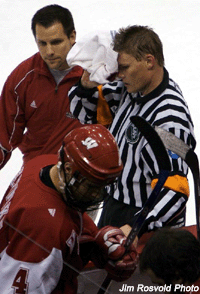 Referee Todd Anderson was hit with a stick blade just above the bridge of the nose in the first period of Thursday's Wisconsin-Michigan Tech game.
While Wisconsin emerged from Thursday's game without any serious injuries, Tech lost forward Mike Batovanja to a bum shoulder, and it was a rough night for the third team on the ice too. An inadvertent stick to the face of a guy in stripes caused a scary-looking bloody spot on the ice, and a lengthy delay.
With less than five minutes to play in the first period, Tech's Jimmy Kerr and Wisconsin's Matt Olinger collided a few feet from referee Todd Anderson. Sticks came up and one of them caught Anderson just above the bridge of the nose, opening a nasty cut. While backup referee Jon Campion sprinted for the dressing room, the doctor on site gave Anderson four stitches. Greg Shepherd, the league's supervisor of officials, talked to Anderson for a minute or two, and determined he could continue the game.
Shepherd said that despite the bloody results, he doesn't expect Anderson's injury to mean a league mandate that officials wear eye shields.
"It's up to them — some guys wear them and some guys don't," Shepherd said. "A few guys have tried them and gotten rid of them because they made them sweat more."
Campion said he was already about half-dressed for a trip to the ice when he got the word that Anderson would finish the game.
Jutting extended
Athletic officials at Minnesota State put months of rumors to bed Thursday, announcing that Mavericks hockey coach Troy Jutting had agreed to an extension that will have him behind the bench at the Midwest Wireless Civic Center next season and beyond. Details of the deal are still being finalized, but Jutting confirmed that it's a multi-year extension.
Jutting, who has been the head coach at his alma mater for the past seven seasons, was working under a contract that expires in June, leading to season-long speculation about his future in Mankato. He said the agreement is a good thing to have behind him.
"It's been in the works for a little while," said Jutting, admitting that he was able to block out all of the speculation that he'd be looking for work after this season. "I put enough pressure on myself. I don't worry about the Internet and what other people say. There's enough pressure from within."
The WCHA's coach of the year in 2003, Jutting is 108-129-34 all-time. The Mavs finished 13-19-6 this season, falling to North Dakota in the playoffs. But the coach said he liked his team's recovery from a 3-9-0 start to finish the regular season on a 7-3-3 run.
"I look at this team was had, and we've come a long way," he said. "We were a lot better hockey team at the end. My goal is to try and help my teams get better, and I think we did that."