March 22, 2008
CCHA Finals
In the Nick of Tim
Miller leads Wolverines to CCHA crown
By James V. Dowd
Michigan 2, Miami 1

Team
Goal
Str
Time
Assists
First Period
No scoring

Second Period

1-MIC
Aaron Palushaj (9)
EV
7:38
M. Rust, M. Mitera
Third Period
2-MIC
Brandon Naurato (7)
EV
10:00
T. Miller
1-MIA
Alec Martinez (9)
PP
19:21
M. Ganzak, C. Camper
Goaltending
MIA: Jeff Zatkoff, 58:41, 24 saves, 2 GA
MIC: Billy Sauer, 59:56, 27 saves, 1 GA
Penalties: MIA 3/6, MIC 5/10
Power Plays: MIA 1-5; MIC 0-3
Attendance: 17,213

All-Tournament Team

G: Jeff Zatkoff, Miami
D: Alec Martinez, Miami
D: Mark Mitera, Michigan
F: Ryan Jones, Miami
F: Tim Miller, Michigan (MVP)
F: Matt Siddall, Northern Michigan
DETROIT — A certain Milwaukee-based brewing company can't be too happy with Michigan junior Tim Miller after his coming-out party during this weekend's CCHA Championship gave a new meaning to their trademark phrase "It's Miller Time."
"I always enjoy playing at Joe Louis," Miller said following Friday's semifinal. "I don't know what it is, whether it's the atmosphere or the ice, but every time I come here I feel like I'm on top of my game, so it's exciting to come back here this year."
The scrappy, hard-hitting, shot-blocking forward scored two goals and an assist Friday against Northern Michigan, then added an impressive assist on Brandon Naurato's game-winning goal in Saturday's 2-1 championship game win against Miami to earn the tournament's Most Valuable Player Award.
"That's one of those things that you play the games for," Michigan coach Red Berenson said. "You never know who might emerge. [Miller] has gone from fourth line as a center to the top line as left wing. Last night he played with Porter and Kolarik and took advantage of that. Then tonight he was on the fourth line again and would you know it? That line scores wininng goal."
As the game approached the halfway mark of the third period, Miller lined up across from Miami's Nathan Davis in the right face-off circle for what seemed like a routine restart. But Miller pushed the puck through Davis' legs and slid it to Naurato, who knocked it past Miami goalie Jeff Zatkoff as he was being shoved to the ground by RedHawk defenseman Kevin Roeder. What made the play even more impressive is that it was drawn up exactly as executed.
"Right before we went out, I told [Naurato] I was going to net," Miller said. "So [forward Danny Fardig] and Naurato switched spots and Naurato went to net. Davis gave me his legs so I went for it."
At the time, Miller's magic helped the Wolverines to a 2-0 lead. But Miami crawled back into the game on an Alec Martinez power-play goal in the final minute, making Naurato's marker the winner.
Having earned the tournament's most valuable player award, Miller was excited to be honored as an individual, but more pleased that his team raised a championship banner to the roof of his favorite NHL team's home rink.
"It was exciting," Miller said. "But most exciting part was the big trophy we got and the banner we got to hang, so that I can see it whenever I come to a Red Wings game."
GUNNING FOR A REMATCH
Having fallen to 0-2-1 against Michigan on the season, Miami turns its focus to the NCAA tournament, where they will most likely be rewarded for a strong season with a No. 1 seed.
Looking back on his team's performance, coach Enrico Blasi is optimistic about the state of the RedHawks, and knows that the difference between Miami and the Wolverines Saturday was infinitesimal.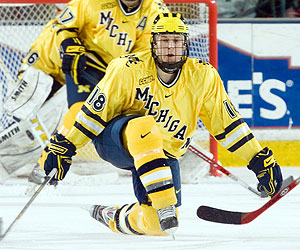 Michigan forward Tim Miller had two goals and two assists in the Wolverines' CCHA tournament wins against Northern Michigan and Miami.
"I thought it was a pretty good game," Blasi said. "It usually comes down to a team executing one or two more plays than the other team and that's what happened. They executed one or two more plays and we got one at the end. [Michigan goalie] Billy Sauer played well early and we just never got any offense."
One reason for Blasi's optimism was his team's ability to create scoring chances throughout the game by generating screened shots from the blue line and skating to the net. All three of the RedHawks goals on the weekend came from defensemen, courtesy of tough skating by forwards.
"When our defensemen are scoring, forwards are going to net and causing traffic," Blasi said. "That's a good thing — something we pride ourselves on, getting traffic in front of goalie."
Forward Ryan Jones, whose screen was responsible for the Mitch Ganzak goal that sent Friday's semifinal against Notre Dame into overtime, agrees that traffic was a key component of the success Miami did have. Jones was also pleased that his team kept skating and scored in the waning moments of both games — a good omen should they fall behind in NCAA tournament play.
"We have to work hard for 60 minutes," Jones said. "If other teams aren't willing to do that, we will capitalize."
The Miami team now heads back to Oxford with their eyes glued on Sunday's NCAA tournament selection show. Having matched up well against the nation's top-ranked team, Blasi acknowledged that a rematch is not only possible, but even desirable. "If we play Michigan in Denver, Red and I will both be happy," Blasi said. "And that's a good thing, and a good thing for the league as well."
CHEMISTRY CLASS
Northern Michigan 2,
Notre Dame 1

Team
Goal
Str
Time
Assists
First Period
No scoring

Second Period

1-ND
Christian Hanson (10)
EV
7:32
C. Minella, D. VeNard
Third Period
1-NM
Tim Hartung (3)
EV
1:15
M. Siddall
2-NM
Matt Siddall (18)
EV
3:31
J. Brown
Goaltending
NM: Reid Ellingson, 30:12, 14 saves, 1 GA
Brian Stewart, 29:48, 25 saves, 0 GA
ND: Jordan Pearce, 57:49, 19 saves, 2 GA
Penalties: NM 5/10; ND 4/8
Power Plays: NM 0-4; ND 0-5
Northern Michigan is headed home for the season after its 2-1 victory over Notre Dame in the CCHA third-place game, but the victory capped off an impressive second half of the season, one which already has coach Walt Kyle drooling for 2008-09.
"I'm so proud of this team," Kyle said. "A couple of things come to mind. We started out 1-8, started out 0-7 and we had a lot of people jumping off of the boat. But as coaches, we knew we lost eight seniors and 16 regulars over the last two years, that this was the year we would grow, and this would be the tough year."
After the poor start to the season — for which the schedule is at least partly to blame — Kyle saw his players band together and unite to play for not only the future, but a chance reach Joe Louis Arena.

"We found a way to become a team," Kyle said. "It's not the 20 best guys, it's the 20 guys best together. Our schedule started out with Miami, Michigan and Michigan State. I was looking at our schedule and we've played 44 games, with 15 against Michigan, Michigan State and Miami — a third of our schedule against those teams."
Having jelled as group, the Wildcats avenged those six losses against the top three CCHA teams by winning four times in five games against Michigan State, two ties on the road at Yost Ice Arena, and a close call against Michigan Friday. And while chemistry can change from year to year, NMU returns all but three players from this year's team, while adding a strong class of incoming recruits.
"There are definitely a lot of positives to take out of year," senior forward Matt Siddall said. "It's an exciting group of guys in that room. They have strong core ... and I wish them the best. It's really been something special."
OUT OF THEIR HANDS
With its NCAA tournament status in question, one would have thought Notre Dame had everything to play for in Saturday's third-place game. But the Fighting Irish seemed flat and uninspired in their quest for a postseason bid.
According to coach Jeff Jackson, the lax attitude can be attributed to a hangover from Friday crushing loss to Miami, which sent the team to the mostly meaningless third-place game.
"It was your typical consolation game — not much emotion," Jackson said. "Why we play these games, I'm not quite sure. They tell me it's for an advantage, but I'm not sure. We didn't have same emotion and intensity as our last three games."
Having lost the game, Jackson and his players now know that any chance of playing in the NCAA tournament is completely out of their hands.
"I've been told 15 different things, so I don't believe anything until see on paper," Jackson said. "I heard that if we tied we're out and if we lost we would be in. And I've been told that if we won or lost we would be in at this point — it's all speculation."
Jackson's passivity was in stark contrast to the words of team captain Mark VanGuilder who was incensed with the way his team played. Following Friday's loss to the RedHawks, VanGuilder spoke passionately about the need for his team to rally for victory in the consolation game and secure their tournament spot. And after losing a third-period lead to Northern Michigan, he was upset that the Fighting Irish were not up to the challenge.
"It really shouldn't matter if it's a consolation game," Van Guilder said. "We're here to play hockey. It doesn't matter if we're playing the top team in country, we should be just excited today as we were yesterday. That's not an excuse."
SEEN AN HEARD AT JOE LOUIS ARENA
INCH's Three Stars of the Night
3. Jordan Pearce, Notre Dame and Jeff Zatkoff, Miami
An exceptional duel between to outstanding goaltenders in Friday's first semifinal match.
2. Travis Turnbull, Michigan
The junior forward came into the night with 30 career goals, but no two-goal games. That changed with a pair of tallies against Northern Michigan.
1. Tim Miller, Michigan
On a night when kooky goals were the rule, it's only fitting that an old-fashioned grinder like Miller got a pair of goals by battling his way to the front of the net.
• Taking one for the team: In one of the more magnanimous moves in recent memory, Northern Michigan's Phil Fox volunteered to sit Saturday's consolation game so a less-experienced teammate could get some ice time. This, coupled with the success of Northern's two backup goalies, who split the game 50-50, shows just how tightly knit their squad is.
"It was exciting to see [Reid Ellingson] and [Derek Janzen] get some quality minutes," Siddall said. "[Ellingson] played well and then Janzen got in and played great. And Phil Fox, who is a regular player, decided to let someone get in for him. We're a family. He went out for warm-ups and decided that he would take a seat to let someone else play."
Even Walt Kyle, who prides himself on facilitating good character amongst his players, was awed by Fox's generosity.
"I've never seen anything like that before."
A fracture of conventional sense: After suffering a hairline fracture of his left fibula during collision at practice last week, Michigan's Matt Rust came back to make a spectacular assist on his team's first goal against Northern Michigan Friday. Most players would miss a significant amount of time with this injury, but most players aren't Matt Rust.
According to Berenson, Rust didn't even skate until Wednesday, and he struggled to make it through those drills. But he came to Joe Louis Arena Friday wanting to play and made his coach grateful for that kind of toughness.
"He wanted to play yesterday and I challenged him," Berenson said. "I told him that we know the injury won't get any worse, but we were worried about him letting our team down last night playing against Mark Olver and tonight playing against [Miami forward Carter] Camper. He could hardly walk this morning and said, 'I can play and I want to play.'"
PLUSSES AND MINUSES

Weather in the Detroit area took a turn for the better Saturday after a Friday night snowstorm kept many fans away from Joe Louis Arena. With the roads cleared, an impressive 17,213 fans turned out for the title game.

Michigan had a scare early on in the championship battle when Chad Kolarik, who had previously missed eight games with a knee injury, went down and was helped to the bench and into the tunnel at the 13:36 mark of the first period. Fortunately, the pain subsided and Kolarik jumped back into the play soon after.

One of the prettiest plays of the championship game showcased the excellence that is Michigan and Miami hockey. Early in the third period, Michigan's Chad Kolarik left the puck for linemate Max Pacioretty. Pacioretty then passed the puck backwards — between his legs — to Kevin Porter. Porter took a strong wrist shot, but Miami's Jeff Zatkoff made a spectacular save.

There could only be one goaltender on the all-tournament team. While Jeff Zatkoff was extremely deserving of the honor, Billy Sauer, Jordan Pearce, Brian Stewart, Reed Ellingson and Derek Janzen were all strong in net.

We're not ones to nitpick, but it wasn't a banner weekend for the CCHA's three Hobey Baker Award candidates. Miami's Ryan Jones had a single assist in his team's two games, and Michigan's Kevin Porter — considered the favorite to win the honor next month — was held scoreless. Then there's Michigan State goaltender Jeff Lerg, who wasn't even in Detroit. His Spartans were bounced by Northern Michigan in the league's quarterfinals.
WHAT'S NEXT
Sunday's NCAA tournament selection show should (emphasis on "should") yield four bids for the CCHA. Michigan and Miami are virtually assured of No. 1 seeds. Where they end up is another matter, but it wouldn't come as a shock to see the Wolverines in Madison next weekend.
Michigan State, too, is a lock ... and another candidate for the Midwest Regional at the Kohl Center based on the way the computer rankings look at the close of business Saturday. The Spartans are probably a No. 3 seed, just like last year. How'd that work out for them again?
Then there's Notre Dame. Insert your own Catholic university-Easter joke here, but the Fighting Irish will probably sneak into the field as the last at-large entry.