March 21, 2008
ECAC Hockey Semifinals
Kalemba's Day
Goalie backstops Princeton to championship game
By Joe Gladziszewski
Princeton 3, Colgate 0

Team
Goal
Str
Time
Assists
First Period
No scoring

Second Period

No scoring
Third Period
1-P
Matt Arhontas (9)
EV
8:04
unassisted
2-P
Kevin Lohry (3)
EV
14:44
K. Shattenkirk, L. Stankievech
3-P
Kevin Lohry (4)
EN
19:39
K. Shattenkirk
Goaltending
CU: Mark Dekanich, 59:08, 19 saves, 2 GA, 1 ENG
P: Zane Kalemba, 59:58, 27 saves, 0GA
Penalties: CU 3/6; P 3/6
Power Plays: CU 0-2; P 0-3
ALBANY, N.Y. — It started harmlessly enough, after approximately eight minutes had been played in the early semifinal at the Bank of America Hockey Championships. Princeton goalie Zane Kalemba stared down Colgate star forward Tyler Burton as Burton split the Tiger defensemen and had a clear breakaway. Kalemba went low to the ice on his belly, covered the bottom of the net and denied Burton's backhand deke attempt by snaring the shot in his catching glove.
Burton had the game's best opportunity later in the first period when a rebound fell to him in the low slot, with Kalemba stationed at the far post after having made the initial save. Burton didn't get a great chance on his backhand attempt and it rolled off the end of his stick. Instead of finding the five and a half feet of gaping net mouth, Kalemba's glove again reached down to stop the first-class chance.
As stated earlier, that was just the start. Kalemba kept it up all the way through Princeton's 3-0 win over Colgate that sent Princeton to Saturday night's ECAC Hockey Championship game against Harvard.
It continued through the second period with good stops on Jesse Winchester and David McIntyre as the game remained scoreless through 40 minutes.
Kalemba's victim in the third period was Ethan Cox. The first came off a point-blank one-timer on a 2-on-1 rush to keep the game scoreless. Princeton's Matt Arhontas broke the scoring drought with 11:56 left in the third period. Teammate Mark Magnowski forced a Colgate turnover and Arhontas was the beneficiary of a bounce. He was in clearly on Raider goalie Mark Dekanich and slid the puck between the pads for a 1-0 Princeton lead that would hold up as the game-winner.
The second stop on Cox was a spinning stuff attempt from inside the crease with 5:25 left to play and Princeton leading 1-0. The ensuing play saw Kevin Lohry go the distance the other way and score on a breakaway with 5:16 left that put Princeton ahead by two goals.
"Colgate did a heck of a job defending our rush and I was proud of how our team responded. This team has found different ways to win every night, and we did that again," Princeton head coach Guy Gadowsky said.
For senior defenseman and team captain Mike Moore, Kalemba's play was the key as the rest of the team picked up its game and was able to cultivate confidence as the game wore on.
"It was one of the best performances by a goalie that I've ever seen on a team that I played for," Moore said. "It builds the confidence of the entire team and you see how it reflects on a defensive unit with a lot of freshman and sophomores. They know that he's back there and it helps our composure."
LEADER SETS AN EXAMPLE FOR CRIMSON
Harvard 3, Cornell 1

Team
Goal
Str
Time
Assists
First Period
No scoring

Second Period

1-HU
Dave Watters (6)
PP
3:35
B. McCafferty, J. Fraser
2-HU
Jon Pelle (12)
PP
5:02
D. Rogers, M. Taylor
1-CU
Topher Scott (12)
PP
6:57
R. Sawada, M. Kennedy
Third Period
3-HU
Jon Pelle (13)
PP
17:24
A. Biega, M. Taylor
Goaltending
CU: Ben Scrivens, 57:42, 30 saves, 3 GA
HU: Kyle Richter, 60:00, 31 saves, 1 GA
Penalties: CU 6/12; HU 4/8
Power Plays: CU 1-4; HU 3-6
Attendance: 5,704
Tell coaches around the league that you can offer them a player who leads his team in scoring, is among its best penalty-killing forwards, plays the point on the power play, and has run off a 13-game point streak at the most important time of the season. They might be interested.

Then talk about the intangibles. That he has earned the respect of his teammates as a great co-captain who guided a team through a miserable stretch of hockey and has a knack for making big plays at important times. That he leads by example first, and then raises his voice when necessary, making himself accountable before pointing the finger at others. They'll probably be very interested.
Then ask those same coaches why they didn't vote Harvard's Mike Taylor to any of the three All-ECAC Hockey Teams this season.
Scanning a box score or the league's scoring leaders won't bring Taylor to mind. Watching any Harvard game will paint a clear picture of how vital he is to the Crimson's success. That was the case in Friday night's 3-1 semifinal win over Cornell that sent Harvard to Saturday's ECAC Hockey Championship against Princeton.
Taylor's energy and work ethic, his poise with the puck and willingness to pursue it when Cornell had it set the tone for Harvard. It's been that way since early February, when Harvard started its impressive run of 10 wins, two losses, and a tie to put itself in a position to resurrect a season that was sliding downhill. It's no coincidence that Taylor has at least one point in those 13 games.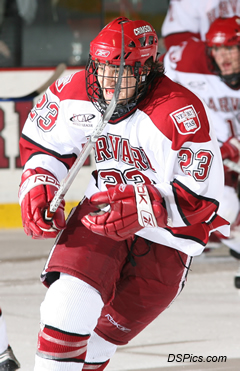 Taylor-made: Senior forward Mike Taylor extended his point streak to 13 games with a pair of assists in Harvard's 3-1 win against Cornell in Friday's ECAC Hockey semifinal.
"I lead by example, but I'm also able to open up around my teammates when I'm pretty soft spoken. That's what we've tried to do in the second half. I had a great talk with (co-captain) Dave MacDonald and we knew we needed to turn things around," Taylor said.
His reputation for scoring big goals is well-earned. He's got three short-handed goals on the season. All of them broke scoreless ties, and Harvard went on to win those games. He had a goal and an assist in the three-goal spree in the first period of the Beanpot win over Northeastern that started to turn the Crimson tide.
"Our senior leadership didn't allow us to crumble or doubt ourselves and splinter off when things weren't going well," Harvard coach Ted Donato said.
Taylor's linemate Doug Rogers elaborated on how Taylor gets the job done.
"Mike's been a great leader for us all year. He comes to practice ready and he knows what to do every place on the ice. He leads by example but says all the right things," he said.
The trio of Taylor, Rogers, and Matt McCollem has combined for 23 goals in the last 13 games and Harvard as a whole has benefited. Even though he plays on the left wing, Taylor's been at the center of it all.
SEEN AN HEARD AT THE TIMES UNION CENTER
Making the most of a difficult situation: Harvard goalie Kyle Richter credited his defensemen and forwards for doing a good job in the zone and helping to make him look good. Harvard coach Ted Donato credited Richter for making the tough saves and being aware in a very difficult building for goalies and being sharp right from the start.
"Especially in the first period, I thought Kyle was exceptional. When he's playing as well as he is now, as is the case with all hot goalies, they make things look much easier than they actually are. He was solid from the start and made some great saves on Cornell's power play. That gives the team a huge boost in a game when any goal that might be scored changes momentum," Donato said.
"This is a very difficult arena for goalies. There are funny bounces and not a lot of room behind the net or in the corners. One step in either direction can put them in a bad spot or off their angles."
INCH's Three Stars of the Night
3. Kyle Richter, Harvard
Kalemba's shutout and eye-popping saves get the recognition, but Richter was almost as good in the second game with several important stops on deflections and grade-A chances by the Big Red
2. Jon Pelle, Harvard
Two goals and tons of jump on the night for a tremendously talented offensive player who buried his chances and sent the Crimson to the finals.
1. Zane Kalemba, Princeton
Princeton has three wins in the playoffs and all have been shutouts. It's an ECAC Hockey tournament record, and ties the career mark for shutouts in the ECAC Hockey playoffs. With five zeroes on the season, Kalemba has set the Princeton record in that category.
Excited on Old Nassau: The most distinguished group of fans arrived at the Times Union Center early in the second period of the first semifinal. Princeton's men's lacrosse team happened to be in town for an early afternoon game against the University of Albany.
While the lax game didn't go the Tigers' way (a 10-2 loss to the Albany Great Danes), the team was wearing shirts and ties and filled the first three rows of section 122 where most of the Princeton supporters had gathered.
Kalemba's great saves and Lohry's breakaway goal brought them to their feet and they banged on the glass as the Princeton players celebrated in front of them.
"The support for our program and all the athletic programs at Princeton has been fantastic. Princeton has been proud of what we've been able to do," Gadowsky said. "All of our guys noticed it and it definitely gave us a boost."
FRIES AT THE BOTTOM OF THE BAG
• The four participating teams aren't the only ECAC Hockey teams in action this weekend. Regular-season champs Clarkson are continuing to practice in Potsdam after having been upset by Colgate in the quarterfinals last weekend. The Golden Knights are awaiting word on a likely NCAA Tournament berth when the field is announced on Sunday morning.
• Colgate is without defenseman Nick St. Pierre for the weekend due to an injury suffered during the Clarkson series last weekend. It didn't cause too much of a shakeup in the Raider lineup as they have regularly dressed seven defensemen and just 11 forwards for most of the season.
• The Fan Fest that has traditionally been held on South Pearl Street outside of the arena has been scaled down and moved inside. Inflatable play areas, other games, jugglers, face-painters, and balloon artists were on hand inside of Times Union Center on the concourse to provide entertainment options for fans of all ages.
• Colgate provided a small hospitality table for Raider fans in attendance featuring "GO RAIDERS" signs and large bowls of popcorn and pretzels.
PLUSSES AND MINUSES

As expected, Cornell had the largest number of supporters in attendance, but their enthusiasm waned after Harvard tallied those back-to-back PPGs in the second period. It's easy to cheer for your team when they're winning. Fans cheer for their team at all times.

Cheers for beers! Concession stands and vendors sold a variety of beers in the arena and a good number of fans enjoyed an adult refreshment or two during the evening's festivities. They won't have that opportunity next weekend when the Times Union Center hosts the NCAA East Regional..
WHAT'S NEXT
Princeton and Harvard meet Saturday for an ECAC Hockey Championship and an automatic berth in the NCAA Tournament in what is setting up to be a true goaltender's duel on Saturday night. While Kalemba made the gaudy and spectacular saves, Richter made the stops in traffic and on deflections.
The third-place game matches travel partners Cornell and Colgate for one more game. It closes the illustrious careers of standout players Topher Scott and Raymond Sawada for the Big Red and Tyler Burton, Jesse Winchester, and Mark Dekanich for the Raiders. ECAC Hockey fans will be thankful to have the opportunity to see these guys one more time.