March 22, 2008
Hockey East Finals
Eagles Have the Rite Stuff
By Jeff Howe
Boston College 4,
Vermont 0

Team
Goal
Str
Time
Assists
First Period
1-BC
Ben Smith (21)
EV
18:32
C. Sneep, N. Gerbe

Second Period

2-BC
Tim Kunes (1)
EV
5:01
unassisted
3-BC
Brian Gibbons (13)
PP
19:40
A. Orpik
Third Period
4-BC
Nathan Gerbe (28)
EN
18:55
B. Ferriero
Goaltending
BC: John Muse, 60:00, 29 saves, 0 GA
UVM: Joe Fallon, 58:45, 24 saves, 3 GA, 1 ENG
Penalties: BC 5/10; UVM 5/10
Power Plays: BC 1-4; UVM 0-4
Attendance: 11,766

All-Tournament Team

G: John Muse, Boston College
D: Mike Brennan, Boston College
D: Carl Sneep, Boston College
F: Bobby Butler, New Hampshire
F: Benn Ferriero, Boston College
F: Nathan Gerbe, Boston College (MVP)
BOSTON — This is starting to become an annual rite of passage for Boston College.
The Eagles cruised past Vermont, 4-0, Saturday to capture their league-leading eighth Hockey East championship. It was BC's second straight tourney title, third in the last four years and fourth in the last eight.
What's remarkable this time around was how the Eagles did it. They were 1-5-1 after beating Harvard to clinch the Beanpot crown, a lull that included a five-game winless stretch. And after falling from second in the standings to fourth, they earned a first-round date with Providence, which had gone 2-0-1 against Boston College in the regular season.
Simply put, the Eagles weren't getting anything handed to them.
"Yeah, it's always tough," said BC junior forward Nathan Gerbe, who was named tournament MVP. "But we have a lot of leadership on this team. Our seniors have done a great job of keeping us positive throughout the year. Even through the stretch, we tried to take the positives. It's helped us a lot. We're real lucky to get this, but it's hard earned."
After steamrolling through the Friars, though, Boston College drew top-seeded New Hampshire in the semifinal. A three-goal comeback and triple-overtime victory later, and Vermont was the only team left in BC's path for yet another league championship. As the final score indicated, the Eagles had little trouble.
A large part of their enlightenment heading into the NCAA tournament has to do with Gerbe, who also struggled during a regular-season stretch run that closer resembled a limp. The league's leading scorer has re-emerged as the dominant force he had been through most of the season with five goals and six assists during the Eagles' five-game winning streak, including four goals and five assists in the postseason.
"Offensively, I was doing well, and then I got into a little drought," said Gerbe, who was held to a goal and an assist during BC's five-game winless skid. "Sometimes, you overplay things, and I think I was looking for more breaks than I was creating. I've got to be an honest player. I'm the kind of kid that has to create my own breaks, and I cheated the game a bit when our team wasn't doing it down the stretch there. Now, I'm trying to go back to keeping it simple first and then worry about the offense."
Gerbe admitted he needed to take a look in the mirror and be more accountable to his teammates, and that meant trusting the talent around him.
"Sometimes, I get carried away. I try to do things by myself, but I play with two great wingers — Brian Gibbons and Ben Smith — and sometimes I've got to depend on them," Gerbe said. "I thought I depended on them a lot, and they did a great job this weekend."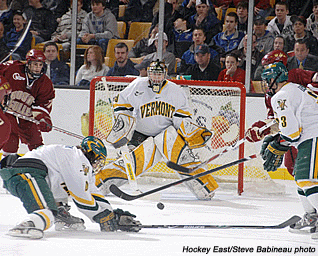 Eyes on the prize: Boston College and Vermont players size up a loose puck in front of Catamount goalie Joe Fallon during Saturday's Hockey East championship game in Boston.
Now, they're heading to yet another national tournament as one of the hottest teams in the country. They've got a battle-tested cast that has played in the last two national championships. And coach Jerry York has said he likes this team's mental makeup as much as any he's ever coached. After rebounding from two separate five-game winless stretches this season and battling back to beat UNH Friday, that's an easy notion to agree with.
"I think we've had our history of a lot of good runs at the end of our season, and I thought our club was pretty solid," said York, who won the 799th game of his career. "When I looked at it, I said this is a pretty good club, and we just went through some tough losses. But I always thought we were capable of making a good run here. We never quite got to that point where we thought we weren't going to make it to the national tournament or the Hockey East championship. We always thought we had a good club and just kept sawing wood. I like that expression. Just keep working."
AND THEN THERE WERE TWO
Boston University coach Jack Parker said Friday he would be rooting for Vermont to win the Hockey East championship, not to spite rival Boston College but to help the conference get three teams into the NCAA tournament.
Vermont's defeat, however, meant Hockey East would get just two teams into the national tourney, the fewest for the league since 1997. It's only the second time the conference qualified just two teams since 1988, and it's a surprising turn after Hockey East earned a league-record five bids last season.
"You always want to see a better representation, and last year we were spoiled a little bit with the five," HEA commissioner Joe Bertagna said. "But as I've been saying to people, we really are paying the price for letting some games get away from us in the first half of the season that were, on paper, winnable games — losses to Robert Morris, ties to Alaska, a couple losses to Dartmouth, who had a tough season."
Hockey East had at least four teams qualify for the NCAA tournament in three straight seasons and four of the last five. It will be just the sixth time ever only two teams from the conference qualified, with three of those being the first three seasons of the league's existence from 1985-87.
"I think it is [difficult] just because we have so many great teams in the league," Vermont coach Kevin Sneddon said. "But when it comes down to it, two things that probably hurt was we kept beating each other, and teams like ourselves and Boston University just didn't have a good enough first half, in particular in non-conference, where we could earn those important points in the power rankings to be playing next week. You can't fault the system at all. You know what it's going to be going into the season."
With that said, though, Boston College and New Hampshire feel like they have the opportunity to make the conference proud. UNH will be a No. 1 seed, and BC looks locked into a second seed.
"No question [it's tough]," said BC coach Jerry York, who was politicking after the game to get his Eagles in a bracket separate from that of UNH. "And now it's up to both [teams] to try to make it to that Frozen Four, and make a statement for eastern hockey and particularly Hockey East."
"I think we have a really deep conference," said Nathan Gerbe, whose Eagles have qualified for the national tournament for the sixth straight time and the ninth time in the last 10 years. "I still think Vermont deserves to be in the tournament. They're a great team. They compete really hard. Our league is very good, but New Hampshire and ourselves are also good teams, and hopefully we represent Hockey East well."
The league has had at least two teams qualify for the NCAA tournament in all 24 years of its existence. And of the four national championships that Hockey East teams have claimed, one of them came when just two teams were in the tournament — Maine in 1993.
"We know our time will come again, and I actually like our chances with the two teams we do have," Bertagna said. "We don't have numbers, but we have two teams I think are very strong. I think New Hampshire might be a little bit deeper on the roster, but I think BC has some experience with being in some big games over the last many years but particularly the last two years going into the national championship game."
SEEN AN HEARD AT TD BANKNORTH GARDEN
• There seemed to be a war between soda brand names on the media floor this weekend. Friday night, the drinks of choice on the Garden's ninth floor were Coke and Diet Coke. Saturday, however, featured Pepsi and Diet Pepsi. Maybe Mean Joe Greene and Justin Timberlake will even play a game of pond hockey between periods.
• To put it kindly, the Vermont section had less good chants than bad ones, including "Harvard rejects" in the second period.
INCH's Three Stars of the Night
3. Ben Smith, Boston College
Smith's goal served as the game-winner and turned the tide in BC's favor after Vermont controlled most of the first period.
2. Nathan Gerbe, Boston College
Memo to the college hockey world: Gerbe is back. He had a goal and an assist and was all over the ice.
1. John Muse, Boston College
Muse earned INCH's tournament MVP vote (not that Gerbe was a bad selection), and he was outstanding in the championship. He stopped a number of odd-man rushes in the first period to keep the game tied and never allowed UVM to creep back once BC took control.
• Nathan Gerbe scored one of the most dazzling goals of the season during a penalty shot in Boston College's Game 2 win over Providence last weekend. He pulled off a Ryan Shannon-inspired spin-o-rama move to beat PC goalie Ryan Simpson. I asked Gerbe if Shannon has called him to claim the first ever assist in penalty-shot history.
"No, he hasn't," Gerbe laughed. "I got to watch him on YouTube do it all the time, and I tried it in practice a few times. I just got the chance in a game to try it."
Gerbe then said he had never successfully pulled it off in practice, either.
• Boston College goalie John Muse stopped 29 shots to record the second shutout in Hockey East championship history. UNH goalie Mike Ayers turned the trick against Boston University in 2003.
• Gerbe on Muse, who quelled a few odd-man rushes in the first period while the game was scoreless:
"It's tough to play every minute [of the season]," Gerbe said. "You've got to give the kid a lot of credit. It's tough coming in after Cory Schneider. It's another very good goalie, but he's done well for us. He's given us the confidence to win every game. I don't think there's been a game where you look at him and say he might have lost the game, but he hasn't. He's played well all game and kept us in every single game. You've got to give a young freshman a lot of props for that."
• BC's senior class has won three Hockey East championships. The one season they didn't win it was in 2006, when they fell to BU in overtime.
'• BC was the third No. 4 seed to win the Hockey East tournament and first to do it since Maine in 2000. Interestingly enough, all three of the No. 4 seeds beat the No. 3 seed in the championship.
• Saturday's announced attendance was 11,766.
PLUSSES AND MINUSES

Solid teamwork on BC's empty-netter. Benn Ferriero had a chance to pad his stats, but he instead decided to feed Nathan Gerbe, who potted the sure thing.

A few pet peeves before the game even started: People who don't cover their mouths when they cough and they're noticeably very sick; people who walk around the media floor (or press box, media table, etc.) and steal other people's line charts or any sheets of paper that are necessary to cover a game; and people who get on an elevator on the first floor and ask if it's going up. No, it's not. Actually, this building has a super-secret sublevel that we're all heading to, and it's filled with ice girls, free stuff from Nike Bauer and giant plasma screen TVs that are showing "Slapshot" on repeat. This country is in a serious recession because of people who ask questions like that.

The crowd left a lot to be desired. This is the second straight year the crowd had some serious room for improvement, and much of the buzz in the building had to do with the lack of buzz in the building.
WHAT'S NEXT
Boston College earned the automatic qualifier for the NCAA tournament and will likely be a No. 2 seed, though its location remains to be seen. New Hampshire, which fell to the Eagles last night, appears to have a lock on a top seed and is hoping to stay close to home, perhaps the Worcester Regional. Vermont's historic season has come to a close.