March 20, 2008
WCHA Final Five Play-In
'Other' Rookie Goalie Stands Out On Thursday
Minnesota 3,
St. Cloud State 2


Team
Goal
Str
Time
Assists
First Period
1-MN
Tony Lucia (4)
EV
0:25
E. Kaufmann, D. Peltier
1-SCS
Garrett Raboin (2)
PP
7:33
R. Lasch, A. Brocklehurst

Second Period

2-MN
Evan Kaufmann (9)
PP
4:35
B. Wheeler, C. Fairchild
Third Period
2-SCS
Tony Mosey (5)
EV
15:34
R. Lasch, G. Raboin
3-MN
Mike Howe (6)
EV
19:47
D. Peltier, D. Fischer
Goaltending
MN: Alex Kangas (59:50, 25 svs, 2 GA)
SCS: Jase Weslosky (59:44, 26 svs, 3 GA)
Penalties: MN 9/18; SCS 8/16
Power Plays: MN 1-5; SCS 1-7
By Jess Myers
ST. PAUL, Minn. — There were 78 all-WCHA ballots returned to the league offices for tabulation and determination of year-end awards, and 77 of them listed Colorado College's Richard Bachman as the goaltender on the league's all-rookie team.
But after what he's done in the last four games, one would like to think that the league's "other" rookie goalie, Minnesota's Alex Kangas, got that 78th vote.
In his first trip to the college playoffs, Kangas has turned aside 44, 27, 44 and 25 shots in four games, and won three of them, including Thursday night's 3-2 triumph over St. Cloud State in the WCHA Final Five's play-in game. It's been enough effort that for one night anyway, he, not Bachman, was the rookie goalie everyone was talking about.
"He's been solid for them down the stretch, and he's coming up big, as you saw tonight," said St. Cloud State's Ryan Lasch, the league's regular season scoring champion. "He stopped us on the power play a couple times and that gave them a lot of momentum."
The Huskies power play had been scary good, especially late in the season, but Kangas had an answer on Thursday, holding the Huskies to just one man-advantage goal in seven power plays. That effort helped the Gophers advance to a date with CC in the semifinals, and a chance to maybe hold onto the Broadmoor Trophy they won last season.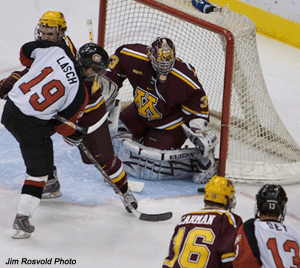 Freshman goaltender Alex Kangas made 25 saves, including this second-period stop of Hobey Baker Award candidate Ryan Lasch, in Minnesota's 3-2 win over St. Cloud State in Thursday's WCHA Final Five play-in game.
"He just looked really good and comfortable," said Huskies coach Bob Motzko of the opposing goalie. "He's one of those athletes that's in the zone and feeling pretty good. Our league is used to seeing great players and he might be developing into that."
Perhaps Kangas' biggest play happened when he came well outside the zone, skating far beyond the crease to thwart a potential shorthanded breakaway by the Huskies' John Swanson with the game tied 2-2 and the clock ticking down in the third period. After Kangas' poke check ended the threat, Mike Howe ended the game, scoring with 12.7 seconds left to mercifully spare Minnesota from a fourth consecutive overtime.
Asked afterward if he was indeed "in a zone," Kangas smiled, then passed off the credit to his teammates.
"Some people call it that," Kangas said. "You can call it whatever you want, but I feel good right now and the guys are playing well in the defensive zone in front of me. So that's a big confidence booster for me knowing I only have to make one save and they're going to clear out the junk in front of me."
SEEN AND HEARD AT XCEL ENERGY CENTER
Hobey "snub" leaves Tigers miffed, inspired: A murmur went up from the two tables of Colorado College players at the WCHA's awards dinner on Thursday afternoon when the first name on the list of 10 Hobey finalists started with G, for Gerbe. Since they announce the finalists in alphabetical order, that meant that Tigers rookie goaltender Richard Bachman, who minutes earlier had been named the league's player of the year, did not make the cut.
"I was shocked that Bachman wasn't a top 10 finalist," said Tigers defenseman Jack Hillen, who was named the league's defensive player of the year. "Maybe being a freshman hurt him, but if you talk with him and hang around him, he's so mature. Not to take away anything from the 10 candidates in there, because they're all great players, but he definitely deserves to be up on that list."
Bachman, for his part, played it cool and talked about being in honored company with Curtis Joseph as the last freshman goalie to be named the WCHA's top player.
"It's a great honor to be on the list with him, so I'll just take it in and enjoy it," said Bachman, whose parents made the trip to St. Paul and were in attendance at the dinner. "He's an amazing goalie, so it's a lot to live up to."
Bachman said his failure to make the Hobey list gives him incentive to come back next season, "keep on pushing and keep getting better." As for this season, his teammates hope the perceived lack of respect from Hobey voters gives the rookie a little something extra to play for in March and April.
"I hope it lit a little fire under him and he doesn't give up a goal the rest of the year," Hillen said. "It makes us want to get to the Frozen Four and get some more exposure, because we have some unbelievable players on our team who didn't get recognized."
Another attendance record falls: As expected, Thursday's night's all-Minnesota battle between the Gophers and Huskies drew a sellout crowd of 19,232, which blew away the previous record for the Final Five's play-in game. Last year's 4-0 Wisconsin win over Michigan Tech drew a then-record audience of 16,449.
This season, the college ticket-buyers are chasing a new attendance record for hockey in the X, set just a few weeks ago. On March 7, a crowd of 19,559 was on hand for the Minnesota State High School Hockey Tournament's semifinal games.
Rapid-Fire Tony: Minnesota's Tony Lucia ended the marathon series with Minnesota State by scoring in the second overtime on Sunday. Four days and 25 seconds of hockey later, Lucia scored again, notching a goal on the opening shift Thursday to give the Gophers a 1-0 lead at the 19:35 mark of the first period.
In the Gopher locker room after the first period on Thursday, coach Don Lucia said his son joked that he's never scored twice in 25 seconds before.
WHAT'S NEXT
Minnesota had to give the MacNaughton Cup away to Colorado College a few weeks ago, but now has a chance to hang on to the Broadmoor Trophy, which goes to the league's playoff champion. The Thursday night win also means that for the second weekend in a row, the Gophers will be playing three games in three nights, and will have played six games in 10 days by the time this tournament is over. St. Cloud State is all but assured of an invite to the NCAA Tournament and will have a few extra days to rest before heading somewhere to seek that elusive first NCAA win in program history. "It's just a minor setback on our road to the tournament," Lasch said of Thursday's loss.
Jess Myers can be reached at inchwcha@gmail.com.