March 19, 2005
ECACHL Championship
The Shutdown Stars
Cornell's checking line anonymously leads the Big Red to victory
By Joe Gladziszewski
Cornell 3, Harvard 1

Team
Goal
Str
Time
Assists
First Period
1-H
Dylan Reese (7)
PP
18:23
T. Cavanagh, D. Murphy

Second Period

1-C
Paul Varteressian (4)
EV
9:35
D. Pegoraro, M. Carefoot
2-C
Charlie Cook (8)
PP
10:30
T. Scott, M. Moulson
Third Period
3-C
Charlie Cook (9)
PP
6:35
M. Moulson, M. Knoepfli
Goaltending
H: Dov Grumet-Morris, 58:07, 29 saves, 3 GA
C: David McKee, 60:00, 17 saves, 1 GA
Penalties: H 5/10; C 3/6
Power Plays: H 1-3; C 2-5
Attendance: 8,637

All-Tournament Team

G: David McKee, Cornell
D: Charlie Cook, Cornell (MVP)
D: Joey Mormina, Colgate
F: Matt Moulson, Cornell
F: Kevin Du, Harvard
F: Daniel Pegoraro, Cornell
ALBANY, N.Y. – Cornell's so-called stars were escorted to the post-game press conference to meet with the awaiting media. You get to be a star by scoring goals, or stopping them in Dave McKee's case. So there they went, Charlie Cook, Paul Varteressian, Shane Hynes, and McKee with the championship trophy.
Back in the locker room area, Cornell captain Mike Knoepfli and linemates Mitch Carefoot and Mike Iggulden were celebrating with the rest of the team. If you subscribe to the "goal scorers are stars" theory, you probably wouldn't have noticed what Knoepfli, Carefoot, and Iggulden did on Saturday night at Pepsi Arena, where Cornell won its 11th ECACHL playoff title.
That line was matched up against Harvard's most dangerous offensive trio of Tom Cavanagh, Brendan Bernakevitch, and Ryan Maki all night long. Cornell's checkers were tenacious in their defensive zone and methodical when they had the puck. Most of the time, it wasn't as if Cornell was checking Harvard's top line, it was the other way around. The Harvard big guns had to get the puck back from the Big Red.
"We just try to stay above guys and frustrate them," Knoepfli said. "I've got two great linemates and we all do our job very well. We know how talented the guys we're playing against are and we try to keep it in their end. The more it's in their end, the less offensive chances they're going to get."
They're not bothered by a lack of recognition and notoriety. They know what they have to do, execute it every night, and get plenty of "attaboys" from their teammates. It's no wonder that the word "pride" was used by Knoepfli, Carefoot, and coach Mike Schafer.
"It might go unrewarded in the media and stuff but everybody has a role on our team and the guys who score goals appreciate us as much as we appreciate them," Knoepfli said. "We really love our job and we take pride in it."
"It's a lot of pride knowing that you're doing what it takes to shut them down," Carefoot said. "We've got our goal-scoring line and our power play is clicking right now."
Cornell's team is better at recognizing what it takes to win than any other team in the nation. They have the utmost appreciation for the little things – a blocked shot, a backcheck, tying someone up in front of the net, chipping the puck out of the zone.
Schafer doesn't take them for granted.
"They take great pride in shutting down the other team's top line. They've played against some great players in the last couple of weeks starting with the Clarkson series and last night with Mitchell, Mifsud, and Corey," he said. "If you can go into a weekend knowing you can shut down another top line down, we have such depth it gives us great line matchups. Tonight it freed up Bitz, Moulson, and Hynes and those guys to really kind of get us going and they did that in the second period."
Colgate 2, Vermont 1

Team
Goal
Str
Time
Assists
First Period
1-C
Tyler Burton (19)
PP
5:17
D. McKinnon, K. Wilson
2-C
Joey Mormina (8)
PP
19:40
T. Burton, J. Smyth

Second Period

1-V
Matt Syroczynski (7)
PP
8:24
C. Smart, M. Lutz

Third Period

No Scoring
Goaltending
C: Steve Silverthorn, 60:00, 34 saves, 1 GA
V: Joe Fallon, 58:57, 18 saves, 2 GA
Penalties: C 12/24; V 10/20
Power Plays: C 2-9; V 1-12
Attendance: 8,637
ENDURING FOR A WIN
It's no secret that Colgate coach Don Vaughan relies on a handful of players in all kinds of situations. You'll see Joey Mormina, Darryl McKinnon, Jon Smyth, Adam Mitchell, and Kyle Wilson on both special teams units and logging lots of ice time.
That ice-time burden became an even bigger issue for the Raider players when Friday's semifinal game against Harvard went to double overtime and ended after 11:30 p.m. It meant a quick turnaround for Saturday's third-place game, which was a 5 p.m. start.
Colgate's preparation for Saturday began in the immediate aftermath of Friday's loss. The coaching staff allowed the players to settle their emotions for 10-15 minutes and the team caught a late dinner before going to bed. A 9:30 team breakfast was optional for those who preferred to sleep in. Instead of a morning skate, there was an extended 45-minute team stretch before lunch at noon. The players arrived at Pepsi Arena at 3 p.m.
Colgate could control its preparation. What it had more trouble controlling was the flow of the game and amount of penalties. Referee Tim Kotyra whistled 22 minors over the course of the game, which put an even greater strain on Colgate's most-used players.
"I think that is what made tonight's effort that much more impressive to me as a coach. We went to well over and over again," Vaughan said. "It's the same six guys that we use up front and we use about four defensemen and tonight we had to go to some other guys on D because it was Joey (Mormina) and Spinner (Justin Spencer) in the box. Absolutely not the type of game we wanted to be in. It's a very helpless feeling as a coach to see it unfolding like that on the ice."
The biggest strain on the penalty-killing unit came late in the second period when Colgate was two-men short for 1:35. Mormina, Mike Campaner, and Dave Thomas were penned in the zone for over a minute, and swatted away several centering passes and rebound attempts in front of Silverthorn.
INCH's Three Stars of the Weekend
3. Dylan Reese, Harvard
Harvard's sophomore defenseman showed his playmaking skills on Friday night and scored the Crimson's important goal in the championship game. The lead didn't hold up.
2. Joey Mormina, Colgate
Mormina made coaches who voted him honorable mention All-ECACHL look silly by dominating at both ends of the ice – and rarely leaving it.
1. Mike Knoepfli, Cornell
There's no better captain for this Cornell team than Knoepfli. By sacrifing personal glory and doing the necessary job, he makes the Big Red one of the nation's best teams.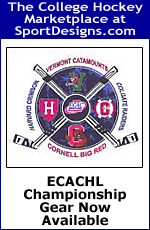 SEEN AND HEARD AT PEPSI ARENA
• Tyler Burton opened the scoring for Colgate just 5:17 into the contest. It was a big goal, just the kind that Burton always seems to come up with. Burton's participation in the game was in doubt through most of the day. Colgate's coaching staff considered sitting Burton due to an injury.
• Referee Peter Feola drew the ire of Harvard coach Ted Donato when Feola called Ryan Lannon for a tripping penalty at 5:31 of the third period. It put Harvard two men short for 32 seconds. On the play, Lannon dove and poked the puck away from a Cornell forward, before the Big Red player tripped over Lannon's stick. Donato made an animated argument at the time of the call, and again after Cornell scored a power-play goal to go up 3-1.
• Vermont senior Brady Leisenring, one of the best offensive players in the ECACHL, was lost for the season with a groin injury after just six games. He was granted a medical redshirt and will return to the lineup next year. Leisenring was on hand for the games in Albany this weekend and said he's about a month and a half away from being 100 percent. He is working with the Vermont training and strength staff and an outside physical therapy firm to rebuild strength in his legs. When Leisenring's role was reduced to that of an assistant coach, teammates gave him the nickname "Reggie Dunlop."
• Donato's classy, and accurate, comments after the loss to Cornell: "Ultimately you have to give Cornell a lot of credit. I think we were outplayed. They deserved to win. They're a great team and I wish them the best of luck in the NCAA Tournament. Sometimes at the end of a game you've got to take your hat off and say we got outplayed. That was definitely the case tonight."
• Harvard's pep band was on hand for Friday's semifinal, but didn't stay for the championship game. The Crimson band returned to Cambridge for the Harvard women's hockey NCAA Tournament game at the Bright Hockey Center. It would've been nice to hear "10,000 men" to counterbalance Cornell's "Davy."
• Former Vermont star John LeClair was on hand to lend his support to his alma mater in the early game.
• The attendance for Saturday's games was 8,637. It's the largest attendance for the championship since 1992, when the tournament was held at the Boston Garden. The two-day attendance was 16,217.
• Mike Ouellette was the tournament's leading scorer with 10 points. It's the first time that the tournament's leading scorer didn't play in the championship weekend.
• Cook was the 10th Cornell player to be named Most Outstanding Player. He was the first defenseman to earn the honor. Seven of the previous nine MOPs for Cornell were goalies.
PLUSSES AND MINUSES

Union's hockey team didn't advance to the championship weekend, but Alexa Veeder did. She regularly performs the Star-Spangled Banner at Messa Rink, and expertly handled the anthem duties at Pepsi Arena all weekend.

Vermont captain Jaime Sifers is one of the most respected people in the ECACHL, regardless of the fact that he's also one of the league's elite players. As Vermont was headed from the Crowne Plaza hotel to Pepsi Arena, Sifers took time to stop in the lobby and wish Harvard's players
well in the championship game.

One of the worst penalties of the weekend was taken by Cornell's Sasha Pokulok and it cost his team. After Cornell had gained possession of the puck, Pokulok gave a parting shot to Harvard's Kevin Du. The problem was referee Peter Feola was standing right next to the players, and had an easy call in sending Pokulok to the box. Dylan Reese scored to give Harvard a 1-0 lead 22 seconds later.

Colgate's Joey Mormina scored a tap-in power-play goal at the left post, converting Tyler Burton's pass from the right wing corner with 21 seconds left in the first period. It proved to be the game-winning goal. It's a play that Colgate runs with such great regularity, that you wonder how Vermont wasn't able to recognize it from advance scouting.
WHAT'S NEXT
Cornell, Harvard, and Colgate are all bound for the NCAA Tournament. This marks the first time that three ECACHL teams have made the national tournament since 1998 when Clarkson, Princeton, and Yale represented the league.
Vermont's hockey program embarks on a new era next fall when they'll compete in Hockey East. The Catamounts return excellent leadership in captain Jaime Sifers, plenty of offensive talent, and should be brimming with confidence after an excellent 2004-05 campaign.