March 18, 2005
ECACHL Semifinals
A Typical Performance
By Joe Gladziszewski
Cornell 3, Vermont 0

Team
Goal
Str
Time
Assists
First Period
1-C
Topher Scott (5)
EV
13:22
D. Pegoraro, Cam Abbott

Second Period

2-C
Matt Moulson (22)
PP
9:56
C. Cook
Third Period
3-C
Chris Abbott (6)
EN
18:42
Unassisted
Goaltending
V: Joe Fallon, 59:57, 19 saves, 2 GA (1 EN)
C: David McKee, 60:00, 25 saves, 0 GA
Penalties: V 6/12; C 5/10
Power Plays: V 0-4; C 1-5
Attendance: 7,580
ALBANY, N.Y. – Cornell won the first game of the night and if you're familiar with the Big Red's season, and its current 17-game unbeaten streak, you didn't even have to watch the game to know how that win transpired.
Dave McKee was steady throughout and spectacular in a couple of instances. Cornell grabbed a first period lead and limited Vermont's opportunities for the rest of the game. The Big Red's special teams play was excellent. Matt Moulson fired a shot through traffic for a power-play goal. It's no wonder that the word "typical" was used by Cornell representatives several times during the post-game press conference.
"Getting a lead is the strength of our team. Getting up by one or two goals and wearing teams down," Moulson said. "When you've got Dave back there making saves like he does, being ahead gives us a ton of confidence."
"We got the first goal and the guys shut them down. Our PK did an incredible job. They only had a couple of shots on their power plays," McKee said.
These days, it seems that every shutout by McKee and the Big Red breaks another record. This time, his 10th of the season was a new ECACHL record, and broke the record held by Dave LeNeveu, who manned the nets at Lynah Rink prior to McKee's arrival in Ithaca.
"It was similar to a lot of games we've won this year. We did a good job. This first goal was a big one by Topher to put us up 1-0, and our power play like it has all year long responded and got one for us in the second period," Big Red coach Mike Schafer said.
Cornell rarely surprises anyone. They know what they need to do, execute, and it typically results in a win.
Harvard 4, Colgate 3 2OT

Team
Goal
Str
Time
Assists
First Period
No Scoring

Second Period

1-H
Dan Murphy (5)
PP
6:38
T. Walsh, T. Cavanagh

Third Period

1-C
Jon Smyth (15)
EV
0:27
D. McKinnon
2-H
Charlie Johnson (9)
EV
16:01
J. Pelle, R. Lannon
2-C
Joey Mormina (6)
EV
16:46
A. Mitchell
3-H
Tom Cavanagh (10)
EV
18:03
Unassisted
3-C
Joey Mormina (7)
EV
18:39
D. McKinnon
First Overtime
No Scoring

Second Overtime

4-H
Kevin Du (9)
EV
16:01
R. Lannon
Goaltending
C: Steve Silverthorn, 96:01, 47 saves, 4 GA
H: Dov Grumet-Morris, 96:01, 46 saves, 3 GA
Penalties: C 11/22; H 11/22
Power Plays: C 0-6; H 1-6
Attendance: 7,580
LITTLE CONSOLATION
The disappointment of a double-overtime loss and sting from realizing that an ECACHL trophy won't be headed to Hamilton this year was evident by the looks on the faces and dejected tone in the voices of Colgate goalie Steve Silverthorn and defenseman Joey Mormina. They were speaking in the post-game press conference around midnight, and the 4-3 loss to Harvard was fresh on their minds.
And while the loss to Harvard erased hopes for league honors, the Raiders had to come to a quick realization that Saturday is the most important game of the season. A win could get Colgate into the NCAA Tournament.
"We're going to have to be ready to regroup and play a tough Vermont team. From what I've been told, if we win, we're in," coach Don Vaughan said.
"You just have to let it go. Like coach said, our season is tomorrow. We're not going to win the ECAC playoff championship but we can make the tournament with a win so that's all that matters right now," goalie Steve Silverthorn said.
Colgate can draw on a superb effort, as they rallied three times to tie the game, including twice in the last four minutes of the third period. Players were cramping and injured, but the senior-laden team called on its reservoir of energy to compete for 36 minutes of OT.
They'll need to draw on that again Saturday in a quest to continue the season for at least one more week.
INCH's Three Stars of the Night
3. Tom Cavanagh, Harvard
Had the prettiest goal of the night when he turned Colgate defenseman Matt Torti around twice, got a low shot off on Silverthorn, and chipped in the rebound. With that goal, he became Harvard's first 10-goal scorer this season.
2. Matt Moulson, Cornell
Scored his 22nd goal of the season and 12th power-play goal to give Cornell a 2-0 lead with 10:04 remaining in the second period. With that goal, you could sense that Vermont had little chance to win.
1. Joey Mormina, Colgate
Standout defenseman was only an Honorable Mention selection in all-league voting, but his two goals and excellent performance at both ends proved to everyone that he's one of the best blueliners in the ECACHL.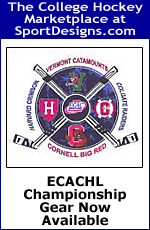 SEEN AND HEARD AT THE PEPSI
• Kevin Du on his double-overtime winner: "Ryan (Lannon) just made a beautiful pass and I snuck behind the defenseman. It was a great pass by him. Earlier in the game, Silverthorn made a real nice save on me when I went to the backhand, so this time I went to the forehand."
• Several members of the Lynah Faithful stuck around for the second semifinal and taunted both Harvard and Colgate with chants of "grade inflation" and "safety school." They also asked in unison, "Where are your fans?" which was a good question considering an attendance of 7,594 at Pepsi Arena. It was the best-attended semifinal game at the Pepsi Arena, and was the most for a semifinal since 1991, when 9,034 showed up at the Boston Garden.
• Dave McKee made the best save of the first semifinal when he quickly raised his catching glove to snag a redirection in front by Matt Syroczynski. In the second semifinal, Steve Silverthorn stuck out his right pad to deny Kevin Du's breakaway deke, and Dov Grumet-Morris reached back while on his side to push a rebound effort wide.
• Count Union coach Nate Leaman among those who are excited about Minnesota recruit Phil Kessel. Leaman was recently named as an assistant coach for the United States at the upcoming Under-18 World Championships next month at the Czech Republic. "It'll be fun to coach a guy like Phil Kessel," Leaman said.
• Colgate's top line of Darryl McKinnon, Adam Mitchell, and Jon Smyth set the tone with speed and physical play on the first shift of the third period and it resulted in Smyth's game-tying goal. Their second shift was even better as they created several scoring opportunities, including Mitchell's shot off the outside of the post. That line was also responsible for setting up the second and third goals.
• Tim Kotyra was the referee for the first game and Alex Dell refereed the second game.
• Among those in attendance, Eastern Collegiate Athletic Conference commissioner Phil Buttafuoco, who is no longer involved with the Division I ECAC Hockey League.
• Cornell freshman defenseman Sasha Pokulok returned to the lineup after missing the last six games of the regular season and the Clarkson quarterfinal series with a broken collarbone. Schafer was pleased with Pokulok's effort in his first game back, especially considering that Pokulok didn't skate for a span of four weeks.
• Colgate's players stayed in touch with Harvard goalie Dov Grumet-Morris throughout the game. Four times in the first two periods, Grumet-Morris ended up on his back after contact with Raider forwards. The fourth occurrence, a bump by Dustin Gillanders, was met with the most retaliation from Harvard players, specifically Ryan Lannon.
• Tricycle and shooting contests were staged for intermission entertainment, but the event that captured most of the attention was the overtime period of the Vermont-Syracuse basketball game. Fans crowded around televisions in the luxury suites to take that in during the second intermission of the late semifinal. Vermont won 60-57.
WHAT'S NEXT
One of college hockey's great rivalries will be staged in Saturday night's championship game when Cornell faces Harvard. The teams split their regular-season meetings, with each winning on home ice. It's a rubber match for this year, and also a tiebreaker of sorts in the ECACHL title game. Harvard won the 2002 title over Cornell in double-overtime on Tyler Kolarik's goal. One year later, Cornell's Sam Paolini scored an overtime goal to give the Big Red the title.
As mentioned earlier, Colgate and Vermont came to Albany to win the playoff title, but will play in the third-place game at 5 p.m. It won't be a consolation effort, as Colgate harbors hopes of an at-large bid to the NCAA Tournament, and a win on Saturday can go a long way toward securing that tourney berth.