March 19, 2005
Hockey East Championship
Winning Formula
Cory Schneider gives BC stability ... and wins
By Nate Ewell
Boston College 3,
New Hampshire 1

Team
Goal
Str
Time
Assists
First Period
1-BC
Brian Boyle (17)
EV
13:59
Unassisted

Second Period

1-NH
Preston Callander (24)
PP
3:19
S. Collins, R. Barker
2-BC
Brian Boyle (18)
PP
16:02
R. Shannon, J. Rooney
Third Period
3-BC
Chris Collins (7)
EV
17:33
R. Shannon, A. Alberts
Goaltending
NH: Jeff Pietrasiak, 57:51, 31 saves, 3 GA
BC: Cory Schneider, 60:00, 26 saves, 1 GA
Penalties: NH 3/6; BC 5/10
Power Plays: NH 1-5; BC 1-3
Attendance: 17,565

All-Tournament Team

G: Cory Schneider, Boston College
D: Andrew Alberts, Boston College
D: Brian Yandle, New Hampshire
F: Brian Boyle, Boston College (MVP)
F: Preston Callander, New Hampshire
F: Daniel Winnik, New Hampshire
BOSTON – When you're entering a one-game playoff scenario where a loss can end your hopes for a championship – or next weekend, your season who better to put in goal than a guy who never loses?
After all, by nearly every measure, Cory Schneider and Matti Kaltiainen were equal in the eyes of the Boston College coaching staff. But there's no ignoring that enormous "0" in the middle of Schneider's record, which stands at 12-0-4 after wins in his first back-to-back starts of the season here this weekend.
"It was a tough choice," said York. "I never want to slight the contributions that Matti has made to our program, because he's been outstanding.
"(A choice like that) keeps coaches up at night," he added. "I think Cory responded, and he might have played even better tonight than he did last night."
Schneider made 26 saves to lead the Eagles to the title Saturday, allowing only a power-play goal. He was terrific once BC got a lead late in the second period, perhaps at his very best during a 1:20 shift by UNH's first line midway through the third when the puck never left BC's zone. His teammates are quick to point out, however, that his contributions extend even beyond stopping the puck.
"Schneids was unbelievable," said senior defenseman Andrew Alberts. "He gives you that extra security that if there is that little breakdown he'll be there to back you up."
Senior forward Ryan Shannon echoed Alberts' praise for their rookie teammate.
"Having a calming presence behind you, it calms everybody else down," said Shannon. "You feel a little bit more composed with the puck, you don't feel as jittery when the puck gets in the zone, you just worry about your job and know that you have a great foundation behind you."
AGAINST ALL ODDS
Not only could Schneider cover up potential Eagle mistakes, but he also made it easy to forget that BC had played a double overtime game last night and was missing three regulars from its lineup.
Other Eagles helped overcome those obstacles as well, making their playoff title – which comes on the heels of their regular season title – all the more impressive.
York says his team doesn't make excuses – they have no such thing as "yeah, buts" in their program – so he was quick to shrug off the impact of the injuries and yesterday's marathon. But his colleagues were impressed.
"It's tremendous," said one admiring coach whose team was not participating. "It's quite a feat, to do what they've done without those three players (Patrick Eaves, Stephen Gionta and Peter Harrold)."
York singled out a few individuals for their extra effort, including Alberts ("that's as strong of a physical presence as a player can have in a college hockey game"), tournament MVP Brian Boyle and Schneider.
INCH's Three Stars of the Weekend
3. Preston Callander, New Hampshire
UNH's catalyst scored his third goal of the weekend Saturday on a brilliant give-and-go with Sean Collins.
2. Cory Schneider, Boston College
Stood out while starting on consecutive nights for the first time all season. He should play two nights in a row next weekend if the Eagles win their first-round game.
1. Brian Boyle, Boston College
The hulking center had just four goals at the Christmas break and admitted to being in a funk. Since then he's been a force, and never better than this weekend.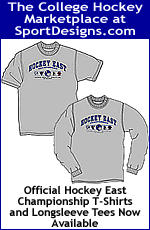 SEEN AND HEARD AT THE FLEET
• When Boston College lost Stephen Gionta Friday night, it was feared that the winger might be out for the year. X-rays didn't show any fractures to his clavicle, however, leaving open the possibility of a return for next weekend's NCAA Regional.
• Boston College had two pairs of brothers in the lineup, with John and Joe Adams and Matt and Justin Greene suiting up. It marked the first time all season that both pairs of brothers skated in the same game.
• Pat Gannon, a 5-foot-7 freshman for BC, certainly looks the part of a diminutive Eagle forward. On a number of occasions Saturday, his play resembled that of a Gionta or Shannon. He was buzzing around the New Hampshire end, earning a few shifts with Ryan Shannon on the team's first line after starting the game on the fourth.
• During a television timeout with 11:42 remaining in the third period, UNH center Preston Callander couldn't wait to get back on the ice. He skated to the faceoff circle to the right of Cory Schneider and waited there, alone, for about 30 seconds before the timeout ended. It was almost reminiscent of what the odd scene must have been like post-game last night at the Xcel Energy Center (worth reading about, if you haven't already).
Once the puck dropped, it was as if Callander didn't want to leave the ice. The Wildcats swarmed around the BC goal during a shift that lasted a minute and 20 seconds before BC could ice the puck.
• Boston College's Chris Collins may be the nation's most snakebit player, with more posts to his credit entering this weekend than goals (six). It continued Friday, when he was stopped on a pair of breakaways by Maine's Jimmy Howard. Saturday, however, he scored the eventual game-winning goal with the best move of the night. He put the puck through the legs of UNH defenseman Craig Switzer, then went five hole to beat goaltender Jeff Pietrasiak.
• The sold out crowd was a first for the Hockey East championship game.
• Patrick Eaves wore a big smile and a Hockey East championship t-shirt in the hallway outside the Eagle locker room after the game. The injured forward, who is suffering from a bruised lung, said he's "feeling better;" when asked about his chances for next weekend, he replied, "Hope so."
• Jerry York credited Hockey East commissioner Joe Bertagna with his pre-game speech, in a way.
"Joe does that," he said, when asked if he had any motivational words for the team before the game. "It's a big game under the bright lights, on the big stage. This is something we all strive for, an easy game to be jacked up for."
PLUSSES AND MINUSES

Hockey East already shows that it "gets it" more than other conferences by eliminating one team from the conference playoffs, making the regular season mean something. The lack of a consolation game is another bonus about this league. While other leagues endure teams playing their third game in as many days in front of empty buildings, Maine and BU can rest and regroup, sharing third place honors that nobody really wants.
Joe Bertagna admits that the lack of a consolation game for the last eight years in Hockey East is more luck than planning – the Bruins typically play a Saturday afternoon game, making the FleetCenter unavailable – but he said he's never heard a push from coaches for another game. No surprise here.

A year ago the FleetCenter hosted a 1-0 national championship game that many credited with sparking this year's crackdown on obstruction. Based on Saturday's game, that crackdown would be considered a success. The game had great flow and chances at both ends of the rink.

The FleetCenter staff does a great job with in-game entertainment on the video boards, but we'd love to see some out-of-town highlights, especially on a night when the CCHA, ECACHL and WCHA championships are televised.
WHAT'S NEXT
Both teams are headed for the NCAA Tournament – quite possibly together in Amherst – but that wouldn't happen if Jerry York had his druthers.
"My fondest wish here is that when the seeds are announced tomorrow morning that our four teams will be assigned to different regions," he said. "Two weeks ago Joe (Bertagna) had us playing in the last weekend of the regular season. Two weeks later we're all back here in the FleetCenter. I really feel that our league is so strong this year that if we can get two different regionals, maybe we can meet again in another two weeks in Columbus."