March 18, 2005
Hockey East Semifinals
Confidence Game
New Hampshire has found its game in the postseason
By Nate Ewell
New Hampshire 5, Boston University 2

Team
Goal
Str
Time
Assists
First Period
1-NH
Preston Callander (22)
PP
14:38
M. Fornataro

Second Period

2-NH
Daniel Winnik (15)
PP
5:46
R. Barker
3-NH
Preston Callander (23)
SH
6:46
S. Collins, T. Teplitsky
4-NH
Brian Yandle (13)
PP
8:22
S. Collins, T. Teplitsky
Third Period
1-BU
Peter MacArthur (13)
PP
2:09
B. Ewing
5-NH
Daniel Winnik (16)
EV
14:04
C. Switzer
2-BU
Brian McConnell (9)
PP
16:01
B. Ewing, K. Schaeffer
Goaltending
NH: Kevin Regan, 60:00, 19 saves, 2 GA
BU: John Curry, 58:19, 22 saves, 5 GA
Penalties: NH 6/12; BU 11/30
Power Plays: NH 3-10; BU 2-6
Attendance: 17,565
BOSTON – After an 0-2-2 finish to the regular season that saw them slip from first place to third in Hockey East, New Hampshire had every reason to enter the playoffs with doubts.
Instead, head coach Dick Umile instilled in his team the idea that this was a new season, a concept they bought as if it were $0.99 per gallon gas.
The Wildcats showed their newfound playoff form Friday, clicking from the start and dominating Boston University in a 5-2 victory. Three goals in a 2:46 span of the second period showed UNH at its tenacious, skillful best. It was an extension of their dominant first-round win over Northeastern, 6-1 and 4-0, when they simply overmatched the Huskies.
"This is a whole other season," Umile said. "We're playing with an awful lot of confidence and didn't give them much of an opportunity to come back on us. I thought we controlled the pace of the game from start to finish, and that's what I was really pleased with."
BU didn't put up too much of a fight – "It's beyond belief how poorly we played," said head coach Jack Parker – but the Granite Staters made things difficult for the Terriers by dictating the pace from the start.
"We just wanted to get out and get that first one, get it rolling," said Callander, who put home a Matt Fornataro rebound for the first goal.
Callander personifies UNH at its playoff best. He's attentive enough defensively to earn Hockey East's Best Defensive Forward award, yet boasts terrific feet and stickwork worthy of highlight reels. He had the first and third UNH goals and was a presence everywhere on the ice.
"That's pretty special when you can be the best defensive player and you look at his point totals (52 after tonight)," Umile said. "He's one of the most complete players in the league, and he's been tremendous for us all season."
Especially in the Wildcats' "new season," which continues Saturday night against BC.
Boston College 2, Maine 1 2OT

Team
Goal
Str
Time
Assists
First Period
No Scoring

Second Period

1-BC
Brian Boyle (16)
PP
6:39
P. Gannon, J. Rooney
1-ME
Josh Soares (12)
EV
6:51
M. Leveille
Third Period
No Scoring
First Overtime
No Scoring
Second Overtime
2-BC
Andrew Alberts (4)
EV
9:09
B. O'Hanley, D. Bertram
Goaltending
ME: Jimmy Howard, 89:09, 36 saves, 2 GA
BC: Cory Schneider, 89:09, 39 saves, 1 GA
Penalties: ME 3/6; BC 6/12
Power Plays: ME 0-6; BC 1-3
Attendance: 17,565
LEADING MAN
Brian Boyle kept turning up in nearly every key moment of Boston College's 2-1 double-overtime win over Maine, like a hockey-playing bad penny or a 6-foot-7 Forrest Gump.
On the good side, Boyle scored BC's first goal with a brilliant, patient wrist shot, and helped set up the winner with some good work down low. He also drew a penalty in the first overtime, created several other chances and helped slow Maine's first line with solid defensive play.
He was also there for some cover-your-eyes moments, like his errant pass that went for icing and set up a glorious Maine chance with less than eight seconds remaining in regulation and his holding penalty that evened things up after the penalty he drew in overtime.
But after the game it was Boyle's overall effort that left a lasting impression on his coach, as he rebounded from any setbacks and was one of BC's best players in the overtimes.
"He definitely was," York agreed. "He's improving by the week. He's just getting smarter about how to play the game, and how to use his physical strength to protect the puck."
Boyle's goal was a perfect example of a player using experience and intelligence. Fielding a nice cross-ice pass from Pat Gannon near the faceoff circle to Jimmy Howard's left, he recognized that he had time, waited, and wristed the puck past Howard.
"Brian made a real experienced move with the puck, he held it a bit and snapped it past Howard," York said. "That was a real good goal from our perspective. Brian hadn't had that in his game, but now he's getting a little more patient, and he can score more goals with that patience."
INCH's Three Stars of the Night
3. Cory Schneider, Boston College
The freshman played with the poise and confidence of a senior, especially in the first period when Maine dominated the play.
2. Preston Callander, New Hampshire
Stood out as the very best among a UNH team that is firing on all cylinders.
1. Andrew Alberts, Boston College
Excellent, as always, defensively, he also chipped in the goal that finally ended the marathon first game. And he was honest enough afterwards to admit that he didn't think he could beat Jimmy Howard again from that spot.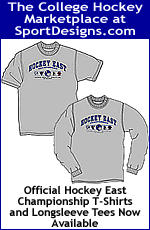 SEEN AND HEARD AT THE FLEET
• Both teams in the early game were missing key regulars, with Patrick Eaves (shoulder/lung bruise) and Peter Harrold (mononucleosis) out for BC and Rob Bellamy (broken fingers) out for Maine.
The Eagles, who have faced injuries all year on defense, adapted well to the loss of Harrold, with freshman Mike Brennan becoming Jerry York's No. 2 defenseman. Whitehead looked to a defenseman to fill Bellamy's spot on what had been an all-freshman line, moving Tom Zabkowicz alongside Keenan Hopson and Billy Ryan.
• One fan in an Alaska-Fairbanks sweater and Nanooks hockey hat was spotted in Loge 14, but we presume his heart was in Detroit.
• The deciding goal of the first game very nearly came on an empty net. With a delayed penalty coming on BC's Brian Boyle, Maine played the puck dangerously close to the net vacated by Jimmy Howard. Defenseman Mike Lundin swept it away for the goal line only to have Dan Bertram swat it in the net, but the play was whistled once he touched the puck. A brief video review confirmed that it was not a goal.
• Maine's best chance of the third period came with less than two seconds to play. The Black Bears, always one of the nation's best teams on faceoffs, got Josh Soares to slip behind two Eagle defenders off an offensive-zone draw. The puck slipped to him and he had two chances, but Cory Schnieder stopped them both.
• It was very nearly Flutie to Phelan when Ryan Shannon sprung Chris Collins on a breakaway in the final minute of the first overtime with a nice sand wedge, but Jimmy Howard got Collins' shot with the pad. It was his second save on a Collins breakaway in the game.
• As the Boston College-Maine game stretched into the second overtime thanks to the fantastic goaltending of Cory Schneider and Jimmy Howard, it was very easy to picture those two as a future U.S. Olympic goaltending tandem. British Columbia in 2010, perhaps?
• Schneider celebrated his 19th birthday with the win Friday.
• Dick Umile found an unlikely spot to watch the Boston College-Maine overtime, peering out from the tunnel behind the Black Bear bench.
• Boston University goaltender John Curry had his 182:23 shutout streak end on Preston Callander's first goal. The streak is a Hockey East Tournament record and the second-best scoreless streak in BU history.
• The Skating Friar is more than just a great logo. In the second intermission of the second game, the nine Hockey East mascots took the ice, and the Providence mascot was the clear-cut first star. The five schools who didn't reach the semifinals beat the four who did, 2-0.
• Hockey East coaches, both participating and those on the sidelines, are unanimous and enthusiastic in their support for former Northeastern coach Bruce Crowder.
• The crowd of 17,565 marked the third straight year that the Hockey East semifinals sold out.
• It all wasn't good news for New Hampshire associate coach Scott Borek on Friday; his former team, New England College, lost in the Division III Frozen Four to Middlebury. Borek was the head coach at NEC for one year between his stops at Lake Superior State and UNH.
PLUSSES AND MINUSES

The FleetCenter isn't afraid to have a little fun with its identity crisis. On the front of the building is a giant billboard shaped like a sticker, reading "Hello, My Name is TD Banknorth Garden."

Great to see the Hockey East logo at center ice, not even sharing billing with the spoked B like the Beanpot logo did last month.

Boston College women's hockey defenseman Sarah Carlson did a beautiful job with the national anthem before the first game. Carlson, a senior from Alaska, isn't just another pretty voice. She's also one of five finalists for the Hockey Humanitarian Award. If all goes well, she could be following the Eagles to Columbus. let us be the first to recommend her to the NCAA as an anthem singer.

Boston College, already without two regulars, lost another key player to injury when Stephen Gionta suffered what is apparently a broken clavicle in the second period. He will not play Saturday and is likely lost for the season.

Broken one-piece sticks continue to be a blight on the game. When Chris Bourque's twig snapped on a BU power play in the second period, it led directly to UNH's 2-on-1 goal that made it 3-0. As the Wildcats celebrated, there were two broken sticks littering the ice.
WHAT'S NEXT
The two big rivalry possibilities we had for a championship game – BC vs. BU or UNH vs. Maine – didn't materialize, but Saturday's game should still be a terrific matchup. It's just the second time the two schools have met in the Hockey East championship game; BC won the first meeting, in 1999, 5-4 in overtime.
The game will feature a New Hampshire team that's clicking offensively against a BC team playing excellent defense. Jerry York wouldn't tip his hand on who will start in net tomorrow, but it appears it will be a matchup of freshman goalies: Kevin Regan vs. Cory Schneider.
Maine and BU should both advance to the NCAA Tournament, with BU hosting the Worcester regional. Maine's location, and seed, are a bit more undecided.