March 24, 2004
NCAA Tournament
West Regional Preview | Colorado Springs, Colo.
Friday, March 26

7:30 EST: No. 1 North Dakota vs. No. 4 Holy Cross
11 p.m. EST: No. 2 Denver vs. No. 3 Miami
Saturday, March 27
9 p.m. EST: Regional Final
HOT TOPIC

The West Regional is generally regarded as the weakest of the four in this year's tournament, and conventional wisdom suggests this two-day affair serves as nothing more than a coronation ceremony for top-seeded North Dakota. The only thing worse than the West getting a bad rap is that the assessment may be right on target.
Barring injury, it's difficult to imagine a scenario in which the Fighting Sioux fail to advance to the Frozen Four in Boston in two weeks. Coach Dean Blais has at his disposal the nation's two best players in Zach Parise and Brandon Bochenski, the country's best freshman in Brady Murray, a half-dozen other guys who've scored 10 or more goals this season and a vastly underrated defensive corps.
Then there's the goaltending. Before the members of Sioux Nation lob a volley of hate mail this way, let me preface this discussion by saying Jake Brandt and Jordan Parise are certainly capable in net, because a team doesn't win 29 games if they're not. And goalies most people serious doubted – stand and wave, Adam Hauser – have won national championships in the past.
Of all the teams in this year's tournament, North Dakota is the one best suited to overcome problems that arise if Brandt or Jordan Parise are off. But if a game against, say, Adam Berkhoel and Denver turns into a goaltender's duel, it's a battle for which the Sioux are most vulnerable.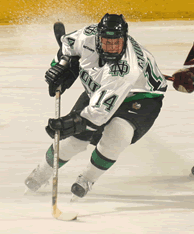 North Dakota freshman Brady Murray.
BACK STORY

With so many terrific players assigned to this region, it's interesting to note that the coaches may provide the best stories in Colorado Springs.
Of course, there's the George Gwozdecky vs. Enrico Blasi angle Friday as Denver faces Miami in a game that features more connections than one of Clark Griswold's outdoor power outlets at Christmas. Gwozdecky coached Blasi for four seasons at Miami, and current Pioneer assistant Steve Miller was there, too, in a similar capacity. Later, Blasi joined Gwozdecky and Miller on the staff at Denver, and the trio was joined by graduate assistant Seth Appert.
Blasi was named Miami's head coach in the summer of 1999, so Gwozdecky filled the vacancy by hiring Appert, who had taken a similar post at Mercyhurst a few weeks earlier. And prior to this season, Blasi hired Jeff Blashill, who roomed with Appert when the two played together at Ferris State in the mid-90s.
Then there's Holy Cross' Paul Pearl. Pearl announced in June he was stepping down as the Crusaders' coach to serve as assistant athletic director, hockey coach and admissions officer at Milton (Mass.) Academy. He had second thoughts about the move, however, and five days later spurned the prep school to return to his old job.
"We've got a very talented group," Pearl told INCH after deciding to stay. "We play in a tough league and you never know what can happen."
The guy standing behind the home bench during the Holy Cross-North Dakota game – Fighting Sioux coach Dean Blais – has made news himself recently. Last week, USA Hockey (they're housed in the big building right behind the World Arena) tabbed him to coach the American entry at next year's IIHF World Junior Championships. The U.S. team will play all of its WJC games at Ralph Engelstad Arena in Grand Forks.
ON A ROLL

For a guy who's scored 114 points in 74 career games, North Dakota's Zach Parise has been especially torrid as of late. In four WCHA playoff games, the Faribault, Minn., native has four goals and eight assists and had a hand in each of his team's goals in the Fighting Sioux's 5-4 loss to Minnesota in the WCHA Final Five championship game in St. Paul last weekend. And it's not like he was getting phantom assists against the Gophers – he had the first assist on goals by Drew Stafford and Brandon Bochenski in addition to scoring one of his own. His experience with the gold medal-winning U.S. team on the grand stage of the 2004 World Junior Championship will benefit the team as it marches deeper in the tournament.
As an aside, the Hobey Baker Memorial Award committee casts its final ballots next week and, while it's obviously not a primary concern, a terrific showing this weekend could make him the clear-cut favorite in what has heretofore been a wide open race.
MR. CLUTCH

After drawing the tournament's top overall seed in the first round, the odds against Holy Cross beating North Dakota are stacked against them like red, white and blue chips in front of Amarillo Slim at the World Series of Poker. And while no one gives the Crusaders much of a chance Friday, a good goalie can always make the proceedings interesting – just ask Red Berenson about the play of Mercyhurst's Pete Aubry in a West Regional first-round game in Grand Rapids three years ago.
Tony Quesada is a good goaltender. With a 17-5-2 record, a 2.19 goals against average and a .926 save percentage, the sophomore from South Freeport, Maine, led Atlantic Hockey in wins and GAA and was second in save percentage. He's also used to seeing a lot of rubber – Holy Cross allows a shade more than 30 shots on goal per game – and he gives the Crusaders a chance to win just about every night, allowing two or fewer goals in 18 of his 24 starts.
SOMETHING TO PROVE

With senior forward Connor James done after breaking his leg in Denver's final regular season game earlier this month, the onus for sparking the Pioneers' offensively falls on the shoulders of sophomore Gabe Gauthier. He's the team's leading scorer with 17-24—41 and has scored big goals for DU throughout the season with seven power play goals and five game-winners. Denver needs someone to make up for more than just James's point production, though, in order to advance. They need Gauthier to become the guy who stirs the Pioneers' offensive drink
ONE TO WATCH

Miami's Mike Kompon has had a very good year. In fact, he's the team's second-leading scorer with 45 points. But when people talk about the RedHawks, they focus on Hobey Baker Award candidate Derek Edwardson, discuss the play of freshmen forwards Matt Christie and Marty Guerin or bring up two-way defenseman Andy Greene. Kompon, it seems, gets lost in the shuffle.
It's too bad because, for our money, Kompon is Miami's most dynamic player. In addition to being a skilled scorer and passer, he's a solid face-off man and a special teams ace (five power play goals and two shorthanded goals). Perhaps most importantly, he's a high-energy guy who regularly provides the RedHawks with their jump.
SATURDAY STORYLINE?

Looks like we've come full circle, because the question that looms is, Can anyone beat North Dakota? In theory, it's certainly possible. In reality, however, it's not probable.
Both Denver and Miami have the talent to give the Fighting Sioux a run for their money, especially the Pioneers with Adam Berkhoel in goal. Friday's semifinal has all the trappings of a knock-down, drag-out affair between two evenly matched teams. Meanwhile, North Dakota will cruise to a win against Holy Cross and get Denver or Miami the following day. Will the winner have enough gas to take out North Dakota? Doubtful.