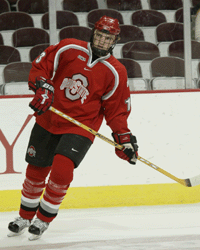 Anderson has scored 29 career points in two seasons at Ohio State, 23 of which have come during the second half of the season.


---
Key Statistics: 6-foot-2, 200 pounds. On a team that features a platoon of forwards in the 5-10, 185 pound range, Anderson is one of the Buckeyes' few prototypical bangers.
What He Does: More than just hit people, although OSU coach John Markell says Anderson excels at what he terms "separating guys from the puck". He's asked to win one-on-one battles in the corners and let guys like Tom Fritsche and Rod Pelley do their thing. No slouch around the net, Anderson scored eight goals and 18 points in 35 games and tied for second on the team with three game-winning markers. He also skates well for his size – that, combined with his size, makes him an effective penalty killer.
The Bigger Picture: Markell's expectations for the junior winger this season are but one: Play with more consistency. In his first two seasons, Anderson would string together a couple fine performances but become complacent, lose sight of his role, revert to bad habits and end up watching games in street clothes. Anderson is also a notoriously slow starter – of his 29 career points, all but six have come after Christmas. With last year's 27-11-4 squad returning virtually intact and the Buckeyes eying lofty goals this season, he'll have to contribute immediately or be scratched.

Ohio State coach John Markell on Anderson: "He was an asset when he was on top of his game. He's got to come in knowing that we're counting on him to be in there with that edge. We've got enough players now that it's going to be tough for him to break into the lineup and stay there if he is inconsistent. When he plays his [best], he's a very capable competitor."
— Mike Eidelbes