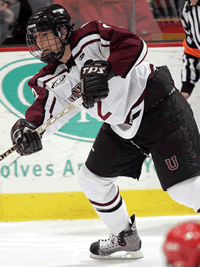 Beynon played for his hometown Nepean Raiders before attending Union.


---
Key Statistics: Beynon was just one of three Dutchmen players to appear in every one of Union's 37 games last season. He led Union defensemen with 12 points.
What He Does: The sophomore-to-be arrived on campus at 6-foot-3, 220 pounds and led the team in the squatting strength test. He was one of few Union defensemen able to patrol the front of the net and that led to a ton of ice time for the rookie.
The Bigger Picture: The Union coaching staff didn't have many reservations in handing Beynon loads of responsibility – primarily because he arrived in Schenectady as a 21-year-old freshman. Even though he has just one year of college experience, his age and maturity will be counted on as the Dutchmen look to move up in the standings and get past the first round of the ECACHL playoffs.

Union assistant coach Bill Riga on Beynon: "He has a real great shot and we're excited about his upside. Last year he had to deal with playing in all situations and we were primarily concerned about keeping the puck out of our net. As he gets more comfortable and can concentrate more on his offense, we think he'll put up more points."
— Joe Gladziszewski